Colour
Colours of the Year 2022
OCTOBER MIST, CC-550, Benjamin Moore
Colour
Colours of the Year 2022
There is no easier way to update your home than with a fresh coat of paint.
In the design world, the new year means new colours from the paint companies – colours that capture the mood of the moment and, in turn, help create mood and atmosphere in our homes. For 2022, the direction is clear. We're head over heels for soft shades of green, as well as warm colours that feel like a welcoming embrace.
BREEZEWAY MQ3-21, Behr
EVERGREEN FOG SW 9130, Sherwin-Williams
Which will bring a fresh new look to your rooms in 2022?
A WORLD OF GREEN
It's easy being green, at least it is in 2022, because at all the paint companies, shades of green dominate. We closely associate green with nature, so it's considered calming and tranquil, and able to give us a feeling of hopeful renewal – just what we need.
Glass LANTERN, 6ó" high, $25, Bouclair, bouclair.com. Eloise SOFA, $1,299, Structube, structube.com. Whitley Williams' Botanical II POSTER, $98 (frame not included), Minted, minted.com. Svelti CHAIR, $238, set of 2, Article, article.com. Bettie velvet CUSHION, $64, CB2, cb2.ca. Valora Glacier Glass VASE, 15" high, $49, Urban Barn, urbanbarn.com.
SANCTUARY DR112-3,
BeautiTone
EVERGREEN FOG SW 9130,
Sherwin-Williams
COOL CURRENT 6199-42,
Sico
OLIVE SPRIG DLX1125-4,
Dulux
OCTOBER MIST CC-550,
Benjamin Moore
BREEZEWAY MQ3-21, Behr
HAPPY HUE
WARM HUGS D43-0-1598,
BeautiTone
Beauti-Tone's Warm Hugs is exactly that – a reddish pink warmed by a touch of orange that feels like a comforting embrace. On walls, it's cheerful, rich and enveloping.
Umage's Clava Dine PENDANT, $369, Nüspace, nuspace.ca. Bayer CUSHION, $130 (sugg. retail), Renwil, renwil.com. Anco COUNTER CHAIR, $179, Article, article.com
THE NEW GREY
PHENOMENAL GREY 6212-83,
Sico
Grey has been a standby neutral for years now, but the new shade, exemplified by Sico's Phenomenal Grey, is a warm, rich mix of grey and brown that, in a room, creates a calm, confident, refined air. A wonderful backdrop to light coloured objects.
Contour TABLE LAMP in Graphite and White Oak, $575, EQ3, eq3.com. Oliver's Hartselle LOVESEAT, $1,549, Wayfair, wayfair.ca. Hotoco VASE, 10" h., $25, Amazon, amazon.ca.
SOFT TOUCH
PALE MOON OC-108,
Benjamin Moore
Bright but not too bright, energetic but not over the top, Benjamin Moore's Pale Moon is a lovely and luminous yellow.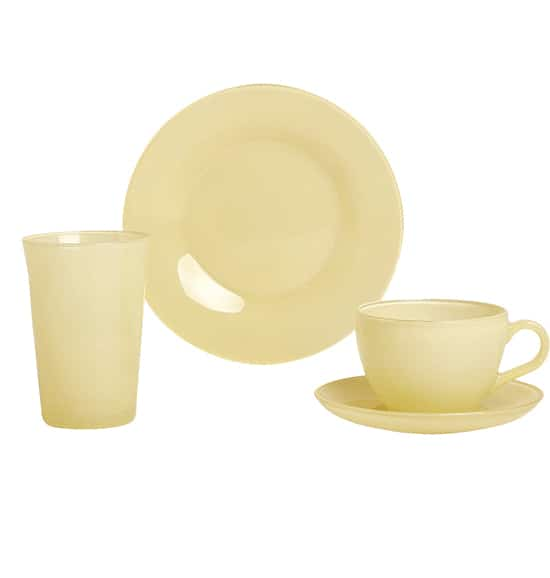 Taaj SIDE TABLE, $149, EQ3, eq3.com. Fabrikör CABINET, $299, IKEA, ikea.ca. Glass TABLEWARE, from $10 each, Zara Home, zarahome.com.
EARTHY & ELEMENTAL
ANCIENT COPPER, DLX1063-7,
Dulux
Ancient Copper from Dulux captures our current love affair with earth tones, especially the beauty of unglazed terracotta earthenware. Imagine this shade in a dining room, creating a cocoon of coziness.
Noira PAINTING, $199, Mobilia, mobilia.com. Hayden CHAIR, $89, Structube, structube.com. Portrait RUG, 2ó' x 8', $379, CB2, cb2.ca.