Colour
Decorating with blue
Colour
Decorating with blue
1 Bathroom blues
Photography by Stacey Brandford
Having the blues doesn't have to be a bad thing -- the robin's egg blue colour on the walls of this classic
bathroom
looks great against the white beadboard, giving it a fresh, crisp look.
2 Pretty painted floors
Photography by Janis Nicolay
Although this vintage-inspired bedroom is predominantly white, the touches of blue throughout keep it from looking stark. We love the different shades of blue in the
duvet
, furniture and pretty painted floor.
3 Dining in navy
Photography by Janis Nicolay

For a more formal look, you can't go wrong with navy. This small dining space by Sarah Richardson ties the navy in the
dining chairs
with the pottery on the shelves, and complements the cream tones throughout beautifully.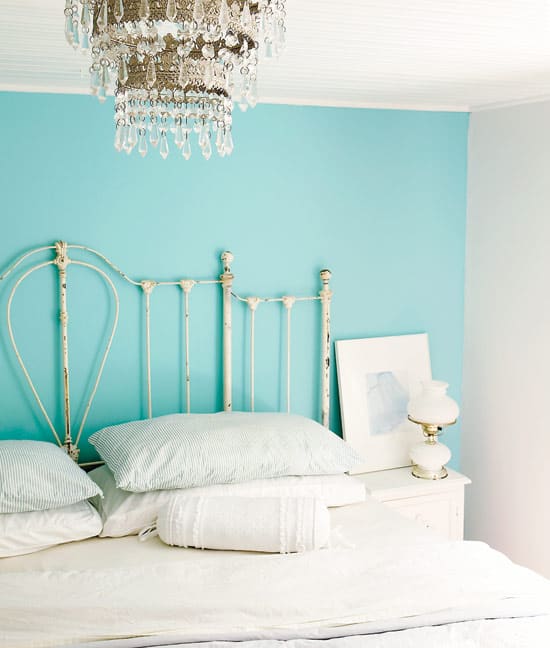 4 Tiffany box blue
Photography by Stacey Van Berkel-Haines
There isn't a woman out there who can resist the colour of the classic Tiffany box, so why not enjoy it every day? This cottage bedroom uses the blue as an accent wall against a palette of whites and creams.
5 Traditional plaid
Photography by Virginia Macdonald
Go trad with plaid like in this bathroom. We love the classic look of this space, and the blue plaid wallpaper adds a traditional touch to an otherwise retro
bathroom
.
6 Pretty pastels
Photography by Jen Ramos
Just a wee pop of blue can have a huge impact. Homeowner Jen Ramos had these
dining chairs
painted a pretty pastel blue to lend a touch of colour to the pale room.
7 Royal blue sofa

Photography by Virginia Macdonald
Talk about a punch of colour! Think outside the box when it comes to your
upholstered furniture
by opting for a bold colour like this stunning royal blue sofa.
8 All about the accessories
Photography by Janis Nicolay
There's nothing wrong with a neutral palette, but throwing in a few colourful accessories brings the room together. In this living space, the
artwork
, throw cushions and tinted waterfall table take the room from 'blah' to brilliant.
9 Blue, blue and blue all over
Photography by Michael Graydon
This eating space is a great example of how much energy and brightness a pale blue can bring to a room. From the soft wall colour to the transparent light fixture to the modern chairs, this room is all about the soothing power of blue.
10 Pale blue bedding
Photography by Robin Stubbert
In a room of beige and flax, this pale blue bedding stands out amonsgt the rest. A nice alternative to white linens, the blue fabric is elegant and comfortable at the same time.