Design Experts
20 questions with Erin McLaughlin
20 questions with Erin McLaughlin
Design Experts
20 questions with Erin McLaughlin
Ever since her start at the helm of Style at Home in early 2010, our editor-in-chief Erin McLaughlin has been bringing her innate sense of style to the pages of the magazine. Not just one to approve pages and cover lines, Erin gets her hands dirty in the design department as well, styling interiors and taking on huge makeover projects for feature stories.

Here, Erin spills her design faves and all the little details that make up her life.
1 If you could shadow any designer for a day, who would it be?
Erin McLaughlin I love Kelly Wearstler's design persona -- her sense of frivolity and joy of colour and pattern, as well as her retro Hollywood references.

2 Where do you look for obscure sources of inspiration?
EM Travel, travel and more travel! I also love reading old novels and imagining the spaces.

3 Favourite restaurant?
EM Chez Janou in Paris -- perfect local bistro and my dog's namesake.

4 What's your favourite room to decorate?
EM I really like decorating bathrooms -- definitely my favourite room in the house (I love taking a long soak in a tub!).

5 What's your current paint colour obsession?
EM I'm loving ink blue. But there's always a place in my palette for pale silver with a hint of lilac.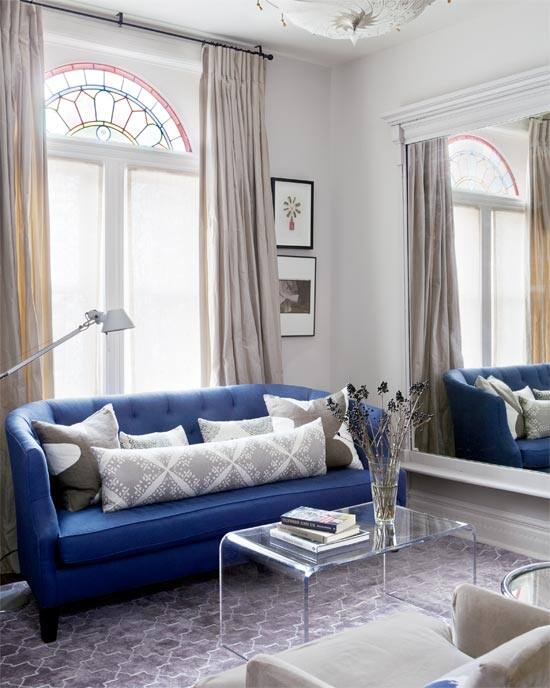 Photography by Virginia Macdonald
The living room in Erin's old rowhouse features all the colours she loves -- inky blue, pale silver and lilac.
6 If one song could be the soundtrack to your life, what would it be?
EM
Anything acoustic by Neil Young.
7 What's the one store you could spend hours browsing?
EM
In the past few months, I've spent hours in HomeSense, IKEA and The Cross in Vancouver.
8 London, Paris or New York?
EM
Depends on the time of year -- New York in spring (
I got married there last year
), Paris in July and London in September.
9 If money were no object, what one thing would you buy?
EM
I would fly to Paris and fill a plane with 1930s French antiques.
10 What do you consider to be the most iconic design piece of the past century?
EM
Tizio lamp. It works
everywhere
. Love it in white!

Photography by Stacey Van Berkel-Haines
Erin and husband Ken at their intimate wedding in New York.
11 Favourite movie?
EM
Toss up between
The Cook, The Thief, His Wife and Her Lover
or
Babette's Feast
.
12 What's your favourite movie interior?
EM
Beetlejuice
-- iconic (and ironic) early 90s "design" at its best!
13 What's your most prized possession?
EM
Anything that belonged to my late mother.
14 Best coffee table book?
EM
Horse
by Kelly Klein.
15 What's your fave way to spend a lazy Sunday?
EM
Riding horses with my stepkids.
Photography by Virginia Macdonald
The stylish dining space in Erin's old rowhouse (notice the gallery of horse images on the wall, adding a personal touch).
16 Do you like to be the entertainer or be entertained?
EM The latter, but can't help but be the former.

17 What do you think is the best renovation you can do to your home?
EM Kitchen and master suite (and they're both happening this year for me!).

18 What is your fave space that you've designed/decorated?
EM My bathroom in my last house -- painted in Farrow & Ball's Pale Powder. It's the best chameleon colour for a bathroom!

19 What do you consider to be the biggest design faux pas?
EM Being afraid of or ignoring the importance of acquiring art.

20 Marilyn, Audrey or Jackie?
EM Audrey, with Jackie's confidence and Marilyn's sensuality.
Photography by Donna Griffith
The stylish classic kitchen that Erin helped her sister design.