Design Experts
20 questions with Julie Carlson of Remodelista
20 questions with Julie Carlson of Remodelista
Design Experts
20 questions with Julie Carlson of Remodelista
As Editor-in-Chief of Remodelista, Julie Carlson has helped create the ultimate remodelling resource guide. With her expertise on everything from do-it-yourself home renovations to choosing colour palettes, she's sharing her design knowledge and giving us some helpful tips along the way.




1 What sparked you to start Remodelista?
Julie Carlson I had just finished my second remodel and I felt like I had accumulated enough sourcing information to fill a book. My oldest friend, Francesca Connolly, had also just finished a remodel. We consulted constantly during the process and then ended up spending a whole summer in Wellfleet, on Cape Cod, talking about how there had to be an easier way.

Blogs were beginning to proliferate, so we decided to create the ultimate remodeling resource guide and share our hard-won knowledge with a wider audience. We felt that there are so many options it's difficult to know what to choose and why, making the process even more arduous. The blog is meant to simplify these decisions by presenting the 10 best options in any category: from light switch covers to kitchen faucets to ceramic subway tile.

2 Where do you look for an obscure source of inspiration?
JC Scandinavian design blogs like Emma's Design Blogg.

3 What's your favourite room to decorate?
JC The kitchen because of the puzzle-like intricacies of cabinetry and the mix of materials (I have an unnatural interest in ceramic tiles, for instance, as well as marble and stone).


4 If you could shadow any designer for a day, who would it be?
JC
Ilse Crawford, the London-based designer. I am fascinated by the way she mixes colours and materials in her projects and how she manages to be both classic and modern at the same time. On a recent trip to London, I took a costly detour to spend the night at The Olde Bell Inn, which was one of her projects. It features rush matting handwoven by Felicity Irons (sister of actor Jeremy Irons), sheepskin
throw blankets
, clawfoot tubs painted grey, Welsh blankets, and rockers by Ercol. It was perfection, despite my family was annoyed at me for the 50 minute detour.
5 What do you consider to be the most iconic design piece of the past century?
JC
Probably the Eames molded plywood lounge chair.
6 What's your current paint colour obsession?
JC
Merci, in Paris. I think it's the most exciting interiors store in the world right now. The owners founded the children's line Bonpoint and now they devote themselves to searching out the best products in
home design
. The Koushi lamp is a favourite, as well as the bright linen bedding. And, after their costs are met, 100 percent of the profits go to children's charities in Madagascar.

8
London, Paris or New York?
JC
London. I lived in North London for a year in 2003 and fell in love with the city, walking through the parks (Regents Park in particular) and haunting shops like Liberty, Divertimenti, and Neisha Crosland. My favourite neighborhood, though, is Primrose Hill for its village-like feel and the fact that High Street includes an outpost of the great fabric purveyor Ian Mankin. Every time I go back to
London
I have to head straight to the Landsdowne, a gastropub on Gloucester Road, and Limonia, a Greek restaurant on the High Street.
9 Favourite restaurant?
JC
I love The Wolseley in London for its sparkling grand-cafe ambience. You're as likely to spot Zaha Hadid as Gwyneth Paltrow. A previous car showroom for the golden age of automobiles, it is one of the most
glamorous spaces
I've ever seen. The interior is high Art Deco and done in all black and gold, with dim flattering lighting and gracious waiters bustling about.
10 If money were no object, what one thing would you buy?
JC
I would buy a work by British artist Ben Nicholson, who painted abstract compositions, landscapes, and still-lifes using either a muted
colour palette
or earth and sea tones.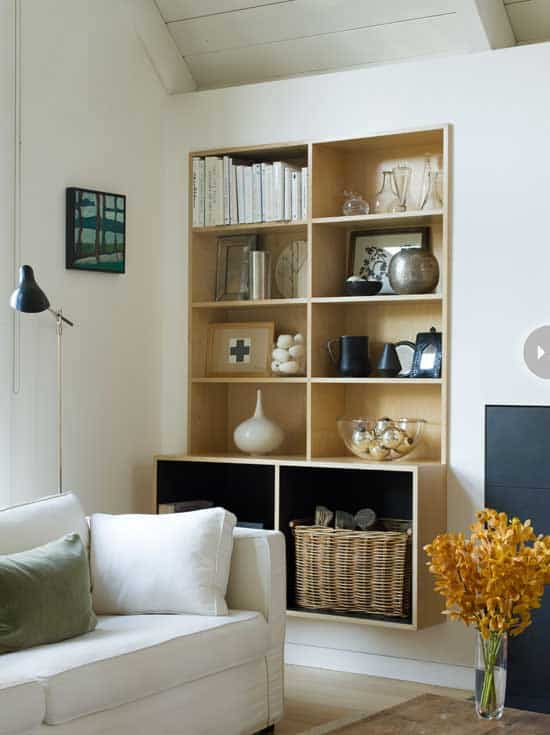 11 Favourite movie?
JC
The Talented Mr. Ripley
. I am obsessed with the crime novels of Patricia Highsmith and this is one case where the movie lives up to (and maybe surpasses) the book. Plus, it conjures up Italy of the 1960s, and the island scenes shot in the fictional town of Mongibello (actually the island of Ischia, off Naples) are enough to make you want to jump on a plane immediately.
12 What's your favourite movie interior?
JC
Interiors
by Woody Allen. I haven't seen it in years, but I vividly remember the pale, tasteful interiors.
13 What do you think is the easiest way to update a room?
JC
Changing the
paint colour
or slipcovering a tired sofa. Switching out your
throw pillows
or adding a sheepskin throw to an otherwise formal space.
14 Best coffee table book?
JC
Right now I love Diane Keaton's
House
. The cover is graphic perfection and she's picked some of my favourite houses of the last decade to profile.
15 What's your favourite way to spend a lazy Sunday?
JC
Wandering around a city—any city, really— poking into shops, galleries and museums.

16 What do you think is the best renovation you can do to your home?
JC
My favourite easy design trick is replacing cheesy plastic light switch covers with metal covers, either brushed stainless or black painted metal.
17 What is your favourite space that you've designed?
JC
The
living room
of my house in Mill Valley, CA, which overlooks Mt. Tamalpais in the distance. A friend of mine pointed out that the colour palette was based on my Abyssinian cat (green, black and silver) with plenty of wood surfaces.
18 What's the biggest design faux pas?
JC
Wall-to-wall carpeting. I can't think of a single case where it looks attractive.
19 Do you like to be the entertainer or be entertained?
JC
Entertained, especially if there is good food, wine, and a lovely table involved.
20 Marilyn, Audrey or Jackie?
JC
Audrey for her gamine style (my favourite Hepburn moment is her interpretive dance in
Funny Face
) and perfect fashion sense, after all, she is the original little black dress wearer!