Design Experts
Arren Williams brightens our day with his look at our obsession with happy-hued kitchen chairs
Design Experts
Arren Williams brightens our day with his look at our obsession with happy-hued kitchen chairs
Arren Williams brightens our day with this look at the history of our obsession with happy-hued chairs.
We're all for a bold design choice and a strong hit of colour, which is why we're down with this latest dining chair trend. Truth be told, the idea of chairs in bold tints has been key in Scandi style for decades, brightening the scene in all styles of homes, from white-painted cottages to chic contemporary spaces.
The recently reissued Rey Chair from the folks at cool Danish design firm Hay is definitely all in on this look. Known for their modern take on living stylishly, they've dipped into the '70s and brought back Swiss designer Bruno Rey's eponymously named beechwood chair. The Rey is ready to make a statement in nine shades, ranging from subtle to snappy. We're torn between the softly subtle Mint Green versus Scarlet Red, which just hits it out of the park. But while colour is key to making this style work, so too is the simplicity of the design. Nothing fussy here, please and thanks.
While the Rey delivers on modern form, the trad Windsor chair also has a colourful past. Windsors have been painted in primary colours since the 18th century, so it's no surprise they continue to feel relevant, especially in the more simplified designs we see now – no hoop back and bobbin turned legs, but retaining their trademark spindles. The beechwood Ironica Chair from Smart Idea is just such a seat, available in a dizzying 20 colours. For that eco-vibe, check out the lines on Blu Dot's recycled plastic Decade Chair. Pop this chair around the table either inside or out, in any of its seven tasty shades (like Tomato and Mustard!), and you've got a mouthwateringly stylish setting indeed.
Classic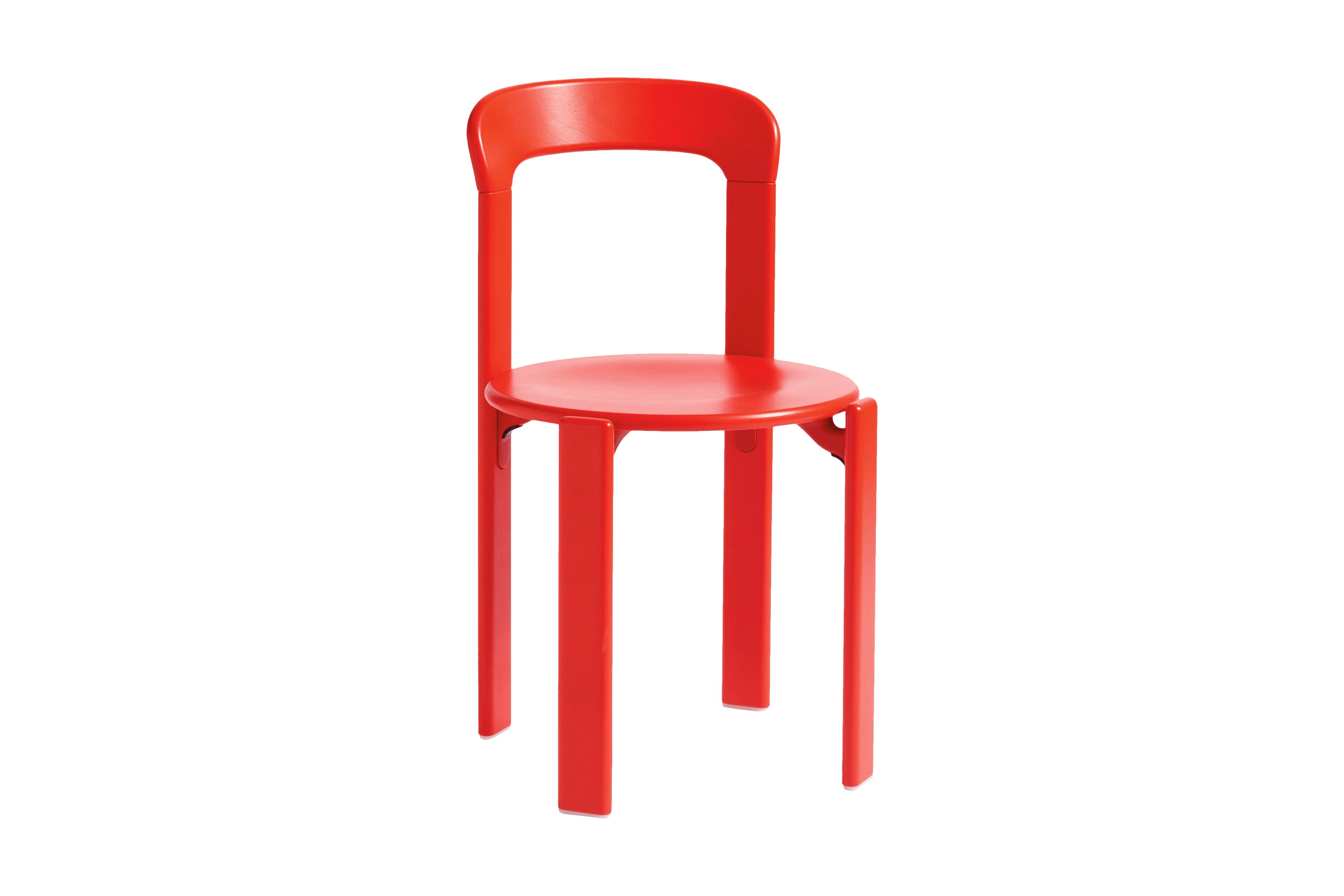 Rey Chair, $745, Hay, hay.com.
The classic Rey Chair by Bruno Rey is part of a collection that includes equally colourful stools and dining tables.
Worthy Competitors
Trad
Beechwood Ironica Chair, $449, Smart Idea, smartideachairs.com.
Mod
Recycled plastic Decade Chair, US$150, Blu Dot, bludot.com.