Design Experts
Advice from Philip Mitchell to Get Maritime Charm of Canadian East Coast Style
Photography: Annie Schlechter
Design Experts
Advice from Philip Mitchell to Get Maritime Charm of Canadian East Coast Style
Designer Philip Mitchell shares his advice on how to reel in the maritime charm of Canadian East Coast style.
Philip Mitchell grew up in a home where design was celebrated. Not surprisingly, it's become both his passion and profession. He established his eponymous Toronto design firm in 2002, later expanding it to New York and Chester, Nova Scotia. Philip's signature mix of tradition with contemporary touches and exhuberant pattern, colour and art bring beauty and livability to an interior. He now lives in idyllic Chester with husband Mark Naransky. Who better than Philip to advise us on East Coast style?
Photography: Bennison Fabrics
KL: How do you define East Coast style?
PM: East Coast style is all about capturing the serenity of the shore and the charm of the historic seaside village lifestyle. The look is simple, clean and natural, with fabrics, colours, furniture and accessories that evoke the romantic idea of life in the Maritimes.
Taking inspiration from the ocean and the sailboats, blue and white is the go-to colour palette for East Coast homes, and works for both modern and traditional homes.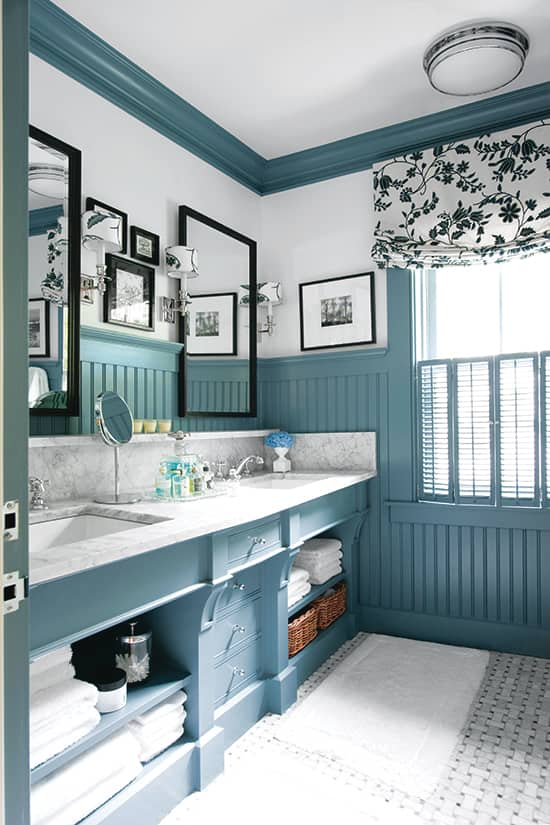 Photography: Annie Schlechter
KL: How can we create East Coast style?
PM: The origins of East Coast style are in fishing and sailing, so add maritime character to a small bedroom by taking direction from the shipwrights and building the beds in with plenty of storage underneath. Simple, streamlined wood furniture, as well as weathered and antique pieces, also create a sense of relaxed ease and history.
A favourite East Coast architectural detail of mine is shiplap. While it does lend a hint of historic appeal, its simple, uncomplicated look goes with both traditional and contemporary interiors – it definitely creates a warm and inviting East Coast look.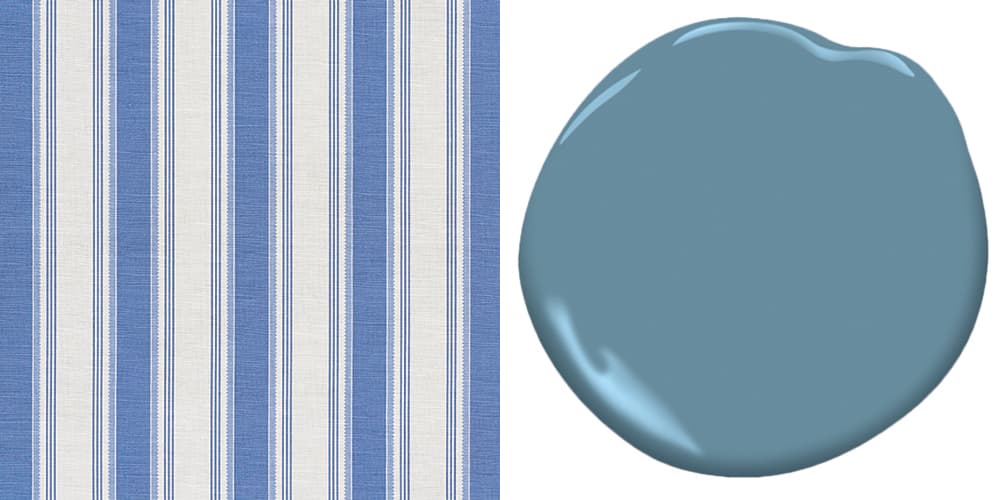 FABRIC SWATCH "Bennison Fabrics' handprinted Pavilion Stripes in multicolour blues and oyster adds a nautical touch to any room and the effect is interesting and fresh," says designer Philip Mitchell. | PAINT Philipsburg Blue HC-159, Benjamin Moore.
KL: What are your favourite neutral and non-neutral paint colours?
PM: Painting a room white will make it feel clean and spacious, however, some whites can make a room feel cold and harsh. Benjamin Moore's Cloud White CC-40 is my go-to warm white paint that I find the perfect backdrop for a space where I can add colour through fabrics, rugs and textiles.
Pairing that white with a seafaring blue will give the space a maritime feel. A favourite blue of mine is Benjamin Moore's Philipsburg Blue HC-159 with its intensely blue shade typical of ocean waters.
KL: Do you have favourite prints?
PM: Handprinted fabrics, charming small print wall coverings and handwoven natural material carpets are a must for me when designing coastal homes.
Photography: Annie Schlechter
KL: The spaces you design have layers of architectural detail, draperies and art. With art, is there a common mistake we make?
PM: One of the most common mistakes is to try to match artwork to an interior, which can make a room feel staged and overly coordinated. People should purchase what they love. Art is the best opportunity to go beyond the confines of a room's colour palette. Same with creating gallery walls. A successful grouping of pieces should not match but relate, with a common thread through the collection. Not everyone has an eye or the confidence to arrange art fearlessly. That's where the value of a designer or art consultant comes in.
Photography: Annie Schlechter
KL: What can we look forward to seeing from Philip Mitchell Designs?
PM: One of the most exciting things coming up is a new East Coast lifestyle shop/gallery in Lunenburg that will feature local pieces and works of craft, art, antiques and custom furniture. I'll also have a decorating project in Style at Home this fall! As well, I am in the planning stages of establishing an East Coast real estate development company with a focus on restoration and sustainability – very exciting!
KL: You have a design book coming out soon. Why did you write it and what can we expect?
PM: I wanted to share the importance of designing homes that are reflective of the personalities and style of the owners. I've seen many homes where you get no sense of who lives there. It's like walking into a hotel. In my book, Collected Interiors: Rooms That Tell a Story (September 2021, Rizzoli), I'll show how to live with the things you love and how to incorporate them into your homes. The book will show readers how to incorporate family heirlooms and collections into a more contemporary style of living.
Find more of Philip's expert advice in Collected Interiors: Rooms That Tell a Story, by Philip Mitchell and Judith Nasatir (Rizzoli, September 2021).