Design Experts
Inside design: Eva Lundgreen
Inside design: Eva Lundgreen
Design Experts
Inside design: Eva Lundgreen
Swedish textile and graphic designer Eva Lundgreen has created IKEA's children's collections for the past three years. This season, however, you'll find her bold, graphic style making its mark on the IKEA Holiday Collection. Here, she shares her insights into the look of Christmas 2008.
STYLE AT HOME
Your designs have a fanciful element. Did your work, which includes kids' items, influence the products you created for the collection?
Eva Lundgreen
Not directly, but certainly memories of the past did. I've
always been inspired by the countryside. My father is from a rural area near the mountains in Sweden. To me, Christmas is all about being there -- in the snow, with a fire burning in the
fireplace
to warm you when you come in from skiing. I particularly love the wool blankets that are used in the sleds behind the horses; the colours and textures really inspired me. Old-fashioned Swedish style evokes such positive memories for me. My challenge was to give it a modern twist.
S@H
How does old-fashioned become new again?
EL
Swedish Christmas is not about glamour -- it's about simplicity, a key
ingredient in modern
interiors
. So, to start, I took some of the images used in old Swedish Christmas stories, simplified them, then enlarged them so they're more graphic. A red heart is a very typical image and a nice symbol, too. The repetition of bold, graphic images is modern; so is adding unusual colours to the classic red-and-green theme. In this collection, I picked orange, an exciting, contemporary colour that's warm for winter. You'll see orange in my striped textiles. Stripes were very popular in Scandinavian fabrics made a hundred years ago, but there's also something really modern about the look of striped
pillows
.
S@H The past plays such an important role in the designs of the present and the future.
EL You know, my husband and I met at IKEA. We were sent to Italy, where
we lived for a long time. Now we're in Tokyo. Italy is all about the past; Japan is all about the future. With this collection, I was able to blend those two influences. In general, though, I think we need to remember our history when we move into the future, taking the best parts with us. Today, we want too much. Instead, we need to simplify, to be satisfied with less and to do things more ecologically.

S@H Can you walk us through your ideal holiday celebration?
EL For me, it requires being in the country surrounded by snow. The whole month of December is devoted to preparing for Christmas. In Sweden, we make little ginger cookies and hang them on our trees. On the 24th, we celebrate with Christmas porridge at lunchtime -- it's a special rice porridge with one lucky almond in it (the person who finds the almond gets to make a wish) -- and then take a long walk in the snow. Later, after a big dinner, we sing songs and dance around the tree. Then, we sit down and have some sweets, and someone dressed as Father Christmas arrives with a big bag of presents for the kids.

S@H Oh, so the kids actually see Father Christmas?
EL Yes, although they're usually scratching their heads, wondering where Dad has gone! But that's all part of the magic.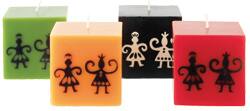 A taste of Sweden
Designer Eva Lundgreen offers these ideas for giving your home a touch of holiday charm with a Scandinavian twist.

1 Choose bold, graphic holiday images, like heart and tree motifs.
2 Dress your tree with homemade gingerbread, brightly wrapped candies and heart-shape objects.
3 Add nontraditional colours like pink and orange.
4 Include stripes for a modern edge. Decorate with evergreens and white candles.
5 Introduce texture with loosely knit blankets and pillows, and a Christmas feeling with embroidered wool fabric.