Design Experts
Inside design: Kirsten Korhani of Korhani Home
Inside design: Kirsten Korhani of Korhani Home
Design Experts
Inside design: Kirsten Korhani of Korhani Home
Breaking down the boundaries beween
decor and fashion
, Korhani Home turns
textile
trends into
rugs
en vogue. And what's more? These stylish floor coverings are flaunted on the runway each year – as clothes! Here, we follow the exciting process all the way from inspiration to execution.
1 STYLE AT HOME
What's one of your first memories of design?
KIRSTEN KORHANI
I grew up in Germany and, when I was a kid, my mom, who was always fashionable, made all my clothes. When I was 6 or 7, she made me a little biker jacket out of this plastic material! She used to sew outfits that everyone else loved but I hated at the time. My mom made me high fashion, even before I knew what it was!

2 How did you meet Moji and become part of the family company, Korhani Home?
KK
Moji and I went to high school in Hamburg together, but he went back to Canada after graduation. Ten years later, I got a call from Moji when I was in Milan. He was visiting Europe and I told him I was in Milan and to meet me there. I then visited him in Montreal, where he was living at the time. Shortly after, we married and moved to Toronto.
3 What are some of the highlights of working with your husband?
KK
I see him every day and every night. It might sound like a drawback for some people but for us it's an advantage. We always have something to talk about – we brainstorm constantly. Even driving to the cottage on the long weekend, we can push business plans forward. It's a huge plus.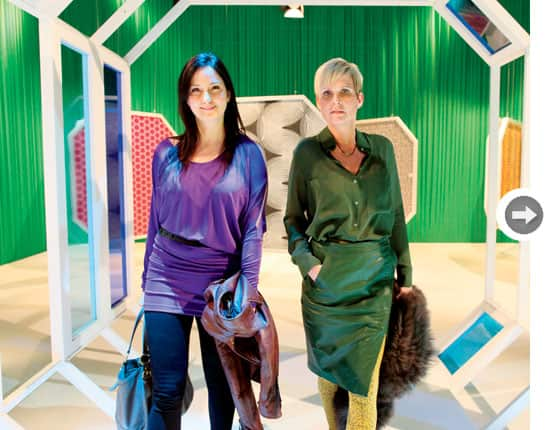 This year, editor-in-chief Erin McLaughlin and Kirsten (shown above) went trendspotting at Heimtextil. Held every January in Frankfurt, Germany, Heimtextil is the largest international trade fair for home and commercial textiles and an important pioneer of trends for the decor industry. Colour Riot, the trend shown here (and among Erin and Kirsten's favourites), boasts hues that are, in the words of the Heimtextil trends book, "fresh, bold and penetrating. They play with light and seem to have no boundaries."
4 In what ways has your background in fashion changed the direction of Korhani Home?
KK
Traditionally, you'd buy one rug for life, but I wanted to make it possible to change your rugs seasonally, like you do with your wardrobe. For summer, you could have a yellow or green rug with matching toss cushions and in the fall you might switch them out for warmer, moodier colours. I wanted to give customers the freedom to change their rooms without breaking the bank, so the rugs also needed to be affordable. It's important for us at Korhani Home to be accessible. We've expanded into
toss cushions
, doormats and, coming soon, other
home accents
!
From collecting inspiration and choosing themes to designing the rugs and sewing and accessorizing the outfits, it takes a full team and considerable time to orchestrate this fashion show. In fact, before one collection has walked the runway, chances are Kirsten is already planning the next.
5 And you've further linked fashion and home with Korhani Home's fashion show, which opened Toronto's World MasterCard Fashion Week this year. How did it all come together?
KK
I start by collecting inspiration, which can come from anywhere: the Internet, travelling, magazines... Then I pull mood boards together based on three different themes. Once my themes are chosen, I create patterns and pick colours for the rugs. After the rugs are produced, we work on turning them into garments.

After the rugs are produced, it takes six months to put the entire show together.

6 Is it challenging to make garments out of rugs?
KK It's a long process. Sometimes you want something to work and it just doesn't. It's learning by doing and having a lot of backup plans.

7 Tell us about Heimtextil this year.
KK I've been going for the last six or seven years. It's really structured. They don't just throw stuff at you. You start by attending a trend forum with huge vignettes accompanied by lectures that talk about each trend, so when you go through the 10 different halls of vendors, you have a clear idea of what you're looking for.
Kirsten studies a mood board of her inspiration, fabrics and outfits in the workroom at Korhani Home's head office.
8 How long did it take you and Erin to go through eveything?
KK
We spent about three days there –I think one day alone at the trends forum and then the rest going through the various halls and attending small lectures. It's not like a typical trade show– and they hand out lots of Prosecco!

9 What theme struck you most?

KK
The Dark Lux was a favourite trend for me. It had every shade that's close to black: night forest, gloomy burgundy,
oxblood
, dusky grey, twilight blue. It was a little creepy. The vignette had black orchids that looked like they were from another planet, dark leather chairs and smoke rising from the ground. We tried to take photos, but it was so dark that they didn't turn out. The trend actually inspired my Death in Venice theme for the fashion show.
Backstage
Backstage was teeming with many masks, makeup and models, oh my! "It's hard to believe the chaos that unfolds behind the scenes when you see how perfectly choreographed each step looks out on the runway," says
Style at Home
art director Karen Paddon, who fought off flying rugs to give readers a peek at what happened backstage.
A runway hit
With three
rug collections
, three themes and three entirely different moods, Korhani Home exploded onto the runway with a contagious energy that left the audience enthralled. From Death in Venice to Moda Mongolia to Glam Punk, each collection was a study in the strong connection between
home decor
and fashion.

Black and white but colour all over
A bright and colourful rug with a big, bold pattern calls for furniture that doesn't demand attention. To make it interesting, use two neutrals, like the black and white used here, with sleek finishes that aren't highly textured. The curves in the chairs and pedestal table echo the swirly shapes of the Suzani-style rug, which will be available across Canada this fall.

WALL PAINT Bolero P5197-24. Para Paints.
TABLE Elte.
CHAIRS Crate and Barrel.
LIGHT Pendant light. IKEA.
VASE, BOWL, VESSEL Hollace Cluny.



Bright, fresh colours
From Para Paints (from left to right)
Big Time, P5198-63.
Baby Rose, P5091-63.
Heat wave, P5084-63.