Design Experts
Inside design: Peter Wilds
Inside design: Peter Wilds
Design Experts
Inside design: Peter Wilds
Cool, classic, eclectic, cultured – there's a cornucopia of words to describe designer Peter Wilds's style. But what I love most is his ability to seamlessly combine them all, tempering the would-be creepy with the undeniably classy. Having found the key to pairing skulls and flowers, hearts and antlers – all in this street-level Vancouver studio for his design firm that launched last year – he has also found the key to my decor heart. Plus, between you and me, it doesn't hurt that he's handsome to boot. And those tough tattoos? They're all of his favourite flowers: peonies, parrot tulips and roses. (Love!)
Peter Wilds Design
The 729-square-foot Gastown studio of
Peter Wilds
Design sits at street level with huge storefront-like windows to provide snapshots of his style to people passing by.

"Do you live here?"
Using the eight-foot-long custom
dining table
as his desk, designer Peter Wilds examines a bolt of
drapery fabric
for a client. He can be seen from the street while he works, so it's not uncommon for random passers by to pop in to ask, "Excuse me, but do you live here?" And that's exactly the effect he had hoped for.

The studio's launching point
When he bought this trompe l'oeil wallpaper at a New York furniture fair, Peter knew that he loved it but had no idea where he'd use it. Serendipity struck several months later when he scouted this space for his new
design studio
. The huge wall was perfect, and the wallpaper became a launching point for the entire studio: detailed but still soothing in white on white.

Dining chairs
A study in Peter's chic pairing of opposites: To temper the feminine shape of these
dining chairs
found at auction, he had them reupholstered in a masculine pinstripe denim. And the classic shape of the chairs themselves balances the edgy and industrial bench.

Peering into Peter Wilds Design from the street, it looks lovely and lived-in.

SAH Tell us a bit about this space.
PW
It's kind of a cross between a showroom and a studio. It's right at street level and the facade is all window, but the space is set up like someone lives here. I was inspired by a trip I took years ago to Amsterdam. The homes along the residential-area canals have large glass windows to the street with their
window treatments
left open. So, walking down the street, you peer inside all these beautiful homes that look like showrooms. I never forgot that and I wanted to capture that feeling here, on Powell Street in Gastown.

SAH Why do you want people seeing in?
PW
I wanted to start a dialogue. I wanted the room to be a conversation piece, where people stop and say "What is this? Is this a store? Is this an office? Is it your home?" It's proven to be really effective. And the response has been amazing – people walk in and immediately get my vibe.

Above the tufted sofa sits a late 1800s heart-shaped maple sugar mould from Quebec
.

SAH So what is your vibe?
PW
Elegance with an edge and a sense of sex appeal. When we walk into a restaurant, bar or
hotel lobby
, we're aware of how it makes us feel, even how it makes us look. And don't we all look better in a good-looking room?
SAH Absolutely! What else defines your style?
PW
I'm really mindful of guys' opinions. In a couple, it's often the woman who's in charge of the direction we're taking. Women have a strong point of view and are very vocal about it, whereas some men have an equally strong opinion but tend to not speak up until it's too late. So I think about the guys from the start.

Peter loves the clean lines of the vintage Platner lounge chair juxtaposed with the ornate detailing on the dark doors – actually a wallpaper pattern – behind it
.

SAH In what ways do you consider men in your decor?
PW
I always aim to strike a balance between masculine and feminine, whether I'm working with a single guy, a single girl or a couple that's gay or straight. Sometimes single guys are set on a certain direction and I say "You've shared that you're single and you don't want to be, so you have to create an environment that a woman wants to come into." The same thing with a woman. I'll look at her bedroom and say "You want a guy to come into this room, so let's chill out on the girly vibe." I have real, straight-up conversations with my clients because I'm trying to give them what they want, you know?
SAH And how do guys react to your aesthetic?
PW
I've had guys walk into my
design studio
, stand there for a minute or two and then literally get on their phone to call their girlfriend or wife and say "You have got to see the space I'm standing in right now." Once, a group of twentysomething skateboarders – all guys – whizzed past, then stopped, opened the door and said, "Hey man, it's really beautiful in here." Those were their exact words!

Even the chain, pedals and wheels on this custom bike are white.


SAH Do you play with opposites beyond masculine and feminine?
PW
I'm always dealing in opposites. The minute I bring something super-elegant into a room, I pair it with something edgy. A mix reflects lives that are more varied – it's how we live. No one eats just one kind of food. We don't shop for clothes in just one place, wearing Prada from head to toe – that's boring. The
high-low
combination of an amazing pair of shoes with an American Apparel T-shirt brings in an edge, like when you add some element to your outfit that doesn't really match but works because it's just so unexpected.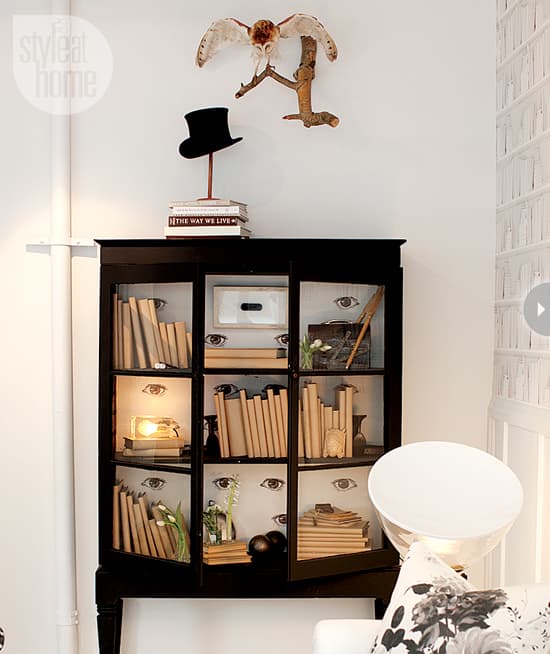 Peter filled the cabinet with beautiful things to balance the unusual eye-motif wallpaper pattern that it's backed with.

SAH And you're not dressed like everyone else on the subway.
PW That's it, exactly! It's the personal assemblage of things that makes the outfit yours. That's what I do with spaces. I get to know my clients and evolve the spaces with elements that say something unique about them.


"I'm a sucker for a bench – I could be comfy sitting on one all night long," says Peter.

SAH Every client is unique, but is there an item that every space needs?
PW For me, lighting visually makes or breaks a room. Dimmers are non-negotiable. And lamps are the jewellery of the room. I tell my clients that, if you have X amount of dollars for your dining table, chairs and light fixture, spend the most on the lighting because it can make a budget table look expensive, while inexpensive lighting can make a pricey table look cheap.

Woodland creatures are one of the designer's favourite decorative elements, along with skulls, flowers, hearts (anatomical or not) and antlers
.
SAH So is lighting the most important factor in your designs?
PW
My relationship with clients is paramount. One of my company mottos is "Everything we're going through in our lives is happening in our homes." Homes are so personal. When you're in someone's
bedroom
, talking about how they sleep and how light affects them, it's intimate. It can be emotional. My respect and empathy for that helps tremendously with my designs.