Design Experts
Inside design: Ray Staples
Inside design: Ray Staples
Design Experts
Inside design: Ray Staples
Ask me what my favourite colour is and I'll tell you it's green. Ask me why and I'll tell you that the reason is Ray Staples. When I was 12 years old, watching Home Day on Citytv's CityLine with Marilyn Denis, a woman in the audience asked that day's guest, Ray Staples, what colour she should paint her room. "Honey, if you can't decide which colour to go with, use green," Ray answered flatly. "God used it everywhere and if it's good enough for him, it's good enough for you." Genius, I thought. And green has been my colour ever since.
I'm not the only young designer who has been influenced by the great Ray. For years, in big ways and in small, she has left her mark on the Canadian design scene, splashing its sometimes-bland landscape with every colour of the rainbow in homes both humble and highbrow. One such example of her inimitable style exists still unaltered after 30 years in the Oshawa, Ont., home of Marilyn and John Sciuk. As a young married couple, they had approached the designer to decorate their first home – a suburban box in need of panache. With a tip of her trademark wide-brimmed hat, Ray set about adding grasscloth, mirrors, zebra print and marble to create a space that was comfortable, sophisticated and anything but box-like and boring.

Thirty years later, the couple's suburban living room still feels like a New York City apartment wrapped in warm, textural grasscloth wallpaper. Floor-to-ceiling mirrors break up the long wall, adding glamour and sparkle. And the room's pièce de résistance – the bold zebraprint sofa – adds contrast and raw energy. Next to the sofa, a pair of traditional bèrgere chairs are upholstered in a slubby silk that mimics the wallpaper's texture.

Balancing drama and sophistication, Ray allowed for statement pieces, such as the sofa, to take centre stage while supporting characters, like the sidechairs, side table and rug, recede. The artwork – a colourful flutter of butterflies encased in a Lucite frame – was the homeowner's pick but received Ray's coveted thumbs-up because thedesigner herself was so often inspired by nature.

Ray's natural inspiration is evidenced in the dining room's earthy elements: a chandelier of shed antlers and a deep green marble table. The black lacquered Chinese Chippendale chairs stand out against the ornately carved antique sideboard. Rough with fine, high with low, new with old, these disparate elements combine to create Ray's signature mix.

Three decades have passed and the Sciuks' home more than stands the test of time. Classic forms, unexpected combinations and a few bold gestures assemble to define a space that is inviting and inspiring, speaking to the legacy of this designer who knew no limits.

Click here to see how Ray Staples designed this home.

The dining room
Mixing and matching is key to creating a dynamic look. In the
dining room
, glamorous lacquered Chinese Chippendale chairs surround a modern marble table, with a
stunning organic chandelier
above.

The living room
The
living room
balances timeless pieces with bold colour and texture. A clean-lined sofa upholstered in an animal print, butterfly artwork and grasscloth wallpaper highlight designer Ray Staples's love of nature.

Material finishes
Materials and finishes, including sleek lacquer, bleached wood, woven
wallpaper
and glossy marble, collide to dramatic effect.

Classic elements
Classic elements, such as a candlestick
table lamp
(designed by Ray) and a bergère chair, are the foundation of a sophisticated room with exotic touches.

Coffee table
After a frustrating search for a new living room coffee table yielded lacklustre results, Ray gave homeowners Marilyn and John Sciuk the curvaceous mirrored
coffee table
straight out of her own home.For years, in big ways and in small, Ray Staples has left her mark on the Canadian design scene, splashing its sometimes-bland landscape with every colour of the rainbow in homes both humble and highbrow.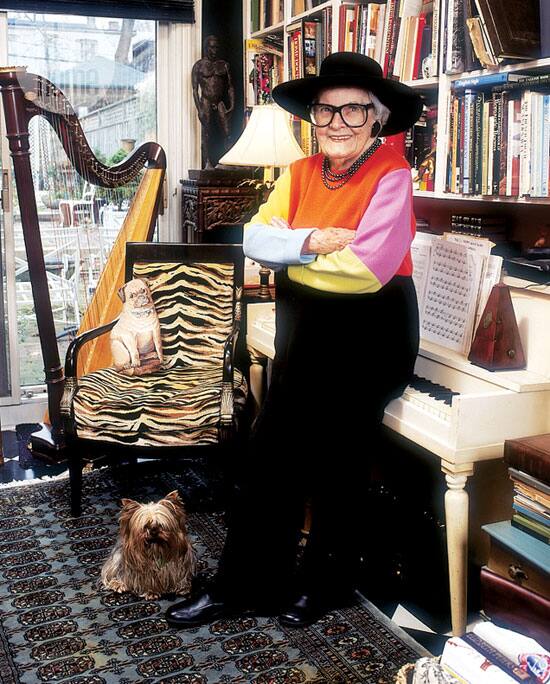 Ray Days

Some of the major events in Ray's life include:
Nov. 12, 1919: Ray Staples was born in Ottawa, Ont.
1930s: Studied at Pennsylvania Academy of the Fine Arts; returned to Toronto to work as a muralist and illustrator.
1950s: Studied at Parsons (now called Parsons the New School of Design) in New York City.
1960s: After returning to Toronto, called herself the Room Doctor and travelled to clients' houses, charging $25 for each room diagnosis she gave.
1972 to 1973: Co-hosted Outside/Inside with Alex Trebek.
1974: Named President of ARIDO (Association of Registered Interior Designers of Ontario).
1990s: Spent years as popular guest on Citytv's CityLine Home Day with Marilyn Denis.
Jul. 16, 2012: Passed away in Toronto at the age of 93.