Design Experts
Jungalow blogger gives us a lesson in tropical boho design
Images: Dabito, Justina Blakeney
Design Experts
Jungalow blogger gives us a lesson in tropical boho design
Justina Blakeney of Jungalow, the blog that celebrates colour, patterns and leafy motifs, shares the inside scoop on her bohemian design style.
The first rule of the
Jungalow
? There are no rules. Put together whatever colours, patterns and textures feel right. To decorator, product designer, author, Instagram-envy provider and bon vivant
blogger Justina Blakeney
, that means bold prints, layered textures, saturated hues and plants on plants on plants: wild, whimsical, tropical and lawless, just
like the jungle
. "Style is about harnessing your inner free spirit," says Justina.
"For me, that manifests itself in an abundance of colour and pattern, and the free flow of energy between indoors and out." But Justina's quick to add that design is personal. "If you set boundaries, you don't let yourself grow. I might say, 'I would never pair a tartan with a suzani.' But then, maybe I would. You never know." Because, to Justina, design isn't formulaic. It's trusting your gut, finding your vibe and establishing your Eden.
Ask her about the rooms in her house, and Justina won't play favourites: "Right now, I'm in my bedroom. It's morning, the French doors are open, and there's a beautiful light flooding in alongside fresh air and the sounds of birds chirping," she says. "So I love it best at this moment." But most evenings, Justina's all about her dining room. "It has this gorgeous gold-detailed wallpaper that shimmers in the candlelight while I hang out with my husband and daughter and download what happened during the day.... And have you seen my bathroom?" (The saturated bold blue space is nothing short of stunning.) It's a lesson in loving – and using – your whole home, in finding meaning in each room. "For me, it's not about what's my favourite, but when it's my favourite."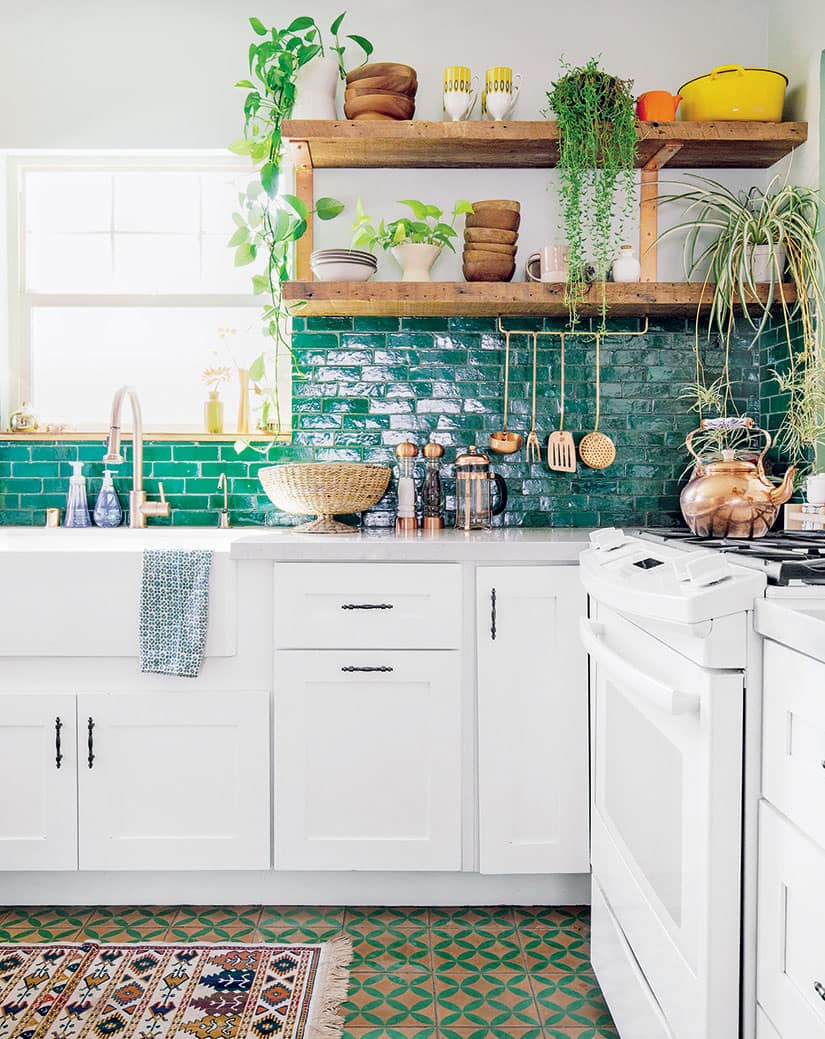 With a heavy dose of juicy emerald green, Justina's kitchen exudes energy. White cabinetry keeps the look bright, and glazed backsplash tiles bounce the light, while plants, pattern and wood and brass patinas imbue the space with this trendsetter's signature style.
A big believer that style is rooted in spirit, Justina asks design clients for more than just Pinterest boards. ("Not to clown Pinterest," she says. "I do love it.") Instead, she asks them questions like: "What palette represents the happiest experience of your life?" "Where does your spirit animal spend the most time?" "What's the most soothing sound to sleep to?" It helps her tap into a person's essence. "Often, people who aren't immersed in the design world don't easily articulate why they like a room, and that can make things very confusing," says the designer, who wants to know what lights someone up. "That conjures more ideas for me."
Justina can't tell you any one thing that influenced her unique aesthetic...instead, she'll give you several:
1. "I was born in 1979, and I think people are always nostalgic for the period right before their birth, so that could be why I favour these long trailing plants, fun folksy art, patterned textiles and natural materials like rattan, wood and sheepskin."

2. "Berkeley, Calif., where I was raised, has a very hippie vibe that's definitely visible in my own personal style."

3. "I was an eccentric kid who loved watching people's reactions when I wore crazy items. I loved to watch the way my clashing patterns or a funny hat brought a smile to their faces."

4. "As a child, I travelled to jungles in places like Mexico and Indonesia. Indonesia was particularly special because I visited this batik factory where I learned all about wax-resist dyeing and other techniques for putting pattern onto fabric. I was 10, and I've been passionate about textiles ever since."
In fifth grade, the budding style savant took a sewing class in the back of a shop, where she fashioned drapes for her bedroom out of mirror-ball fabric – Justina's mom gave her the freedom to design her own space as she saw it. "I also had life-sized posters of Lenny Kravitz, Prince and Luke Perry from Beverly Hills, 90210," she says with a laugh. "My mom didn't visibly side-eye me, but I can only imagine what she was thinking." Justina's five-year-old daughter, Ida, has the same freedom. "If she wants to hang something up on the wall, she does. Her room is a total disaster, but I love it because it's a manifestation of her having fun and being creative, and that's what a kid's bedroom should be about."
---
BUY THIS BOOK
Excerpted from The New Bohemians Handbook Copyright © 2017 by Justina Blakeney. Photography Copyright © 2011 by Justina Blakeney. Excerpted by permission of Harry N. Abrams. All rights reserved.


Photo Gallery
Inside design: Justina Blakeney
Full circle
Justina Blakeney Aja wallpaper in Teal, Hygge & West, $190 US per double roll.
Image by: Hygge & West
Inside design: Justina Blakeney
Full circle
Selamat iron and cotton Fela Tassel chandelier, Jungalow, $194 US.
Image by: Jungalow
Inside design: Justina Blakeney
Full circle
Justina Blakeney cotton P0479 toss cushion cover, 22", Loloi Rugs.
Image by: Loloi Rugs
Inside design: Justina Blakeney
Full circle
Sisal and sweet-grass Blue Night + Citron basket, Jungalow, $124 US.
Image by: Jungalow