Design Lesson
10 beautiful ways to display books
10 beautiful ways to display books
Design Lesson
10 beautiful ways to display books
Unceremoniously crammed into boxes,
closets
and under beds, books are sometimes read and often forgotten. Our 10 suggestions on how to beautifully display your books and magazines will have you clamouring to highlight, instead of hide, your texts.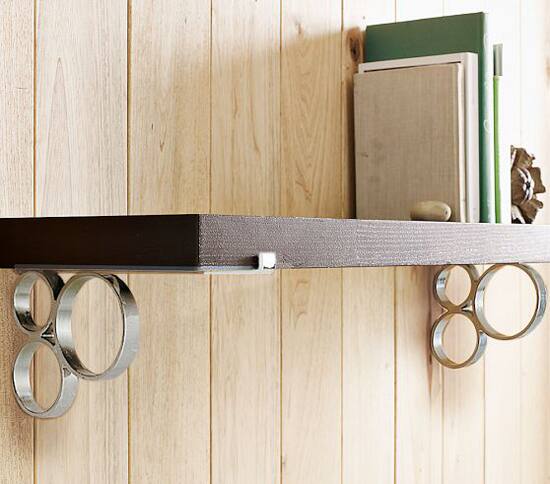 1 Bracket shelves
Decorative metal brackets add architectual flair to sleek wooden shelves. These particular polished metal brackets come in three intriguing designs: circular, flat or square.
$120-$160 US, West Elm.
2 Woven rattan bowl
Store your books by piling them into a handcrafted rattan bowl. The delicate weave is meant to evoke the image of a bird's nest and gives this unique book display an organic, textured appearance. $150 US, Restoration Hardware.
3 Animal index
cards
When tackling the tricky proposition of
organizing
your book collection, it helps to divide and conquer. Plastic, animal-shaped index cards designed by Hiroshi Sasagawa for +d, add quirky visual interest and will help you to organize your bookshelf in style. These are great for a
child's room
, too.
$70 US (set of three), gessato.com.
4 Room divider
Use literature to help create privacy in an open-concept
loft
, bachelor suite or large room by displaying books in an
eco-friendly
bamboo bookcase and room divider. Inspired by Oriental joinery, this large storage and display case is simple, elegant and convenient.
$1500 US, Room and Board.
5 See-saw bookshelf
Have a little fun with your literature by displaying your
books
on a playground-inspired see-saw bookshelf. Whether you're trying to find balance or not, this sculptural walnut wood shelf bridges the gap between form and function.
Pricing available upon request, gnr8.biz.
6 Hanging wooden trays
A rustic, swing-inspired hanging tray can conveniently hold all reading materials while you lounge in or
outdoors
. This set of two mango wood trays will bring a little taste of relaxed, island-life to your home.
$89 US (set of 2), Pottery Barn.
7 Geometric bookends
Handdrawn geometric bolders decorate a pair of simple
unfinished
solid wood blocks. This set of bookends is a simple and striking way of displaying your literary collection.
$56 US (set of 2), auroraleehales on etsy.com.
8 Bedroom cabinet
This unique nightstand is crafted to resemble a
small
studio apartment and is the perfect place to house all your bedtime essentials. A great place to display your current nighttime reading, this cabinet even includes a literary roof.
$115 US, huset.com.
9 Conceal bookshelf

Don't just display your books -- use them as functional, floating shelves. Powder coated steel
hardware
disappears behind a stack of books that provide a decorative display and the ability to help you show off other accessories.
$14, Umbra.
10 Open storage unit
Espresso-stained mahogany frames can be stacked to become a sturdy bookcase or left alone to be used as a
coffee
or side table, bench or nightstand. Mix and match these versatile pieces to fit your book display needs.
$199-$299 US, Crate & Barrel.