Design Lesson
10 decor style books we love
10 decor style books we love
Design Lesson
10 decor style books we love
Recycled Home by Mark and Sally Bailey, $34, Ryland Peters & Small, hardcover, 160 pages. The Baileys show you how to take an object you already have (or pick up at a tag sale) and turn it into something more beautiful or useful. The key is learning how to train your eye to spot finds and see their true potential. For example, vintage fabric could be fashioned into pillows and bedspeads, or used to re-cover smaller items, while an old table might make the ideal coffee table once the legs are cut down. Beautifully illustrated, this book is a superb choice for recylcing enthusiasts.


Home Outside by Julie Moir Messervy, $38, Taunton, hardcover, 249 pages. Love the thought of an outdoor room but not quite sure where to start? Using her six-step process, Messervy introduces readers to the same basic ideas used to plan an interior; for example, coming up with a layout that flows, paying attention to detail, and creating focal points and different zones that take into account how you want to use your space. The text is accompanied by striking garden designs, diagrams and photos that will inspire the inner designer in you.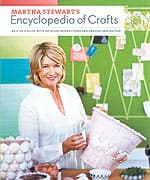 Martha Stewart's Encyclopedia of Crafts, $40, Potter Craft, hardcover, 416 pages. From the doyenne of découpage comes the ultimate how-to reference for those who love crafts. It covers beading, silkscreening, candle making, origami, paper folding and much more. You'll also find colour photos, more than 200 projects, and the best crafts from Martha Stewart Living, as well as a large selection of templates. Make personalized gifts, decorate your home, or just keep the kids (and yourself) delightfully busy on a rainy afternoon with these creative ideas.
Outside In by Aitana Lleonart, $25, Rockport, hardcover, 303 pages. Bring the outdoors in with this book, which showcases everything from indoor pools and gardens to gyms and squash and basketball courts for year-round enjoyment. For example, a glassed-in garden courtyard offers much needed light and greenery views, while a personal spa (aesthetician not included) maykeep you from ever leaving home. In contrast,
Inside Out by Daniela Santos Quartino ($25, Rockport, hardcover, 303 pages) is all about moving indoor living outside. Increase your living space by adding an outdoor seating area, covered terrace or garden oasis where you can read, socialize, eat or just chill out. The glass room on the book's cover is a good example – we featured it in our May 2008 issue.
New London Style by Chloe Grimshaw, $39, Thames & Hudson, hardcover, 224 pages. Take a tour of 28 eclectic homes belonging to hip British stylists, musicians and artists. There's no common design thread to this collection. Each home is uniquely decorated—from a retro-mod flat in Hampstead to a sleek, light-filled house in Brondesbury to a Bloomsbury-inspired townhouse in Brixton. Brief bios of the homeowners and descriptions of their personal styles are accompanied by dynamic colour photos. Britannia rules!
The Vintage Home by Judith Wilson, $27, Jacqui Small, hardcover, 144 pages. If you're looking to furnish a new home or just spice up what you have, vintage style is an eco-friendly and creative way to get a look you'll love. It doesn't have to mean meticulously recreating the Cleaver home. Instead, add a few elements to your space—from intricate fabrics and glowing Scandinavian woods to a '50s-style kitchen or '60s Mad Men-esque details. Includes a diverse collection of photos to show you just how it's done.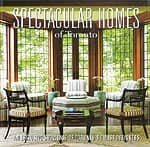 Spectacular Homes of Toronto by Brian Carabet and John Shand, $39, Panache, hardcover, 228 pages. A treasure trove of interiors created by well-known local design gurus like Brian Gluckstein, Jacqueline Glass, Dee Dee Hannah, Timothy Mather, Jan Brown and our own contributing decorating editor Kimberley Seldon. Includes a generous sampling of French, modern, classic and country styles, with a little background info on each designer, and his or her inspirations or tips.
Interior designer Sasha Josipovicz of Studio Pyramid shares his favourite books for design inspiration.


Alberto Pinto: Orientalism by Alberto Pinto, $100, Rizzoli, 2004, hardcover, 256 pages. "The Paris-based interior designer has worked for Moroccan royalty, and celebrities like Sophia Loren—he's the Christian Lacroix
of the design world. I try to better myself through his work. I believe you have to be born with a gift for using colour brilliantly, but you can incorporate the ideas of this great designer into your own home. In the designs shown in this book, Pinto uses colour to perfection; in a stunning example, he punctuates a black-and-white room with a swath of fuchsia fabric. What a difference colour makes, especially in your home."
Luis Barragán by René Burri, $25, Phaidon, 2000, hardcover, 80 pages. "Barragán is one of my heroes. I love his architecture as well as his passion for colour and the inclusion of his culture in his designs. He mounted religious artifacts on stark walls, and paired midcentury modern pieces and primitive furniture made of wood or painted with natural dyes. This was considered revolutionary during the '50s."