Design Lesson
10 ways to achieve a laid-back, easy-to-do holiday party scheme
Design Lesson
10 ways to achieve a laid-back, easy-to-do holiday party scheme
Cheryl Krecsy's quaint café – set in the coach house attached to the century-old Victorian that is now her store in Fort Langley, B.C. – is simply charming. And when it's decorated for a holiday tea party? Well, pictures are worth a thousand words.
Cheryl Krecsy, a self-proclaimed "white" aficionado, always has a can of white paint on hand. "You can do so much with it," says Cheryl. In fact, she can attribute her livelihood to her love of all things white. The owner of Little White House & Co. lifestyle boutiques and cafés in Fort Langley and Abbotsford, B.C., started out in retail by repurposing and selling old furniture, often painting it in her choice hue. Now, 13 years later, her stores continue to sell items that suit what she calls a "soft style of living." Just in time for Christmas, Cheryl transformed her Fort Langley café with delectable pieces from her shops in her signature soft white and taupe palette. With the addition of a few handmade decor elements, the stage was set to host an intimate afternoon tea party. Here, she offers ideas and inspiration for creating this relaxed, easy-to-do holiday party scheme.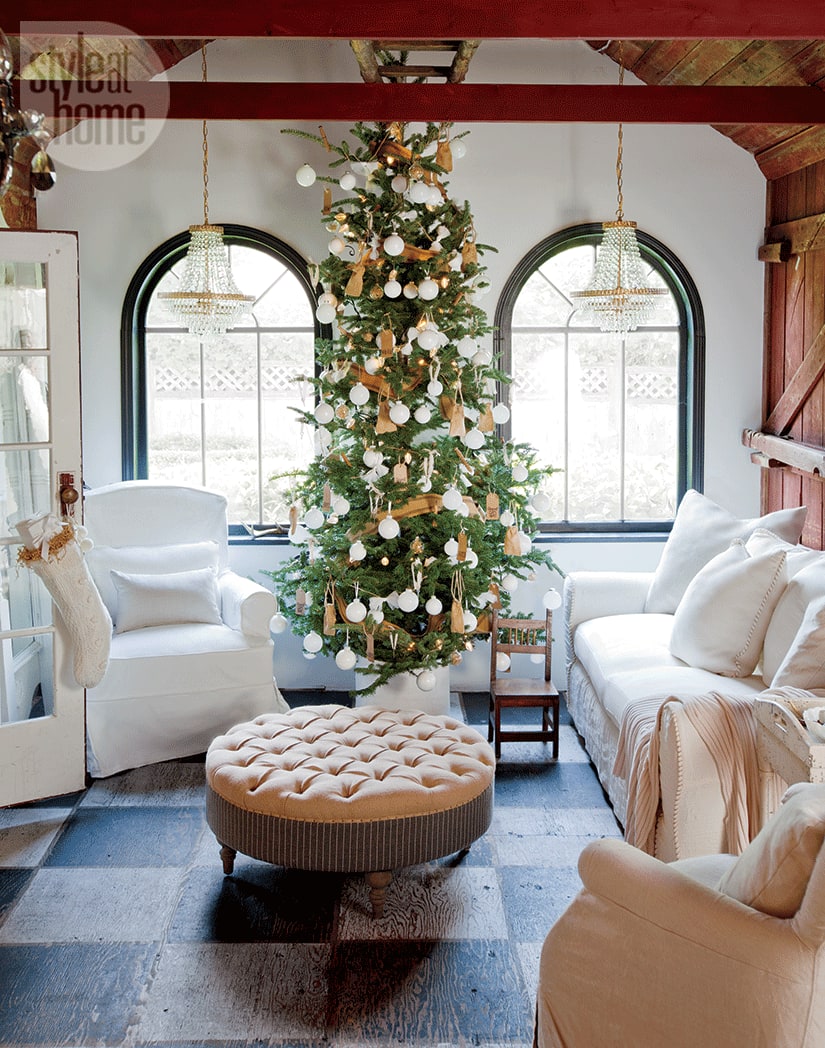 1 The rustic coach house, which usually serves as Little White House & Co.'s café, was transformed into a sitting area for afternoon Christmas tea. Slipcovered furnishings lend a relaxed feel, while a tufted ottoman upholstered in a combination of burlap and pinstriped suiting fabric offers the perfect mix of casual and refined. "If you don't have all white furniture at home," says Cheryl, "you can brighten up your look and make it more of a white Christmas by adding white accessories like toss cushions, throws, stockings and scarves."


2 The unsightly Christmas tree stand was placed in an old cheese box painted white. The tree's decorations – everything from white glass balls to a garland made from jute webbing – complement the scheme's natural palette.


3 Old-school gift tags double as amusing Christmas tree decorations when marked with tongue-in-cheek expressions and tied with pieces of twine. "I found the stamps at a crafts store in a bin marked $1.50 a tamp," says Cheryl, "and I couldn't resist picking up the humorous ones!"


4 Burlap favour bags serve as adorable tiny Santa sacks, which greet guests hung on doorknobs and also act as Christmas decorations on the tree. "You can fill them with little trinkets for your guests," says Cheryl.
5 Wrapped with white kraft paper, delicate lace ribbon (which Cheryl found in Paris) and a pretty rosette bow made out of toile wallpaper remnants, this gift boasts old-world charm. "You can always reuse paper," says Cheryl. "And don't worry if it's crinkled: If you're going for a vintage look, the more crinkled, the better."


6 In the dining area (usually the café's garden room), painted antique furnishings – the table and a set of pressed-back farmhouse chairs and a Lloyd Loom wicker chair – pop against the rustic wooden backdrop. Silverware left unpolished, linen napkins with frayed edges and a nubby burlap runner enhance the relaxed, imperfect look.


7 Cheryl dressed up the window in the dining area with a garland fashioned from her grandmother's doilies, along with a few she made herself (which resemble snowflakes) and a bit of twine. "It's a nice way to display doilies without making the look feel fussy," says Cheryl.


8 This lighthearted holiday take on place cards was created by stamping the names of Santa's reindeer on mini art canvases using rubber alphabet stamps. The various tones and designs of the milk glass dishes provide a touch of softness.


9 Cheryl created her own Christmas cards in keeping with the party's natural, do-it-yourself scheme. Here, she used light-coloured paper, which she cut to the size of a pre-made cardboard envelope (using scissors free hand for an unfussy look), and glued on a boxwood twig in the shape of a wreath.

10 For an afternoon Christmas tea, Cheryl offers an array of petite sweet and savoury treats – soufflé cupcakes, macarons de Paris, lavender sweetheart shortbread, Parmesan and rosemary shortbread and cheese biscuits with butter – served on a mix of old milk glass, porcelain and metal trays.