Design Lesson
Before and after: Walk-in closet makeover
Before and after: Walk-in closet makeover
Design Lesson
Before and after: Walk-in closet makeover
Style at Home's managing editor, Catherine Therrien, is all about order. After two years of living with a non-compliant closet system in her master walk-in, she knew it was time to call on the experts and work with one willing to realize this space's full potential.


Before the makeover
The original closet system that came with our new-build home included only a single tier of basic wire shelving. Because the 78-square-foot walk-in closet is situated between the master bedroom and bathroom, it also acts as a passageway; as a result, there are two doorways to contend with, as well as two substantial jut-outs from piping and the staircase.

Although my husband, Aaron Putman, and I are fairly handy and resourceful, designing a fully functional closet was beyond our skill set. Enter closet expert Dermot Connolly of Toronto's TailorMade Closets. Using ClosetMaid's customizable MasterSuite line, he offered up endless configurations of possible layouts to meet our needs and, of course, those of our little Yorkshire terrier, Chloe, who has also claimed part of the closet.



The plan
To take advantage of the room's nine-foot-high ceilings, Dermot suggested using the line's upgraded 96-inch-high, 14-inch-deep system.
The final design features designated areas for his and hers items, including open closet storage with double-hang rods for tops, jackets, pants and skirts, and shelves for folded sweaters, jeans and shoes.
The design also incorporates a nook for tiny Chloe's pet bed and a spot for a decent-sized laundry basket.

After: A decorated room
Not one to shy away from the dramatic, I selected a soft black for the walls so that the antique white closet system would stand out. I also wanted the space to feel like a decorated room, so I layered in accessories like
artwork
and a mirror.

After: Finishing touches
Crown moulding and oil-rubbed bronze hardware add the finishing touches.
Open shelving
Open shelving gives you the opportunity to artfully display your best wares and collections, from handbags to shoes to pretty perfumes.

Hers
After determining what to keep, toss and donate, I maximized prime real estate by placing the pieces I wear most at eye level and in the most accessible spots. Formal wear was relegated to the back of the
closet
and out-of-season items to baskets on the top shelves.

His
Aaron likes to arrange his clothing so he can actually see everything. He says it makes for faster dressing. The jut-out on this side of the closet was turned into a comfy bench with the simple addition of a custom
bench cushion
.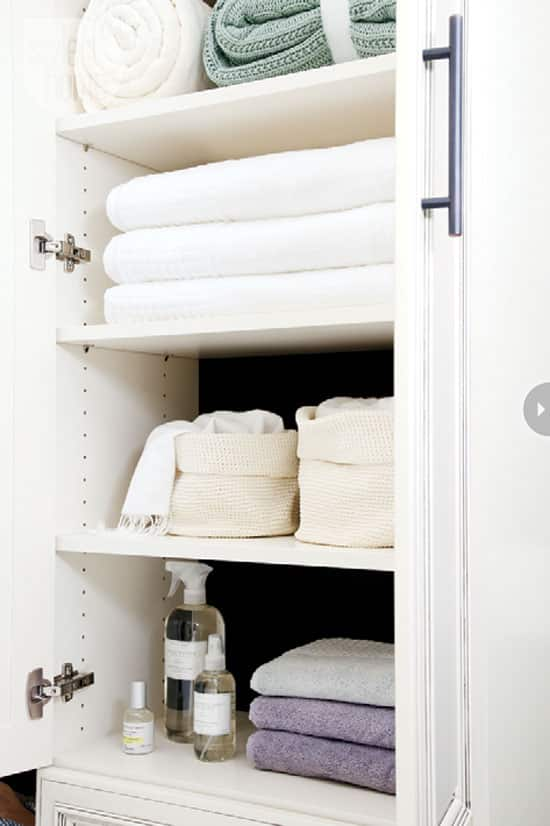 Linen space
Since the home didn't come with a
linen closet
, we added upgraded glazed solid-wood cabinet doors with soft-closing hinges to the shelving unit to house towels, bed linens, pillows,
throws
and
blankets
.

Perfumes and antiques
Rather than crowding my
bathroom
vanity, I corralled my collection of perfumes and a few antique finds and displayed them on a mirrored tray on one of the shelves.
Jewellery storage
I tend to keep jewellery stowed in its boxes in a hundred different places. This compartmentalized jewellery tray keeps baubles all in one spot. Since I can see the pieces at a glance, I'm now more inclined to actually wear them.
Shoe organization
These clear plastic shoeboxes are just divine. Not only are they stackable and ventilated but they also protect shoes from dust. And you can easily see what's inside!

Pullout tie rack
Although they won't admit it, men need their own cool
accessory organizers
, too. ClosetMaid offers plenty of upgrade options like this convenient pullout tie rack, along with valet rods to display outfits, belt racks and lined jewellery inserts.