Design Lesson
Brian Gluckstein
Photography: A Plus Creative
Design Lesson
Brian Gluckstein
The renowned interior designer shares his favourite ways to warm up rooms for winter.
One of the most celebrated interior designers in Canada, Brian Gluckstein has been creating luxury interiors for more than 30 years. No stranger to the media, he is often on design shows and his work is regularly in magazines. Brian's sophisticated interiors are inviting and liveable, featuring a mix of different styles and periods that capture a timeless feel. His GlucksteinHome line at Hudson's Bay and new line of fixtures and finishes at Home Depot Canada make getting the trademark Gluckstein look easy. As does this thoughtful advice from Brian on how to add layers of warmth to your home.
KL: Your design style spans from classic to contemporary. Any tips for those who like both modern and traditional styles?
BG: I love the contrast of mixing modern and traditional styles. If it's a traditional home, I would decorate 75 per cent of the space with traditional pieces, and then have 25 per cent be modern accents. The same goes for a modern space, I'd decorate it very modern and then add in a few antiques. You don't want it to be a fifty-fifty split or there won't be a strong enough point of view and it will look like you couldn't make a decision.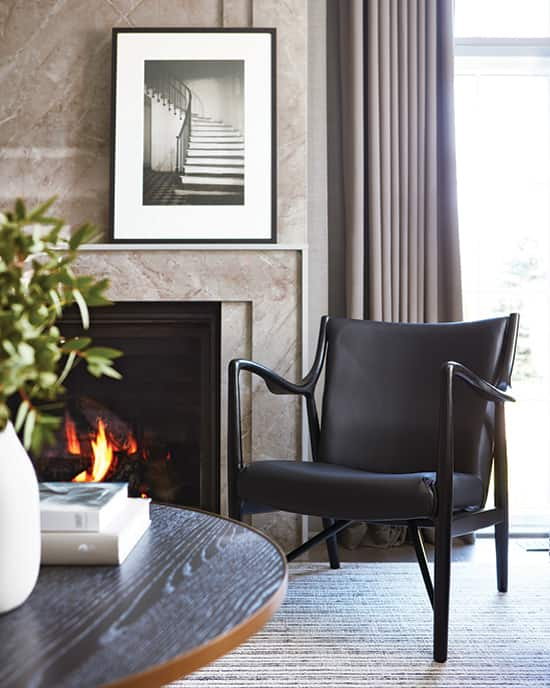 Photography: Angus Fergusson
KL: What are your favourite wall colours for creating a cozy environment?
BG: I love warm taupes, warm greys and even deep blues to create cozy spaces. Beyond paint, I love to use wallpapers that add subtle texture and depth; layering textures is so key in creating an interesting, warm space. Two paint colours that can add a cozy feeling to a room are Benjamin Moore's Blue Note 2129-30, which creates a depth that envelopes a room, and, for those that like a warm neutral, I like Pale Oak OC-20, also from Benjamin Moore.
BLUE NOTE 2129-30, Benjamin Moore.
PALE OAK OC-20, Benjamin Moore.
KL: Do you like incorporating fireplaces into your designs? Is there a style of fireplace that you like?
BG: I love fireplaces, and actually have a few throughout my home – I even have them in my principle bathroom and kitchen! I especially love having a fireplace in the kitchen because it's the centre of the home, and a space people always congregate in. As we're using our kitchens so much these days for entertaining, dining and cooking, it just makes sense to include one there and make it an even more inviting space. There's nothing better than reading a book or having dinner by a fire. I think the fireplace style should reflect the architecture of the house. And for those that can't have wood burning or gas, there are steam fireplaces that look incredibly realistic.
Photography: Jason Hartog
KL: Any lighting styles or design tricks that can help warm up a space?
BG: A mix of lighting – from lamps, sconces, to overhead lighting – is key to creating a soft, warm ambience in a room. I will often turn off the overhead lighting and just have lamps on and candles lit for a cozier feel. Be sure to use lighting not only as a source of light, but also as accessories for the space, bringing in interesting finishes and materials. I often say lighting is the jewellery of the home, so be sure to choose pieces that you love and want to show off. And don't forget to install dimmer switches, especially in rooms you use for relaxing, such as family rooms, bedrooms and the dining room.
Ashbury round flush-mount LIGHTING, GlucksteinElements, Home Depot.
KL: What are your favourite accessories that make a room look and feel cozy?
BG: Candles are one of my staples for a cozy room. For busy families with pets and small children, there are some very realistic LED wax candles that create a warm look but ensure safety. I also love throws and cushions, and in particular faux fur, chunky knits and velvets for a warmer feel. It's nice to change things up and decorate seasonally so that the home doesn't feel static; that's half the fun of accessorizing. Plus, it's a great way to bring in trends with minor investment.
GlucksteinHome Dotti CANDLE HOLDER, Hudson's Bay.
Ashton Faux Fur THROW, Hudson's Bay.