Design Lesson
Canadian designers' favourite designs
Canadian designers' favourite designs
Design Lesson
Canadian designers' favourite designs
We are showing our national pride by celebrating Canadian design at its best. 11 Canadian designers share their favourite spaces - all of which are north of the border and all of which they, themselves, designed. From kitchens, to living rooms, to bedrooms and more, we find out what inspired their most beloved projects.



Photography by Virginia Macdonald

Samantha Sacks: A well traveled dining room
"This is the view from my dining room into my kitchen. I love the way the old Egyptian doors frame the space, warming up the more modern lines in the kitchen. It's where my family eats dinner every night so I see this space and think, "Yum, it looks fantastic," and then, "Yum, I'm going to eat!" -- Samantha Sacks

Tour the rest of Samantha Sack's Victorian home here.

Photography by Stacey Van Berkel
Jonathan Legate: A personalized foyer
"As a Nova Scotian with a long family history in Halifax, my foyer says as much about where I'm from as it does about who I am. The foyer is a personal greeting and a first impression, it's often the only glimpse inside a home and mine is one of my favourite spaces.
Living in a humble country cottage in middle of the city suits me - I've always considered my personal taste to be "a little bit country and a little bit rock and roll" and my foyer speaks of both. A maple games table purchased when I was 19, Windsor captains chair and box collection, are all Nova Scotian antiques. They share simple lines and act as a foundation and provide substance. Their imperfect, rustic finishes feel relaxed while a compass-inspired mirror adds light and glamour. The sparkling disco ball looks like it just rolled in to say this is a house that's fun.
Lavish colours jump from a photograph by artist and friend Heather Watts; its large scale adding drama and depth. Folk artist Barry Colpits' shapely carved female sculpture is mimicked by the curves of a blown glass
table lamp
, marrying two stirringly different textures. Collecting Nova Scotian art is an important part of my life and it starts right here.
There is little wonder why my foyer is a favourite spot of mine. Strikingly different pieces (that mix of country and rock and roll) blend to create a space that holds fond memories, expresses my personality and makes a firm first impression with its big Nova Scotian hello." --
Jonathan Legate

Tour the rest of Jonathan Legate's country cottage here.
Photography by Angus McRitchie
Beth Gold: The eclectic kitchen
"This kitchen is my favourite because it's a combination of objects and materials that embody my design philosophies - a neutral canvas punctuated with contrast and a mix of contemporary and antique elements.
The painted
kitchen cabinetry
and marble backsplash are both basic and classic allowing the vintage styling of the iconic Aga range to take center stage. The Italian smoke glass table anchors the space with unassuming lines and seating for 10 when extended. The wicker chairs are supremely comfortable (not a stool to be seen!) and the sisal rug provides a subtle nod to nature. The library light adds intimacy while the
pendant light
above throws in a touch of whimsy.
What I probably love most though are the ironstone bowl and the transferware cheese dome that are a reminder of the history of design and of how many "cooks" came before us." --
Beth Gold
Photography by Bookstrucker Photography
Alykhan Velji: French bistro-inspired home
"I simply loved designing this project because it was just a builder grade home and we were under some strict budgets. I love a good challenge and in this project, we wanted to create a space that had a
French bistro
feel. We really had to think outside of the box in making the budget that we had to work with stretch out to create a chic and stylish space. I love the injection of the soft neutral tones, gorgeous linens and, of course, the relaxed, easy feel to the space.
The
wallpaper patterns
in each space also really helped to make a bold statement. The custom wallpapers in the bedrooms are my favourite. We sourced this from a company based in Vancouver. These were a bit of an investment, but with what we saved with shopping at big box stores for the furniture, it really helped to bring the space together." --
Alykhan Velji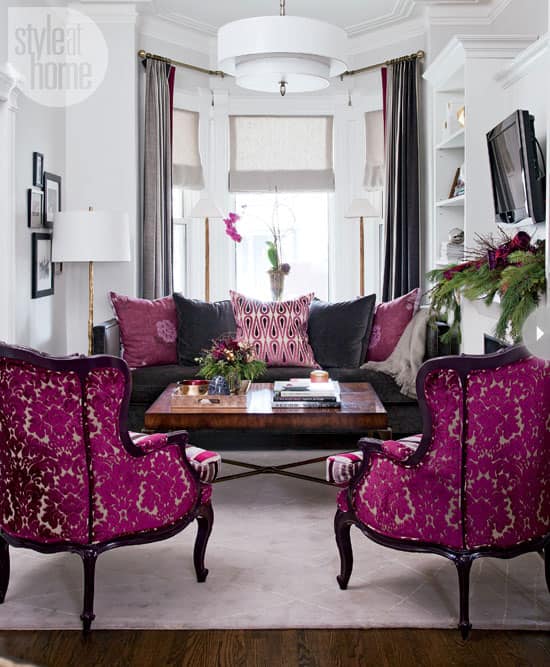 Photography by Donna Griffith
Erin Feasby and Cindy Bleeks: Luxe living room
"This is one of our
favourite living rooms
that we designed because our client just let us go for it. We were able to use incredible, luxe fabrics with so much colour, life and personality! It's very much a reflection of our client and her attitude towards design and something not everyone has the guts to do.
We absolutely loved the transformation of the previously drab, torn and worn Bergere chairs into something truly one of a kind. The combination of the furnishings, fabrics, lighting and tongue-in-cheek
decor accessories
used in a traditional Victorian rowhouse is what, we think, makes this room so special." --
Erin Feasby and Cindy Bleeks

Check out the rest of this modern Christmas interior.
Photography by Paul Orenstein
Meredith Heron: Timeless bedroom
"This bedroom is an interesting story. The clients hired me to transform their home. It was 18 months of planning and a nine month renovation, during which I had a baby. A week after we finished, they were transferred to New York City. The new homeowners have since hired me to decorate my own design. It's crazy, this room is now a teenage
boy's bedroom
.
I love the shade of China Blue we used - a Farrow and Ball colour which was the perfect saturation for the room and the perfect backdrop for this coral headboard. The
throw pillows
were found and an afterthought really - all we started with was the headboard and the bedding and we just kept adding layers. I love how the colours all seem to relate to each other, but don't exactly match. Vivid coral, orangey pinks, blues that are slightly off. It just makes the room feel collected and loved.
I get asked questions about it weekly and see it pinned almost daily on Pinterest. I love that this room resonates with people all around the world. It's timeless and full of so much life, even if it's now a completely different room." --
Meredith Heron
Photography by Donna Griffith
Michael Penney: Classic Canadian living room
"This house is in Prince Edward County in Ontario, a place near and dear to my heart because it's where I worked as a camp counselor as a teen and eventually where my wife Sara and I got married. It belongs to Cheryl and Richard Little and is a country place away from the hustle and bustle of their midtown Toronto home.
This is one of my favourite spaces because it's a classic Canadian farmhouse nestled in an unspoiled setting on a winding country road. The room is true to its roots with large windows and classic details like the rustic wooden floor, which was reclaimed by Richard. He also put some of the historic charm back into the space by building this fireplace box, mantel and shelving himself!
The decor has all of my favourite hallmarks including a vintage sofa that was rescued from a basement, an upcycled
coffee table
we sprayed in a dark finish, and some family armchairs slipcovered in a casual ticking stripe. Lots of books, candles and
fresh flowers
make for a cozy and relaxing retreat and make this one of my favourite Canadian spaces." --
Michael Penney

Tour the rest of this country casual farmhouse renovation.

Photography by Carol Reed

Carol Reed: A welcoming kitchen
"This is my favourite space from a client project for so many reasons, because the redesign of this kitchen reflected so much of my own design philosophy and they were ideal clients.
These homeowners are passionate about cooking and even more passionate about sharing their home with their large circle of family and friends, not just on special occasions but every day. For me, that's truly the essence of what a home is all about. Because this space was so pivotal to their lifestyle, the outcome of the
kitchen renovation
was extremely important to them and I felt honoured to be tasked with the challenge.
The previous dysfunctional kitchen was an '80s add-on to my clients' century home and it was in dire need of a complete gut and overhaul. From a dimly lit kitchen with a bold Santa Fe colour scheme and very little storage or counter space, the new space is bright, fresh and easily accommodates large gatherings.
Even though the look is timeless, the homeowners own collections and antique pieces add personality and loads of custom details make the non-custom
kitchen cabinets
look bespoke. I love that this kitchen demonstrates that, in the hands of a designer, "off-the shelf" or "big box" doesn't have to look cookie cutter. I also love homes that have architectural character like this one, so I infused this kitchen with classic details to evoke the charm of its century heritage. When their friends tell them their kitchen doesn't look "new", for me that is the best compliment of all and I know I achieved exactly what I was hoping to – to give the new kitchen an old look and her old things a new life.
This was definitely the most dramatic and extensive transformation I've done. It's been truly satisfying to see how much the renovated space has enhanced their lifestyle and how much joy it has brought.
Although its a very large kitchen and family room, with many views and sight lines, my favourite image is of the kitchen table, which evokes the room's simple, timeless elegance. The patina of the old table and contrast of the dark chairs, the mix of new and old, elegant with rustic, the flood of daylight, I love it all. The table epitomizes the change that took place yet it was the one main item that remained from the old kitchen. The antique monks table and vintage chairs, once completely lost amidst the clutter and
bold colours
of the old kitchen, now shine in the new space, as do all of their other favourite pieces. Just one look at this kitchen table and it beckons you to gather around and stay awhile. And they do." --
Carol Reed

Tour the rest of this fresh farmhouse-style kitchen renovation.
Photography by Tracey Ayton
Karla Amadatsu: A girl's first bedroom
"This space is the bedroom I decorated for my little girl, Carys. Coming from a family chock-full of boys you can imagine my excitement at having a little girl arrive and the prospect of decorating with pink!
We used Cole and Sons Magnolia
wallpaper pattern
on one wall for some impact and had fun adding in pink, crisp white, and gold throughout the room. Though we have since moved to a new home, this first bedroom decorated for my daughter remains a favourite." --
Karla Amadatsu
Photography by Ingrid Oomen
Ingrid Oomen: A living room retreat
"This is my favourite room - the
living room
of my own farm in Caledon, Ontario. It's the place where my husband and I retreat to on weekends. This
home renovation
allowed me to transform it to suit my family's needs, as well as gave me an opportunity to try new colour and material combinations.
I designed it to accommodate lots of visitors, our books and other personal affects, a
fireplace
, and plenty of comfortable seating. The wood floor is wide plank pine stained dark and now have a worn look, which I love. The fireplace is used all winter and I wanted to emphasize it as the focal point of the room, which is why I chose a dark colour. I designed built-in bookshelves on each side of the fireplace to display our book collection and other things that are important to us, as well as closed storage for the things that I don't want on display.
I like the result of the contrasting finishes as it plays with the different levels of light. The entry hall to our bedroom has double doors that we keep open to expand our living space and bring in another layer of light from the spaces beyond. Overall, I wanted the space to be soft and inviting which, I think, was well achieved." --
Ingrid Oomen
Photography by Tanya Maryniak
Emma Comesotti: A kitchen close to home
"This project was a very special one for me as the clients were my parents. It was both a wonderful and daunting task to work on a project with such a personal connection. The pressure was on!
My parents wanted to create a warm, inviting,
contemporary home
highlighting the breathtaking view of Howe Sound and blending with the rugged West Coast landscape. Architect Rol Fieldwalker created an incredible structure featuring fir ceilings, slate floors and expansive windows. I set out to create an interior that reflected a clean, contemporary aesthetic without conflicting with the strong character of the home.
Having renovated and built several homes in the past, my parents definitely had their opinions and preferences, and so we worked together closely to perfect the floorplan and material selection. They were always so grateful for my time and professional opinion, but really the pleasure was all mine! After much debate, we eventually agreed on horizontal-grain oak
kitchen cabinets
which were custom-stained to work with the grey slate floors and a simple white
quartz countertop
. The effect is elegantly understated and allows the view and architecture be the stars of the show.
I love that I've never had to close the doors on this project, that I can continually appreciate the space and see it in use and being enjoyed by others. The best part of my job is creating environments that make my clients happy and that positively impact their lives on a day-to-day basis. With this project, I was given the opportunity to do this for two of the most special people in my life, and there's nothing more rewarding than that." --
Emma Comesotti