Design Lesson
Debbie Travis' Christmas tree tips
Debbie Travis' Christmas tree tips
Design Lesson
Debbie Travis' Christmas tree tips
Putting up a Christmas tree during the holidays can be both fun and daunting. For some of us, making the tree stunning and beautiful can be a bit of a challenge. It often seems like there's always a glaring bald spot or an array of kids' crafts that simply overwhelm the general theme. How do you
decorate the perfect Christmas tree
? Design maven Debbie Travis shares her tried and true tricks.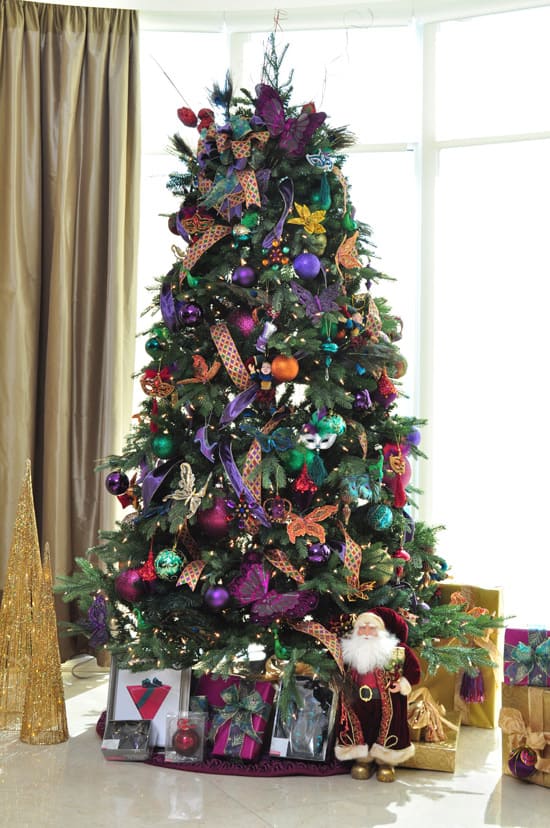 Masquerade ball - Luxurious jewel tones, crowns and peacock feathers give this collection a majestic feel.
As an international home decorating superstar, going to Debbie was a no-brainer when we wanted to learn how to create the perfect Christmas tree. With a new line of
Christmas decorations
at Canadian Tire
stores across Canada, Debbie was the ideal go-to-gal to help us sort out the dos and don'ts of trimming a stunning tree.
Debbie says that when there's a recession, often people go all out with things like Christmas. So with the Masquerade Collection (pictured above) there's lots of luxurious jewel toned colours, crowns and other elegant things.
Peppermint - Traditional candy cane colours inspired this collection, updated with silver accents.
According to
Debbie Travis
, before you even start thinking about placing ornaments on the tree, lay out what you have and take stock. There may be some that you can replace to update the theme of this year's tree. Once you've condensed your collection and started decorating, Debbie says, make sure you keep stepping back to look at your work. She says some people like fewer ornaments, while others like more.
Pistachio - Lovely green and gold details play off beautiful dark brown accents in this elegant collection.
For a beautifully uniform look, Debbie says to choose a favourite ornament and go all out with it. Consider hanging a bunch of chandeliers or silver balls
en masse
. She says, it's your tree; you can do what you like with it! Debbie also stresses that trimming the tree is a great opportunity for the family to get together and catch up.
Once Upon a Time - This collection is romantic, pretty and feminine with a Victorian feel. It's inspired by all things magical including fairy princesses and even a frog prince.
When we asked Debbie how to trim the perfect tree, she had a formula. She says for every foot of tree there should be 10 ornaments. Within each foot there should be five basic ornaments, three accent ornaments and two theme ornaments. What does this all mean? The basic ornaments complement the overall theme in
colour
but are basic in shape like the pretty pink, purple and green ones shown above. The accent ornaments are basic shapes that go with the theme like the roses seen above. And finally, the theme ornaments can be more decorative like shoes or crowns.
A Canadian Christmas - Tartan, woodland creatures and the Canadian outdoors inspired this truly Canadian collection.
Along with five other collections in her new line of Christmas decorations at
Canadian Tire
is a collection called A Canadian Christmas. Debbie says the last time she visited London she noticed a trend in all things Canadian like tartan, moose and even beavers! She says since the 2010 winter Olympics, there's been a strong sense of Canadian pride at home and abroad.
Winter Forest - Touches of sparkly silver and frosty blue unify the icy feel of this cool wintery theme.
When talking to Debbie about how to decorate the perfect tree, we were naturally curious about how the decorating diva dresses her own tree.
Here's what she said:
Real or fake?
Real. But there's a real trend with having two trees. The second one, in the dining room, would be a fake tree. There are a lot of great fake trees out there now.
What theme/colour scheme did you go with this year?
Masquerade Ball - from my Canadian Tire collection. When there's a recession, often people go all out with things like Christmas. So with the Masquerade collection there's lots of luxurious jewel toned colours, crowns and other elegant things.
When do you usually have your tree up?
Usually 10 days before, because it's usually a real tree. I don't want it to be too dry by the time Christmas rolls around. But it depends on how busy my schedule is.
When do you usually take your tree down?
I'm lazy about taking it down. Usually around Easter!