Design Lesson
Dressing the staircase
Design Lesson
Dressing the staircase
Staircases
, an architectural feature, are often overlooked when it comes to decorating. With just a few stylish upgrades, they can, however, bring considerable presence to a home. While large-scale projects are best left to the pros, you can put your best foot forward with these simple ideas, tips and solutions for dressing up your stairs.
The inspiration
It's easy to take your stairs from overlooked to outstanding with just a coat of paint and a graphic runner.
Photography by Ryan Brook/TC Media


Why add a runner?
Runners are both a playful and a practical choice for adding texture, colour, pattern and warmth to hardwood staircases. Cotton or wool flatweave runners come in fun colours and patterns and are quite forgiving in high-traffic areas – plus, they help prevent slips and falls.
Natural fibre carpets
, such as seagrass, sisal and jute, are classic options, providing a hit of organic texture. They're also sustainable flooring choices made from rapidly renewable resources.
Photography by Ryan Brook/TC Media


Binding tapes
Adorn
runner
edges with wide binding tape in a contrasting colour for a dramatic effect.

Easy DIY idea
Use paint, stencils or
wallpaper
to give hardwood stairs a new look. Update your steps with just a few coats of paint. For a contemporary look, contrast dark-coloured walls with all-white stairs. Try painting a coloured band down the centre of your stairs to mimic a runner, or paint the risers and treads in different hues.From bold and playful to simple and natural, there's no shortage of choice when it comes to selecting a stair runner.
6 runner options
1
Polypropylene indoor/outdoor runners in Christopher Pewter, Isle Pewter and Tommy Sea Gray,
Y & Co.
2
Chilewich Basketweave runners in Glacier, Lemon, Lime, Titanium, Chalk and Chocolate,
Y & Co.
3
Celerie Kemble linen and wool catalyst runner in Pink/Grapefruit, Celerie Kemble linen and wool Tremor runner in Brazen,
Y & Co.
4
Botanical Blends seagrass Hacienda Herringbone Runner, Merida sisal runner in Dusk, Island Colours sisal Boucle Runner,
Y & Co.
5
Missoni wool Alvin Runners in Surf, Maize and Moss,
Y & Co.
6
Windham stair tread in Ebony, Garden Gate stair
tread in Brown,
The Home Depot
.
Straight run staircase. Photography by Virginia Macdonald

Staircase types
:
1 Straight run
There are three types of straight-run staircases: In a straight line from top to bottom or in an L-or a U-shape.
Both the L- and U-shaped staircases contain a landing midway.
The U-shape is most compact.

2 Winding
Winding staircases have either a 90- or 180- degree turn on wedge-shaped treads.
Don't contain a landing.
The spiral – a type of winding staircase common in small two-level apartments – coils around a fixed vertical axis (usually a pole).
Photography by Virginia Macdonald

The Hollywood wrap: In the absence of risers, carpeting is completely wrapped around each tread. Here, durable Wool Creations II sisal carpeting in Ivory from Carpet One Floor & Home was used
.


3 Single open under
Straight-run staircase where only one side attaches to the wall.
Usually open underneath.
Common in basements.

Photography by Ryan Brook/TC Media
The newel post

What is it? The vertical post that supports the handrail of a staircase. Though mainly structural, newels are shaped to reflect different architectural styles.

Where is it? The principal newel is found at the foot of the stairs. Others appear at the landing (known as the intermediate post) and at the top of the staircase.

Decor tip To add one-of-akind character, find a vintage newel post. It may need a little reworking, but the result will be worth it.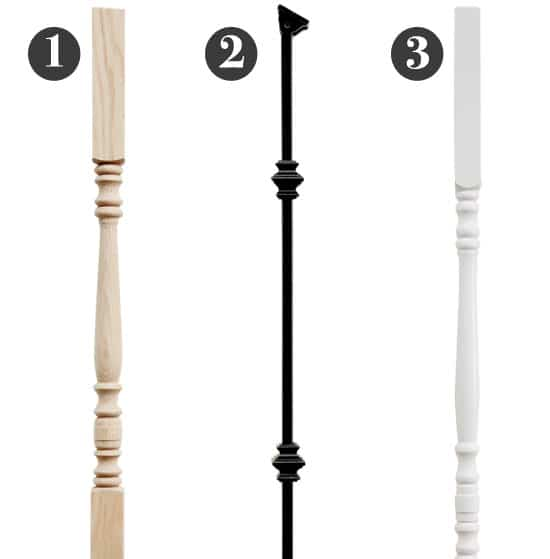 Photography by Ryan Brook/TC Media


Spindles
Replace run-of-the-mill or damaged spindles with a different finish or a more interesting design. Consider giving wooden spindles a coat of paint in a fun colour for a unique look. Here are three spindle options:

1 Traditional wood
Turned oak spindle, 32",
The Home Depot
.

2 Wrought iron
Adjustable wrought iron spindle in black, up to 38",
The Home Depot
.

3 Lacquered
Turned lacquered spindle in white, 32",
The Home Depot
.