Design Lesson
Erin McLaughlin's wedding getaway
Erin McLaughlin's wedding getaway
Design Lesson
Erin McLaughlin's wedding getaway
For
Style at Home
editor-in-chief,
Erin McLaughlin
, the trade-off of an intimate ceremony last spring in New York City, with only her fiance and two stepdaughters-to-be in attendance, was a day that could have been devoid of style. Erin, however, was determined to have it all. So she booked into the chic
Maritime Hotel
in Chelsea and, with the aid of design editor Ann Marie Favot, assembled the keepsake portable projects shown here to bring along a touch of home and help make her runaway wedding a lasting affair.
Erin and her new husband Ken share a laugh on their wedding day.
The room
The Maritime Hotel offers tons of nautical character, with a navy palette, warm teak panelling and windows shaped like portholes.
Champagne flutes
Toast the big day with champagne flutes adorned with your new initials. Ann Marie used easy stick-on letters (Martha Stewart Crafts) for an etched effect. Wrap them carefully in tissue for safe travel.
Flowers
Add a personal touch to your fresh
flower bouquet
. Order from a local florist, then wrap the stems in ribbon, fastening with pearl-head pins brought from home.
Personalized pillows
Switch out impersonal hotel linens with
monogrammed
pillow cases you've commissioned for the occasion.
Stylish sleeping quarters
Ship-shape beds at the Maritime Hotel offer a soft port in the storm.
Jewelry catchall
Use a scrap of treasured fabric to sew a small bag to hold heirloom jewelry -- and maybe a few new pieces.
The dress(es)
Like most women, Erin had trouble deciding on a dress, so she bought two to suit whichever mood she was in! The short one is Vera Wang and the long dress is J.Crew.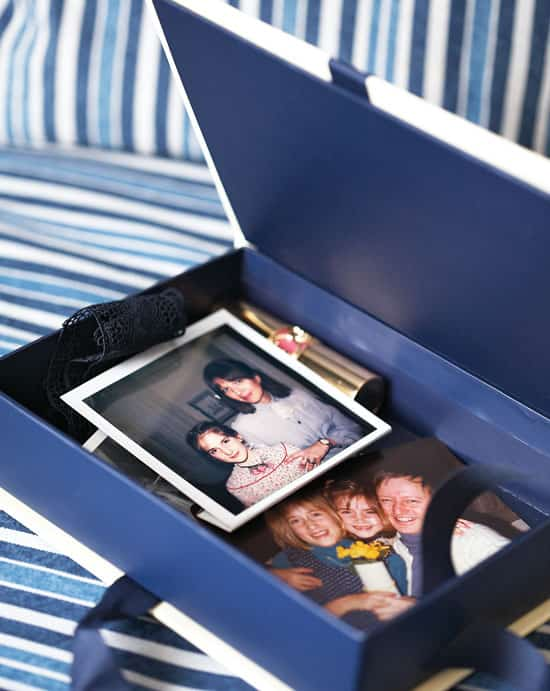 Keepsake box
Take mementoes with you -- something old (Erin chose family photos), something new, something borrowed -- in a hard-sided box (blue, perhaps?) for secure transport.
Picture perfect family
Erin poses for a post-wedding picture with new husband Ken and her stepdaughters Emma and Catherine.