Design Lesson
Get the look: Coastal casual
Get the look: Coastal casual
Design Lesson
Get the look: Coastal casual
There's something about the seaside that just makes you feel good. It could be the smell of the air, the sunlight shimmering on sea and sand, the rough rocks, the pretty shells or all of these things combined. Bringing any or all of these elements into your home is a surefire way to satisfy your senses and ease the cravings for vacation days that seem too far away.
Design-wise, the lucky few who live near the water can coattail on Mother Nature's beauty. For the rest of us, help is not far away.
Nautical style
and natural fibres are all abundantly available. Incorporate them into your existing decor for feel-good moments all year long.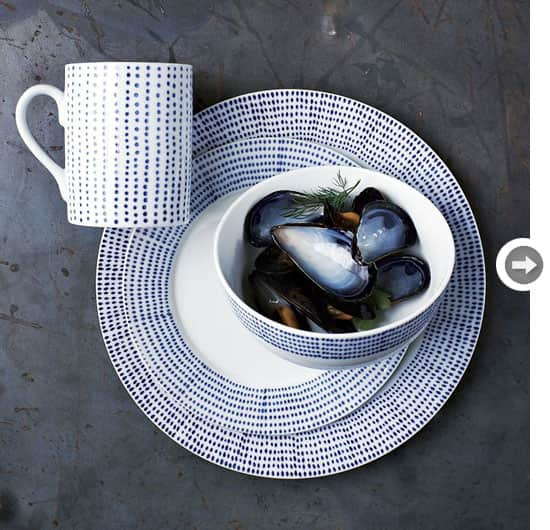 Coastal dinnerware
If you can't dine by the ocean, pretend you can with these dishes! The fresh colours and playful pattern definitely say 'seaside.' Grill some
smoked trout
, pile on the Greek salad and before you know it, you'll start to smell salty air!
West Elm
,
$24.96 – $41.60
.
Seashells
Seashells are the easiest way to bring
beach-inspired romance
home with you. With a bag of assorted shapes and sizes you can get creative. Stack a bunch of these
cottage style accessories
in glass vases, or place bigger ones solo on a side table, display case or wall mounted ledge.
Crate & Barrel
,
$16.16
.
Maritime mats
Create the coastal feel right from the moment someone sets foot in your
beach house
. Rugged and perfectly striped in
nautical style
, this rug provides a maritime feel even in the heart of the city.
Pottery Barn
,
$64.11 – $456.63
.
Printed throw pillows
If you're a seafarer at heart, you'll love the schooners on these printed
pretty pillows
. They're perfect for the sunroom, bedroom or better yet, that comfy porch swing where you can dream of your next holiday by the ocean.
Horchow
,
$260 – $315
.
Vase
Going coastal doesn't have to mean
decorating with pattern
and natural fibres. Try these gorgeous aquamarine vases instead. The colour of tropical
turquoise
water, you'll want to dive right in to them!
West Elm
,
$19.76 – $40.56
.
Rattan bathroom decor
Sometimes the easiest way to go natural … is to go natural. Pair light, neutral tones with these rattan
bathroom accessories
and you'll be transported seaside day and night.
The Bay
,
$14.39 – $39.99
.
Artful choices
If the more traditional maritime flavours aren't your thing, but you still want the light, breezy feel of
beach-inspired romance
, look for prints like this one. A picture can speak a thousand words – or just two: coastal living.
Horchow
,
$625
.
Salt and pepper shakers
Whether paired with themed dishes or just a subtle touch on your s
tylish table settings
, these shakers are sure to inspire reveries of seaside dining. At the very least, they'll bring a smile to your face!
Seaside Inspired
,
$16
.