Design Lesson
Get the look: Great Gatsby style
Get the look: Great Gatsby style
Design Lesson
Get the look: Great Gatsby style
F. Scott Fitzgerald's classic novel
The Great Gatsby
is as much a delightful journey through 1920s design and architecture as it is a timeless story recounting affluent America throughout the decade.
The Swinging Twenties were defined by the Art Deco style – geometric shapes, streamlining and clean lines – and was founded heavily on the glitz and glamour of early
Hollywood decor
. To do your home up in true
Gatsby style
, introduce elements of opulence into your space with polished furniture, silky fabrics and luxurious crystal lighting.
With the theatrical release of
The Great Gatsby
set to hit screens this spring, we sourced nine essential pieces to introduce into your home to mimic the
interior design
of the Swinging Twenties.
Art Deco artwork
The style of the Swinging Twenties can easily be defined in the Art Deco artwork that was produced throughout the decade – the simplicity of geometric shapes, straight lines and sharp edges. Puppy owners will love this Art Deco inspired print with the phrase "Love me, love my dog."
Red Gate Arts on Etsy, $20
.
Mirrored furniture
Reflective furniture was all the rage in the '20s, and it wasn't rare to see mirrored tables and chests in the homes of high society like Jay Gatsby. Create an elegant and
stylish boudoir
with Hollywood flair by adding a mirrored chest to each side of your bed.
Ethan Allen, $1,190
.
Silky fabrics
The early Hollywood influence on the '20s is evident in the popularity of shiny, luxe fabrics like silks and satins. This
metallic throw pillow
from West Elm is the perfect addition to give any room a touch of
old Hollywood glam
.
West Elm, $30
.
Number plates
Architecture was hugely influential in the Art Deco period, influencing the styles of fashion and
interior design trends
. Give your
home's exterior
the grandeur of the Empire State Building with this inspired number plate.
Atlas Signs & plaques on Etsy, $168
.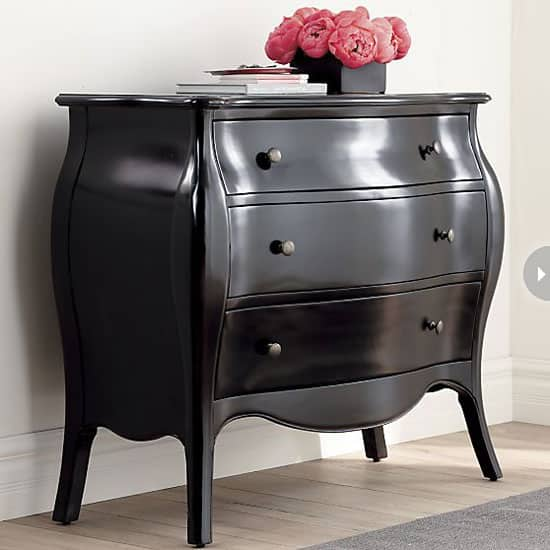 Lacquered furniture
Along with mirrored tables and drawers was the appeal of high gloss
furniture
, evoking a sense of
decor glamour
and drama. Introduce a lacquered piece like this chest into your decorating scheme to give your space an opulent touch.
Crate and Barrel, $1,163
.
Geometric shapes
One of the most definitive styles of the era was the use of geometric shapes in everything from fashion to architecture to
interior design
. This metallic and teal
wallpaper pattern
from Graham & Brown is perfect for adding an Art Deco touch to a
powder room
or accent wall.
Graham & Brown, $75 per roll
.
Polished metals
Falling in line with the shiny fabrics, glossy paints and reflective surfaces of the period is the popularity of polished metals. Adding this fabulous set of 1920s standing binoculars to your living space is a unique way to pay homage to the Gatsby era and create
masculine chic decor
.
Restoration Hardware, $2,495
.
Glamorous and romantic lighting options
Nothing has the ability to add more glitz and glam to a room than a few
stunning chandeliers
, and this unique '20s-inspired version will cast a glittery glow from wall-to-wall.
Restoration Hardware, $1,795
.
Glass accessories
If you're not looking to do a complete redesign of your home, you can still add hits of '20s-inspired decor with glam
home decor accessories
. Dress up your bathroom or boudoir vanity with this pretty parfum bottle.
Chapters and Indigo Music & Books, $18
.