Design Lesson
How to: Create a stylish bachelor pad
How to: Create a stylish bachelor pad
Design Lesson
How to: Create a stylish bachelor pad
When it comes to bachelor style, we're not talking about creating the typical "bachelor pad". We're talking a stylish space that's not only manly, but also livable and classy. We enlisted the help of Tim Lam from Design Maze, for some surefire tips on making a space both stylish and masculine for today's bachelor. "When I think of bachelor living, I think of a sexy, hip, authentic downtown loft," says Tim. "I love that the space is full of personality thanks to stunning architectural features, such as exposed beams, pipes, and concrete walls. The space is catered for entertaining within minutes."

Tim's top lessons for bachelor living
1 "Max out seating capacity with a comfortable sectional sofa, especially for those who host parties for a larger group of friends."
2 "Use multi-purpose furniture that is practical for daily routine and sexy for entertaining."
3 "Live outside the box by extending your entertaining areas beyond the living/dining room. Let the kitchen, den and balcony work double duty to serve your guests."

Think about mixing it up
There's a difference between a stylish bachelor pad and one that looks more like a college dorm room. That usually means bringing a mix of masculine with very subtle, softer touches. "Balance between the sexes is important," explains Tim. "Bachelors want to be macho. I get it. However, unless you intend to live the rest of your life as a bachelor, you will have to introduce some softness to calm and juxtapose against the hard, edgy, contemporary vibe of your space." Here are Tim's tips for making a space the perfect mix of masculine with a touch of softness.

a If you have polished concrete floors, put down a cozy comfortable rug
b If you have edgy loft windows with black frames, pair them with light sheered operational drapery panels that can easily be opened and closed to soften the look
c If you have a leather club chair, mix it up with a fabric-upholstered sofa for a cozy, eclectic look.

Find out Tim's advice on choosing fabrics and colours for your bachelor space.
It's all about the fabrics
Steer clear of anything too light in texture.
Fabrics
are a great opportunity to express masculinity. Think of options in a heavier weight (nothing too soft and definitely not frilly). "Hard wearing, heavier weight, easy-to-care upholstery grade fabrics such as cotton/polyester blends. This material is easy on the eyes, soft to touch, resistant to wrinkles, and rather easy to spot clean," explains Tim.
Another fabric option that exudes a strong, masculine vibe is leather. "I am usually not a leather fan. However for a bachelor space, I love to use genuine leather on a comfy club chair or a tufted
ottoman
," says Lam. "Yes leather can be scratched, but that is precisely the character and personality I am after to create a masculine space."
Choose the right colours
"The sky is the limit when it comes to colors for a bachelor space," recommends Tim. "I personally like to accentuate a
neutral space
with pops of bold colours, such as race car red, royal blue, mustard yellow and, of course, emerald green."
It's all about organization
"Storage, storage, and more storage" is exactly what a
bachelor pad
needs, says Tim. "95% of the bachelor pads will never be organized, so let's incorporate enough storage to hide the mess!" Tim suggests using a built-in wall storage unit in the bedroom to keep clothes and accessories organized and at easy reach, side tables with storage options and a credenza for media.
Have fun
Don't forget to showcase your personality in a masculine space too. Tim suggests finding a show-stopping chandelier and having fun with artwork to add colour, interest and personality. The washroom is also a spot that you can incorporate your own sense of style. "Sexy up the washroom with a standout faucet," says Lam.
Find out Tim's
five bachelor pad must-haves
.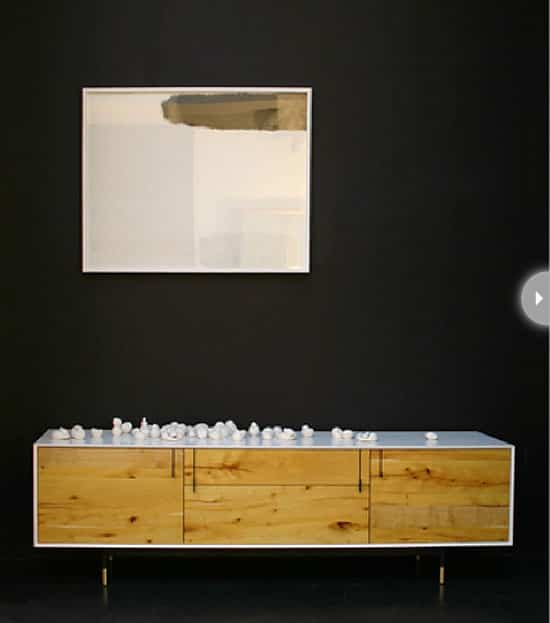 A chic credenza
A sleek and sophisticated credenza allows for easy storage of DVDs, CDs and all other media items.
bddw.com, price upon request
.

The ideal sofa
Loungy, comfy and, yet, still totally stylish, this sectional offers tons of seating space for entertaining.
Style Garage, $3,250
.

A sexy chandelier
This
chandelier
offers up the perfect mix of masculinity, style and soft lighting.
Jonathan Adler, $1,350
.

Leather catch-all
Adding a touch of leather through a catch-all is a great way to not only up the bachelor factor, but to also keep things organized.
Pottery Barn, $37.61
.

A nightstand with added storage
The wood and ruggedness of this nightstand is perfect for bachelor style, and the added deep drawer is a great
storage solution
and staying organized.
West Elm, $359.76
.