Design Lesson
How to master the art of the gallery wall
ARTWORK & PRINTS, FROM LEFT Network by Emily Bickell, Footy 4 by Joel, Untitled – Landscape by Richard Herman, Art Interiors; black and white wreath, Elte Market; Tulips and Melon by Kristin Sjaarda, Art Interiors; small coral, HomeSense.
Design Lesson
How to master the art of the gallery wall
Curating a stunning art collection and arranging it just so isn't as hard as it may seem. All you need are a few tips and tricks.
The art of arranging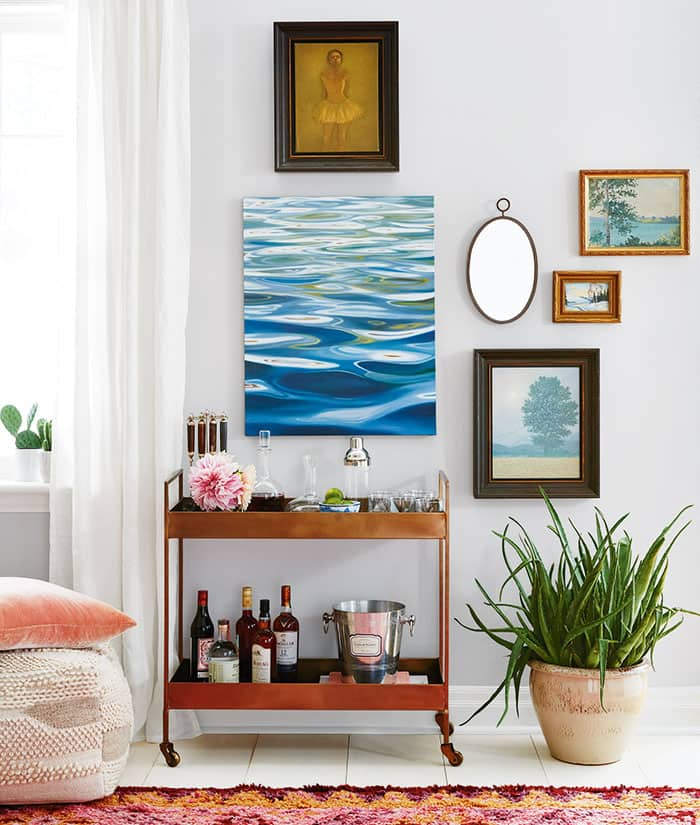 ARTWORK (AT LEFT), FROM TOP: La Petite Danseuse II by J.T. Winik, Network by Emily Bickell, Untitled – Landscape by Richard Herman, Art Interiors. BAR CART, POUFFE, TOSS CUSHION, Elte; MIRROR, DRAPERY, DECANTERS, HomeSense; aloe PLANT, PLANTER, Sheridan Nurseries.
A gallery wall that really stands out requires planning — but it should look organic, as though it was thrown together with pieces you already own. Here, we break down how to achieve this look:
1. Mix and match: Curate artworks in a variety of media, styles and genres for a dynamic, unfussy look.
2. Vary sizes and orientation: Include large and small works in horizontal and vertical orientations to balance the display. Big pieces anchor the arrangement, while little ones fill in any empty spaces.
3. Don't forget frames: Select diverse frames to give the illusion that pieces were collected over time and purchased everywhere from flea markets to shops abroad. If you want something more formal, stick to one colour. Using all black or white frames offers a clean, contemporary look.
4. Add the unexpected: Incorporate different shapes and dimensions into the arrangement. Ideas include a sculptural object, a round mirror or a vintage metal initial.
5. Personalize it: Include items that tell a story, such as family photo- graphs, a map from a trip across Europe, your children's artwork or a textile with special meaning.
Balance the colours
Have a palette in mind — pick a piece with a strong signature colour and then find others that feature the same hue to a subtler extent. Balance out light and dark – if you're drawn to softer pieces, for example, include something bolder to anchor the look.
The mounting system hardware on The Frame by Samsung is so slim it hangs as close to your wall as a picture does.* *Measured from rear end of the TV, the gap may differ based on the installation and wall type. Playa Shoreline by Tommy Clarke (on The Frame)
Embrace technology
Creating something magical often involves stepping out of your comfort zone. In addition to well-known media, quality artwork now appears in digital form. This innovation means adapting the way we think about using artwork and technology in our homes. In contrast to the traditional home gallery wall that works to camouflage a television by surrounding it with art, new innovations, such as The Frame by Samsung, allow the television to integrate seamlessly and naturally into your arrangement – and become part of your decor. The feature "Art Mode" on The Frame, a new TV by Samsung transforms the screen into a stylish display when you're not watching your favourite show. We love how it adjusts its display based on a room's lighting and colour scheme*, so the artwork looks like an actual painting rather than a ubiquitous TV screen. Even better, an energy-saving feature switches it off when you leave the room. Housed in a unit with such a sleek and sophisticated profile, The Frame, by Samsung has bridged the gap between art and technology.
*Performance may vary depending on the ambient brightness level at home.
Map it out
A perfect gallery wall is all about the planning. Once you've selected your art (and before you put any holes in the wall), make paper cut-outs that replicate each piece you intend to use, and rearrange them until you have a pleasing display. Keep in mind that you should balance colour and medium – place something dark next to something light; put a photo next to a painting. It can be a bit of a puzzle to get the look just right, so be patient and give yourself a break if you start to get frustrated.