Design Lesson
Look of the week: Minimalist
Look of the week: Minimalist
Design Lesson
Look of the week: Minimalist
Having a minimalist style doesn't mean you don't like beautiful things around your home. It just means you like a clutter-free, organized space where the things you love can really stand out, rather than being lost in a sea of chaos. Creating a minimalist, Zen-like environment requires two things: Unfussy furniture and stylish organizing tools that will keep all that clutter at bay. "To achieve a minimalist look, utilize closed cabinetry to hide visual mess," says Lisa Canning, Designer,
Lisa Canning Interiors
. "A minimal look relies on streamlined pieces. Pick pieces that work in harmony together."
Here are 10 ways to get the look:

Parsons Tables
It's curious that something so simple can be so striking but that's the beauty of the much-admired Parsons table. As a side table, end table or coffee table, it's the perfect modern, minimalist piece.
Available at:
Crate & Barrel
Price:
Starting at $499

Mahogany Customizable Drawer Trays
Order is a necessity to getting work done in any home office. Kitchens work so much better when the drawers are organized. And your craft corner? Wouldn't it be nice to have all your ribbons, scissors and tags in neat piles? These customizable drawer trays will get you organized in no time!
Available at:
Williams-Sonoma
Price:
$59.95

Everett Ottoman
This piece is perfect for the minimalist in you. Simplicity is the appeal of this lovely piece, which is covered in top-grain Italian hides.
Available at:
West Elm
Price:
$414.94

Storage Bench
This beautiful bench will look great in a front foyer or mudroom and provides easy storage for hats, mitts, scarves and other odds and ends so they don't end up lying around and driving you crazy!
Available at:
Home Depot
Price:
$69.99

Murphy Bed
A Murphy bed is the minimalist's way of maximizing space. Perfect for small spaces, these fold-up beds can offer accommodations when necessary, then recess back into the wall when not in use for more space, less … stuff!

California Closets
Custom closets, like these
California Closets
not only look fantastic but will help you adhere to the mantra:
A place for everything and everything in its place.
This is the ultimate organizing solution for a bedroom to keep things restful and calm.
Normandy Baskets
If the sight of clutter drives you around the bend, utilize stylish baskets to keep it hidden away! These baskets are handwoven from rattan vines and will serve myriad purposes around the house.
Available at:
Restoration Hardware
Price:
$45 - $125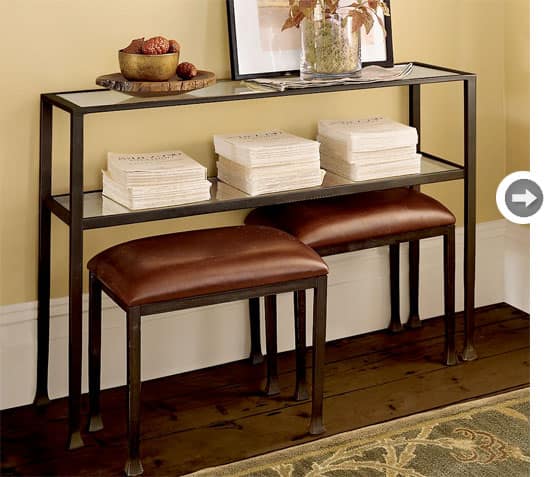 Tanner Console Table
Made with a hammered iron frame and tempered glass, this streamlined console table is the definition of unfussy. Slim and simple, it will offer a handy place to set things down or create a tasteful display.
Available at:
Pottery Barn
Price:
$531.12

Wooden Framed Mirror
Minimalist doesn't refer only to modern sensibilities. This rustic wooden mirror has a wonderfully minimalist appeal to its unadorned frame.
Available at:
etsy.com
Price:
$50

Diamond-Carved Chair
This exquisitely shaped chair will add just the right amount of detail to a minimalist's space. Effortlessly elegant and featuring a lovely nailhead trim, this is a piece to treasure.
Available at:
Neiman Marcus
Price:
$2,199