Design Lesson
Quiz: What's your signature holiday style
Design Lesson
Quiz: What's your signature holiday style
Answer these questions to discover your signature holiday style.
Ever find yourself singing, "Santa, baby, just tell me how to decorate my tree?" If determining your home's holiday look is your own personal nightmare before Christmas, fear not. We're here to help. Answer the following questions to discover a festive style that suits you just as well as that bushy beard suits jolly old St. Nick. Armed with inspiration and easy ways to deck your halls, you'll be singing a different tune as you decorate this year.
1 WHICH WINTER WREATH WOULD YOU HANG?
❒ 1 Silver Belle (A)
❒ 2 Magnificent Magnolia (B)
❒ 3 Beautiful Blues (C)
❒ 4 Feathery Evergreen (D)
2 PICK THE PRETTIEST GIFT WRAP
❒ 1 Golden Glamour (A)
❒ 2 Sparkly Stunner (B)
❒ 3 Snowflake Chic (C)
❒ 4 Natural Wonder (D)
3 WHAT'S YOUR MUST-WATCH CHRISTMAS MOVIE?
❒ A Christmas Story (D)
❒ It's a Wonderful Life (A)
❒ Love Actually (C)
❒ The Muppet Christmas Carol (B)
4 WHICH CANDLES WILL YOU SET THIS SEASON?
❒ White tapers in a glass candelabra (A)
❒ A selection of unscented tea lights and votives in mercury glass containers (B)
❒ Burlap-wrapped jar candles in scents of pine and cinnamon (D)
❒ Standard white pillars in glass hurricane lanterns (C)
5 WHICH WALLPAPER WOULD YOU USE FOR AN ACCENT WALL?
❒ 1 Buffalo Beauty (D)
❒ 2 Fabulous Forest (C)
❒ 3 Leafy Lustre (B)
❒ 4 Divine Damask (A)
6 SELECT A PAIR OF HOLIDAY PJS
❒ A monogrammed crisp white button-down nightshirt and matching pants (A)
❒ A long sleep tee featuring a flamingo donning a Santa hat (B)
❒ Cozy blue and green plaid flannels (D)
❒ A silky nightgown with lace trim (C)
7 YOUR CHRISTMAS TREE IS
❒ Never the same. It could be a cheeky play on a Charlie Brown tree or a brightly coloured one - once you even used a fig tree you already had (B)
❒ Real, tall, fragrant and flocked (A)
❒ A short-needled pine that's tidy, tailored and easy to put up and take down (C)
❒ An imperfect long-needled pine, freshly chopped from the forest (D)
8 PICK AN ORNAMENT
❒ 1 Geometric Gem (C)
❒ 2 Kitschy Ketchup (B)
❒ 3 Holiday Hoot (D)
❒ 4 Canadian Classic (A)
9 WHICH CHRISTMAS LIGHTS DO YOU PREFER
❒ Vintage-look Edisons (B)
❒ LED strip (C)
❒ Twinkle (A)
❒ Multicoloured (D)
10 WHICH WINTER THROW WOULD YOU RATHER WRAP YOURSELF IN?
❒ Delicate cashmere (A)
❒ Heavy wool buffalo-check (D)
❒ Soft chenille (C)
❒ Brightly coloured fleece (B)
11 CHOOSE A CHRISTMAS CARD TO SEND OUT
❒ 1 Elves at work (B)
❒ 2 Scripted Christmas (A)
❒ 3 Holly Days (D)
❒ 4 Paisley Reindeer (C)
12 HOW DO YOU USUALLY SPEND CHRISTMAS EVE?
❒ Hosting or attending a cocktail party (C)
❒ Enjoying quality time with family playing board games and watching Christmas movies (B)
❒ Serving up a family dinner followed by everyone opening one present - invariably pyjamas (A)
❒ Doing something outdoors - be it skating, taking a winter walk to see the neighbourhood Christmas lights or sipping cocoa on the front porch (D)
NOW ADD UP YOUR SCORE! DID YOU CHOOSE: MOSTLY As, MOSTLY Bs, MOSTLY Cs OR MOSTLY Ds?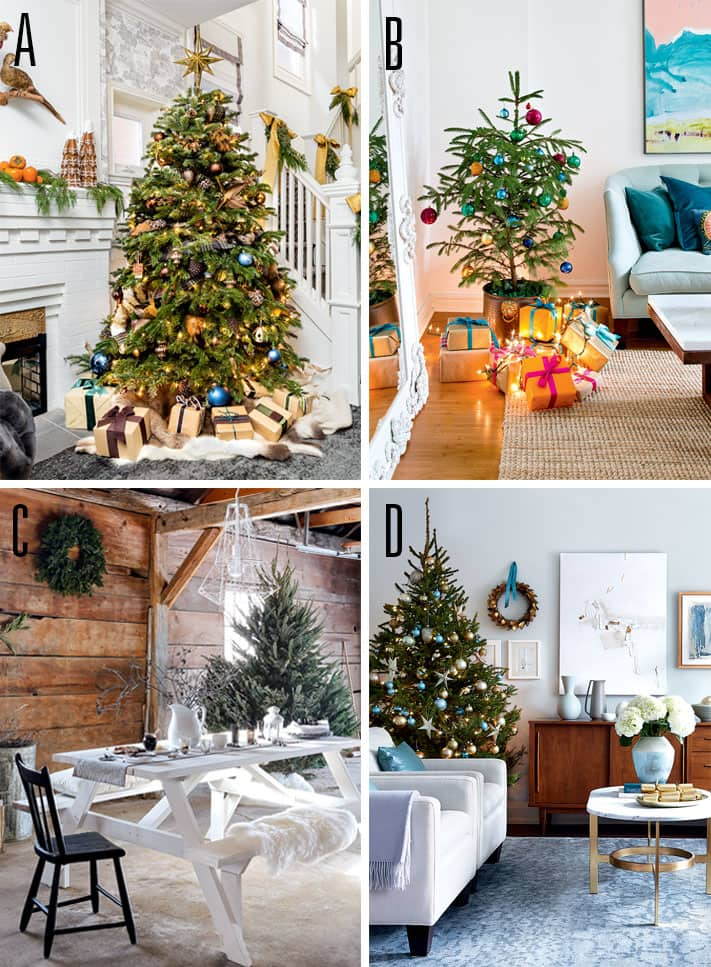 WHAT YOUR SCORE SAYS ABOUT YOUR STYLE
MOSTLY As: FORMAL ELEGANT
For those of you who ride or die by the more-is-more mantra, this season is yours to own. Christmas is the time to indulge the Mr. or Mrs. Claus in you and go all out. Generous is your style – not only for gift giving but for decorating, too. This is your moment to go the extra mile with fuller garlands, bigger bows and a tablescape topped with the cherished china you save for special occasions.
MOSTLY Bs: COLOURFUL ECLECTIC
Kitsch, please! you're all about it. Cheerful? of course! Cutesy? yup. Gimmicky? sure – as long as it's also chic. You have fun with your festive displays, strategically straying from convention with unexpected elements like a fiddle-leaf fig tree (evergreens are unnecessary, anyway!), a sunny, summery palette (red and green isn't a holiday law) and quirky baubles that aren't all Santas, silver bells and reindeer.
MOSTLY Cs: FRESH CONTEMPORARY
Clean lined, pared back and mostly muted, your decor – whether for the holidays or for every day – embodies luxe minimalism. You're all about restraint, from the Christmas colour palette that blends with your existing decor to the tree decked in a stream-lined selection of ornaments. you love a healthy dose of yuletide style (metallics and greenery are a must), but you never go over the top. Blogger Monika Hibbs has this look down pat.
MOSTLY Ds: RUSTIC COUNTRY
Your keywords for Christmas are casual, natural and understated. While you're all for festive holiday flair, you're more likely to decorate with wintery details you've foraged from the forest than with brightly coloured store-bought baubles. Peek outside at any sylvan scene and you'll spot your palette: shades of green, white and grey accented with weathered wooden elements. Sound like your look?