Design Lesson
Samantha Pynn's Design Lesson: Bathroom Reset OR Reno?
PHOTOGRAPHY: Vanessa Galle | DESIGN: Si and Oui, siandoui.com
Design Lesson
Samantha Pynn's Design Lesson: Bathroom Reset OR Reno?
Samantha Pynn comes clean on fixes large and small for this hardworking room.
Whether you want to refresh your bathroom or take on a full reno, follow along and I'll show you how to bring wow factor to what's often the smallest but arguably most important room in the house!
The Refresh
There's no question, the quickest way to refresh your bathroom is with new linens. Start with your shower curtain. I love the power of a shower curtain. It not only provides privacy, dampens sound, hides imperfections and adds softness to a bathroom's hard surfaces, but this single swath of fabric can also completely change the vibe of your loo. For a serene space, choose a neutral linen or tone-on-tone pattern that blends in with your wall colour or tile. To go vibrant (great for morning people), opt for a bold floral or geometric curtain. Keep the look unified, however, by choosing a pattern that repeats at least one colour from the existing decor. No need for a shower curtain? Switch up other linens instead. In the bathroom shown here, designed by Si and Oui, the graphic linen Roman shade repeats and amplifies the rich blue shower tile. A new bath mat can similarly wake up tired floors, while fresh towels will make your bathroom look clean and inviting. Experiment beyond hotel white linen with patterned or fringed towels to give your space a fun and personal touch.
This bathroom gets a punch from dynamic navy tile in the shower; the Roman blind echoes the tile's colour but loosens up its tailored herringbone application.
PHOTOGRAPHY: Vanessa Galle | DESIGN: Si and Oui,siandoui.com
Austin Teodor Modern VANITY in American walnut, The Vanity Store, thevanitystore.ca. Align vanity FAUCET and SHOWER FIXTURE, Moen, moen.ca. Linen Roman shade FABRIC, Memo Showroom, memoshowroom.com. TILES, Saltillo Imports, saltillo-tiles.com. ART, Art Interiors, artinteriors.ca.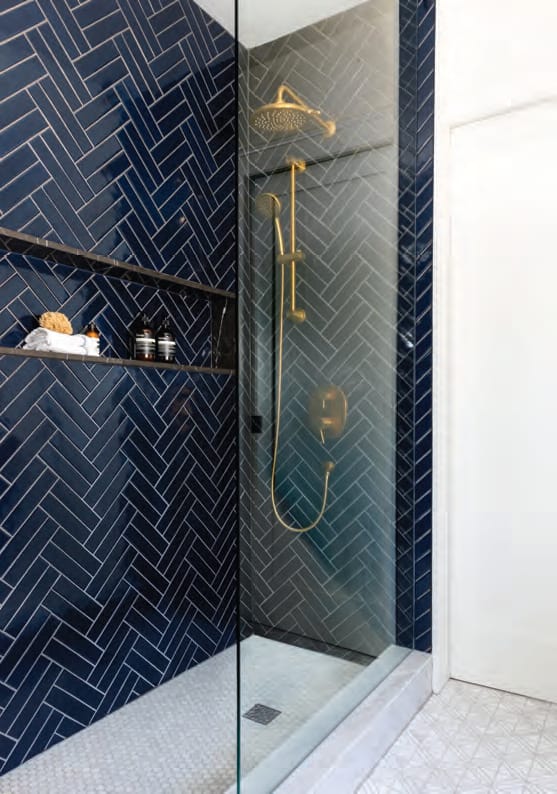 The Next Level
Ready for a bigger change? New faucets, lighting and hardware can give your bathroom a renovated look. Avoid the unflattering shadows that cool fluorescent overhead lights can create and instead flank the mirror with sconces or pendant lights to lend a soft, pretty glow. Trends in finishes always change. For a look with staying power, choose what you love, but consider that it's easier to change towel bars and cabinet handles than light fixtures and faucets. And when it comes to finishes, don't be afraid to mix metals. Chrome faucets can mix beautifully, for instance, with an antique brass mirror, adding depth and character.
The Full Gut
Though the bathroom is the smallest room in the house, it's often the most expensive to renovate, so you want to choose long-lasting fixed design elements. These days, we're seeing dreamy baths fitted with creamy tile or large porcelain slabs that look like natural stone. The look is luxe and enduring. But if colour and pattern make your heart sing, trends don't matter! The best choice is always the one you love. In this bathroom, the shower is made super glam with the brushed gold shower fixtures and jaw-dropping navy tile, while the classic herringbone pattern will lend style to the room for years to come. When choosing tile, keep in mind that subway tile, hexagons and penny rounds are perennial favourites. The vanity is another fixed major player of this bath's design and was chosen to echo the look of the shower. The on-trend gold hardware and faucet add sparkle and opulence, while the vanity's clean lines, walnut wood base and marble top are timeless.
Splurge & Save
PATTERN • Splurge on a Roman shade. Save on a shower curtain with wow factor.
TILE • Splurge on tile with unique glazes and patterns. Save on classic white subway, marble penny round and hexagon tiles.
VANITY • Splurge on the vanity – it's costly to change! Save on linens; find quality ones on sale.
FINISHES • Splurge on quality faucets in glamorous finishes. Save on sconces; there are a ton of options.
Recommended
Reduce reno stress and pull together a kitchen you'll love with Samantha Pynn's step-by-step plan.
Read More