Design Lesson
Samantha Pynn shows us how to bring a new hue home
Photography, Virginia MacDonald

DESIGN, Anne Hepfer, annehepfer.com.
Design Lesson
Samantha Pynn shows us how to bring a new hue home
Paint is the quickest way to change the look of a room, but painting the walls is just one way to transform a space. Depending on your tolerance for colour, paint can work its magic in big applications, small gestures and everything in between. Just remember, however you use paint, the colour will impact every element in the room. Follow along for tips on different ways to use paint and how to make sure the new hue works in your decor.
Colour with Confidence
If you're painting a room an eye-catching new colour, any furnishing in a soft neutral will work with it. Think: a sand-toned linen sofa, wooden case goods and natural stone. Sometimes, layering in pillows, throws and accessories in tones similar to the new hue is enough to help it look at home in your existing decor, but to make a newly painted space really sing and look connected, you'll likely need to swap in a larger upholstered piece or a rug in the same hue. In the den designed by Anne Hepfer, shown at right and featured in her new book, Mood, she spray-painted the shelves, baseboards and crown moulding a glossy cobalt blue, then added texture and depth with a round velvet ottoman, grasscloth wallpaper and a wool rug. The white swivel chair and white quartz mantel visually break the sea of blue for a crisp look. As finishing and bridging touches, Anne chose blue and white art above the mantel and repeated brass details to give the jewel-tone blue a luxe vibe. Fresh greenery enlivens the space.
White Heron OC-57, Benjamin Moore
Starry Night 2067-20, Benjamin Moore
Princeton Gold HC-14, Benjamin Moore
Teal 2055-10,Benjamin Moore
The Middle Way
Often, when we want a good dose of colour via paint, we opt for a feature wall, which works well behind a bed, surrounding a fireplace, and on a staircase wall. It's key to connect the dots between a white wall and feature wall with unifying art and furniture. That said, because an accent wall can make a room look unfinished – as if you ran out of paint midway – I prefer to paint a ceiling, or add an unexpected hue on doors and door trim, or a bold colour above white wainscotting. I love how a matte sky blue or pale green ceiling feels like a calming breath of fresh air, and how glossy painted doors and door frames make a beautiful colour connection that leads the eye throughout your home.
Photography, Virginia MacDonald
A Strong Accent
Painting small elements in a room is a powerful decorating device. Confession: I love painting everything from mirrors, lamps and vases to side tables, picture frames and furniture legs. When I was a kid, I insisted on painting things to "make them match." These days, we want a layered, tone-on-tone look rather than matchy, but I had the right idea! To blend a piece with your decor, paint it the same colour as your walls and watch it camouflage like a chameleon on a cactus. If you want something to stand out or you want to connect it with a favourite pillow, for example, pull your paint colour directly from the fabric. I'm a firm believer in working with what you have, and if a piece isn't working for you, paint it!
Pro Paint Tips
Have fabric samples, pillowcases or even a sofa cushion on hand when selecting a paint colour.
Always test bold paint colours in your space – natural light impacts the intensity and tone of a colour.
Glossy paint is highly reflective and works best on very smooth walls.
Flat paint is forgiving on textured walls and minimizes imperfections.
Have a professional spray-paint vanities, dining tables and coffee tables for durability and a flawless finish.
Swanson picture light, $258, Renwil, renwil.com.
BOOK, Mood: Interiors & Inspiration by Anne Hepfer, annehepfer.com.
Daria ceramic TABLE LAMP, $298, Renwil, renwil.com.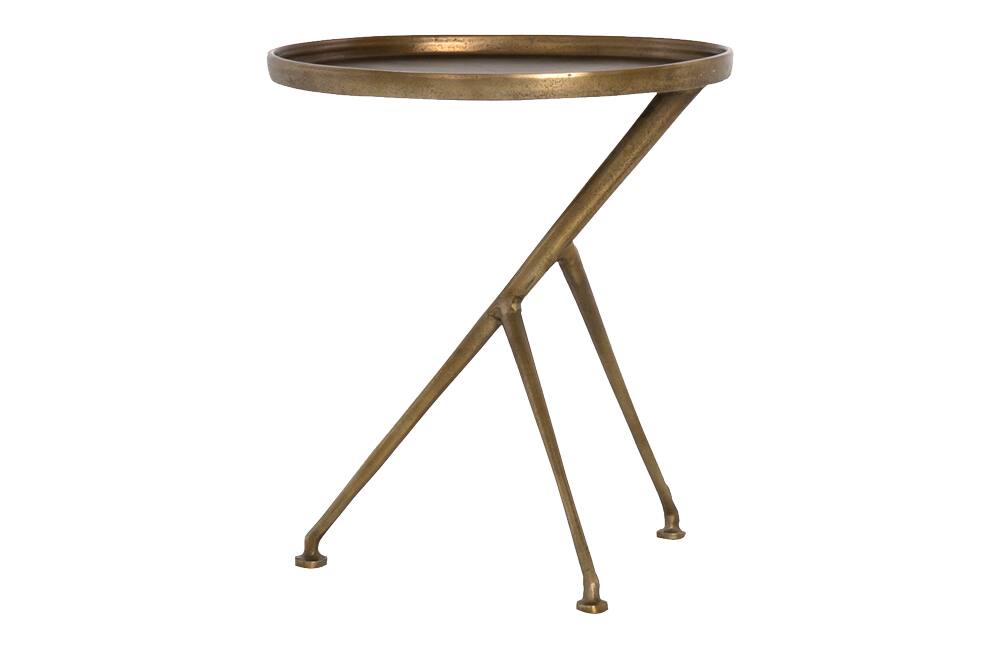 Tripod raw brass SIDE TABLE, $375, Elte Mkt, eltemkt.com.
Sculpt dark blue velvet ACCENT CHAIR, $1,399, Crate and Barrel, crateandbarrel.ca.
Ice Jade green marble BOOKENDS, $90 each, CB2, cb2.ca.