Design Lesson
Steven & Chris: A touch of French flair
Steven & Chris: A touch of French flair
Design Lesson
Steven & Chris: A touch of French flair
When it comes to giving your kitchen a facelift, a complete renovation isn't always in the budget. Instead, play with the decor to dramatically change the look without spending a fortune. This blissfully casual French bistro-inspired kitchen will surely provide wow factor and no doubt become the hub of your home.



Illustration by Lindsay Agnew.

Creating the French bistro look
Add polish to existing cabinets with simple, elegant knobs and pulls. Give the space character, without overwhelming it, with classic striped fabric. Luxurious finishes like natural stone tiles don't have to be out of reach – simply choose materials from big-box stores. Invest in good-quality furniture like these timeless French bistro chairs. Select an accent colour that can easily be carried through to the accessories.
Pretty patterns
Pretty
patterns
like the ones adorning these fabrics will add a touch of French charm to your kitchen space.
Deck Stripe fabric in Royal, $11 per yard, Flower Show fabric in Royal, $12 per yard. Designer Fabrics.
Espresso machine
A high-end espresso machine like this one is the perfect tool to make restaurant-quality espressos at home.
Red Francis X7 espresso machine, from $450, Illy.
Natural stone tiles
At an affordable price point, these
tiles
will add a luxurious feel to your kitchen.
Natural stone mosaic tile, $14 per sq. ft., Lowe's.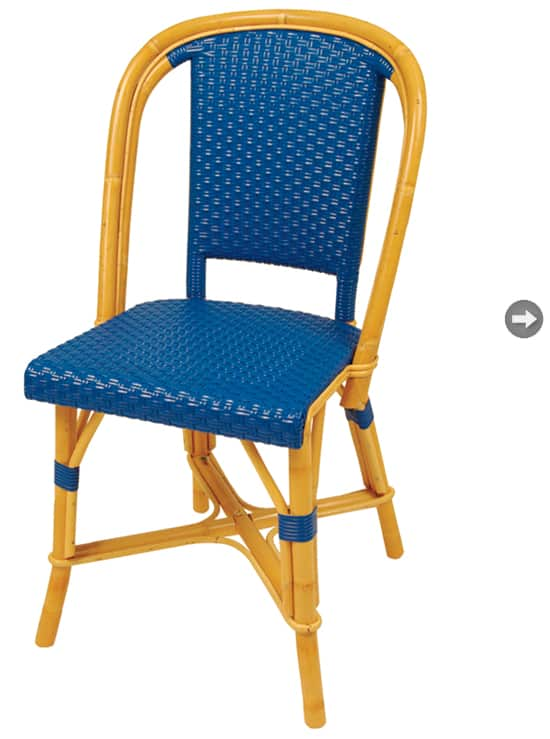 Bistro chairs
A signature of the Parisian "brasserie", these
chairs
will instantly give your kitchen a bistro feel. Drucker chairs are a popular Parisian staple and can be found in many of the city's cafes and markets.
Rainbow chair in Gypsy Blue, from $400, Drucker.
Elegant knobs and pulls
These nickel accessories will dress up your
kitchen cabinets
and give them a vintage feel.
Antiqued nickel bin pull, $10, antiqued nickel knobs, $5 each, Lee Valley Tools.