Design Lesson
Stunning chandeliers
Design Lesson
Stunning chandeliers
Photography by Eric Roth
Perfect proportions
The diameter of a chandelier hanging over a dining table should be about one-half to two-thirds that of the table or 1' less than the width of the table at its widest point. Install the fixture to hang no more than 30" from the tabletop to its base.
Photography by Merrell Publishing


Inviting entryway
Create a warm welcome by hanging a chandelier in the foyer. Be sure to install it at least 7' from the floor for clearance. In a soaring two-storey foyer, the fixture shouldn't hang below the second floor.
Photography by Merrell Publishing


Island inspiration
Don't limit yourself to the old standby of mounting three small pendants over a
kitchen
island. Try using a single chandelier and hanging it a bit higher for a take-notice focal point.
Photography by Phillip Ennis
Quirky lighting
If contemporary models aren't suited to your style, consider giving a vintage piece a mod makeover. With a few easy updates, retro-fab finds like a faux bamboo fixture can become the crowning touch for a classic space.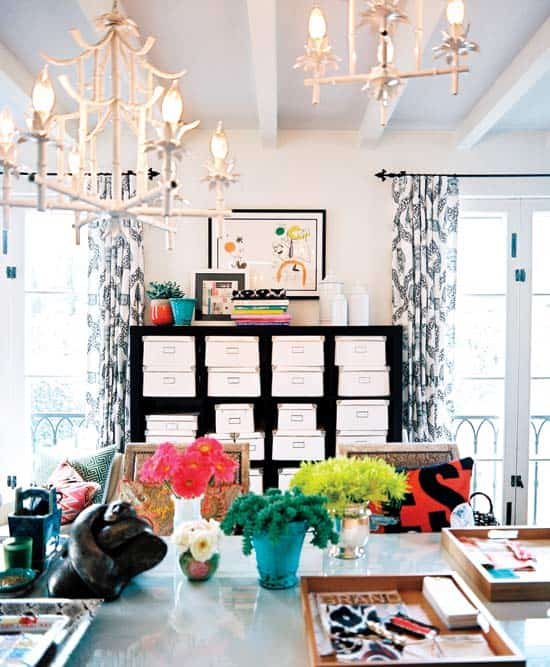 Photography by Patrick Cline


What to look for
Form is more important than finish, so look beyond tacky yellow brass plate for classic faux bamboo chandeliers and elaborately detailed wrought iron. Seek out fixtures that are nicely scaled in relation to where they'll be installed.
Photography by David Fenton


How to update
a chandelier
Spray-paint an old fixture white or black, or try a striking character colour like acid yellow or candy apple red. And even though it may look like it's in good shape, vintage wiring often doesn't meet good safety standards. Avoid potential hazards by getting fixtures professionally rewired.