Design Lesson
Summer decorating ideas: Cottage chic
Summer decorating ideas: Cottage chic
Design Lesson
Summer decorating ideas: Cottage chic
Not everyone can afford a cottage escape during the summer months, but you can still get that relaxed, laid-back vibe at home. Whether it's a single room retreat or rustic touches throughout the house, there are lots of ways to make your home feel like you've battled hours of traffic to get away.
Create a comfy space for the summer with these
summer decorating ideas
that'll add a touch of cottage chic to your home.
Adirondack tray table
If you've got a sunroom in your home, this Adirondack tray table is a great piece to help make it feel like your
cottage getaway
. The removable tray makes it easy to shuttle food and drink from the kitchen.
L. L. Bean, $180
.
Rocker
A lot of people opt for the Adirondack chair, but an equally good alternative is a rocker for the
perfect deck
. Made from weather-resistant materials, this stylish number can take the heat even when summer takes a turn for the worse.
L. L. Bean, $349
.
Mosaic tiled coffee table
You may not live by the water, but you can feel like you're sitting next to it with this fresh and bright aqua tiled
coffee table design
. The wooden base gives it a rustic, cottage chic feel.
West Elm, $344.01
.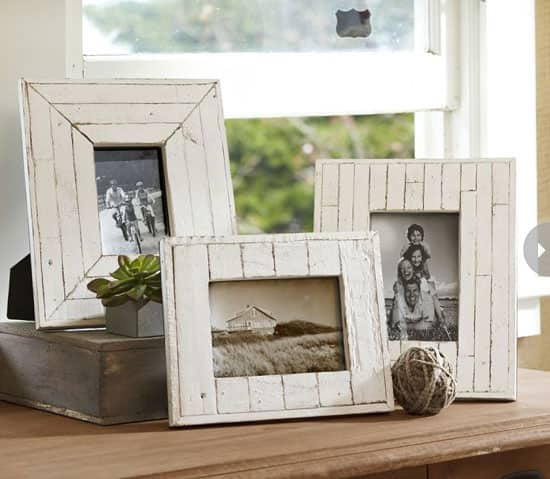 Cottage frames
Even the little touches can transport you away. These frames mimic the weathered paneling of a rustic lake house and are a great way to introduce a little
cottage chic
into a room.
Pottery Barn, $24.59
.
Cosy quilts
Trade in the duvet for a lightweight – but warm - quilt like this one. With its straight channels and
neutral colour palette
, it invites you to climb under for a lazy afternoon nap.
Crate and Barrel, $45.23 - $297.57
.
Rustic lamp
Add some
rustic decor
to your space with this antique looking woven metal table lamp. It's a solid piece that can fit almost any room of the house and will provide a warm glow as summer days fade into summer nights.
Horchow, $195
.
Wicker furniture
Nothing says 'cottage chic' quite like
wicker furniture
. If you've got an entire room to decorate or are looking for a single piece, try the sofas and club chairs from this collection. The airy-looking neutrals are sure to make you feel like you've left town.
Restoration Hardware, $260 - $2360
.
Bath towels
Yes, even the humble bath towel can create a sense of the great outdoors! Change over to brighter colours that remind you of surf and sand. New towels are a cheap way to
makeover a bathroom
.
CB2, $4.95 - $29.95
.
Double lounger
The perfect way to relax is to kick back on a lounger like this. It's got summer reading written all over it. Add a side of
classic summer lemonade
and you're all set. Of course, it's roomy – so be prepared for the kids to clamber in beside you!
West Elm, $602.83
.
Swing chair
Something of a cross between a hammock and a traditional porch swing, this attractive
swing chair
is a great way to enjoy the outdoors, even if you're not cottage-bound.
CB2, $149
.
Find more cottage-inspired decor with these great cottage style accessories.