Design Lesson
This bed and bath renovation is both beautiful and functional
Design Lesson
This bed and bath renovation is both beautiful and functional
Samantha Pynn orchestrates a bed and bath renovation that brings harmony to a Toronto home.
The owners of this house in the Bluffs area of Toronto had been living with the consequences of a bad bathroom renovation for more than a decade. They'd fixed some issues (enlarging the room to separate tub and shower, and adding a skylight), but poor workmanship and bad design decisions had netted a leaky shower, high-maintenance materials and a room out of step with their nature-hued home. There was no recourse but to gut the bathroom and start over. This time, they asked their friend, designer Samantha Pynn, for help. "They weren't sure how to put together the materials," she says. "And in a bathroom, surfaces need to be beautiful, durable and functional." Storage in the shared family space was a priority, as was a dose of gorgeousness. "I wanted it to reflect their love of nature, so I chose finishes that echoed the beauty of the lakeside area," says Samantha, who convinced them to refresh their bedroom, too. "People pour resources into raising a family and decorating rooms guests see, but it was time to give the primary bedroom an upgrade." Now, says Samantha, the two rooms connect to the rest of the house. "They're a calm oasis, just like the views over the lake at the end of the street."
PAINT, Dove Wing OC-18, Benjamin Moore. TILE, Rice Natural (walls), Big Mud Rock Rain (floor), Escarpment Collection Light hexagon (shower floor); Schluter TRIM; Ciot. Odin Collection FAUCET, TUB FILLER, SHOWER KIT, HAND SHOWER, DRAWER KNOBS, TOWEL BARS, ROBE HOOKS, Brizo. Mistaya TUB, Mirolin. Glass SHOWER ENCLOSURE, Doors & More. Roman blind FABRIC, Meadow in Dew, Kelly Ventura. CONSTRUCTION, PEG Reno.

A fresh start

"Tiles really establish the look of a bathroom, so we chose them first," says designer Samantha Pynn. "We found beautifully nuanced glossy stacked tiles for the wainscotting and square ones for the shower. Mini hex adds pattern to the shower floor, and on the main floor, a stunning contemporary hex marble mixes in modern." The new tub (which replaces a bulky built-in) and brushed-gold fixtures make the space special. Says Sam, "Everyone remarks on the fixtures – the finish isn't brassy, but soft, like the mood we wanted." The five-foot-long wood vanity has tons of storage.



Bathing beauty

"My friend loves art and even paints in her spare time. Her inspo pics included a gallery wall and we went for it," says Samantha. "We mixed in fine art prints, vintage finds and one of her own artworks, and we love the result." A niche by the tub is the kind of custom detail that takes a room up a notch.


"The gallery wall was challenging to compose, but when it went up, it brought a collected, soulful vibe to the space."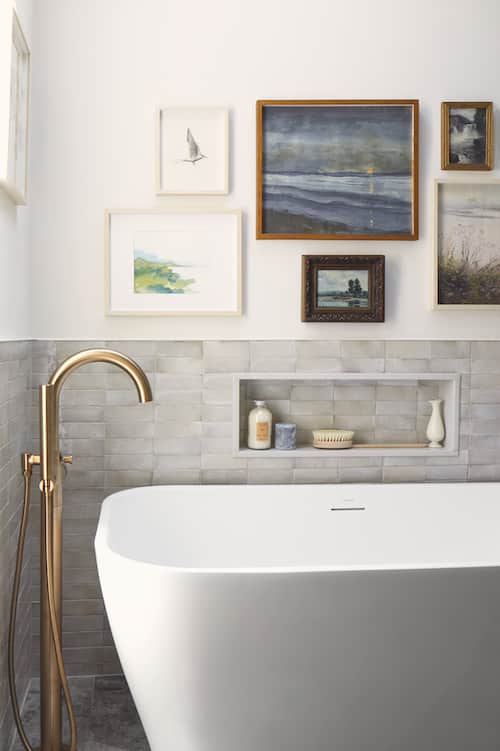 Vintage ART, Béazley Antiques & Vintage. Fine art PRINTS, Allbright House; Juniper. PRINTING, Poster Jack. FRAMES, IKEA.


In the details

The green table connects to the window fabric and layers colour into the soothing beige palette. A brushed bronze finish on the mirror and sconces ensures the room isn't overwhelmed by gold and it links to the wood vanity. A new glass enclosure and easy-to-maintain tile finally fixed the leaky shower. A nearby towel hook and niche with deep shelves maximize storage and functionality.
Teodor Bridgeport VANITY, The Vanity Store. Shiloh TABLE, Renwil. ELEVATION DRAWINGS, Si and Oui. Reese SCONCES, Light House Co. MIRROR, Umbra. PITCHER, SOAPS, blue CANDLE, grey VASE, TRAY, BASKETS, HomeSense. Linen HAND TOWELS, Au Lit Fine Linens. Vintage French MUS- TARD JAR, BUTTER DISH, Joliette. BATH SALTS, Lothantique.

History lessons

"The only so-called new furnishing in the bedroom is the French bistro chair," says Samantha. "My friend had so many meaningful pieces that just needed an edit to update the room. I feel that working with what you have makes sense economically, environmentally and lets you build in personal history." Dark wood night tables were painted a soft green to continue the soothing palette from the adjacent bathroom. Samantha added modern lamps so the room wouldn't feel stuck in time.
PAINT, White Dove OC-17 (walls), Louisberg Green HC-113 (night tables), Benjamin Moore. Truro LAMP, Bedford III RUG, Renwil. Drapery FABRIC, Cyprus in Blue Smoke and Palermo in Oyster; LUMBAR PILLOW; small green PILLOW; Tonic Living. SEWING AND INSTALLATION (drapes and bathroom Roman blind), Workroom By Design. Vintage Thonet bistro CHAIR, Joliette. Vintage ART, Béazley Antiques & Vintage. Fine art PRINTS, Allbright House; Juniper. PRINTING, Poster Jack. FRAMES, IKEA.
"The bedroom refresh was all about using gorgeous textiles to add softness in a dreamy lakeside palette."
A soft touch

As in the bathroom, art from the owners' collection is mixed with vintage and fine art prints; the pieces sing against newly painted walls. "The room was a pretty blue green, but the colour was dark and cold for the north-facing space. A warm white, which the owner had used elsewhere in the house, works so much better," says Sam. The stunning fabric at the window has a whimsical print filled with animals of all sorts; bedding in soft tones and a wool rug add subtle texture.


"The room has a collected feel because the furniture was chosen over time and even includes family heirlooms. It's all about beauty, pure and simple."
Samantha Pynn Home DUVET COVER AND SHAMS, TRAY; JUG; BOOKS (on night table); HomeSense. White SHEET SET, DUVET, hybrid MATTRESS, Endy. PAINTING (night tables), Benjamen Refinishing.