Design Lesson
Valentine's Day inspired decor
Valentine's Day inspired decor
Design Lesson
Valentine's Day inspired decor
I love you. You're gorgeous (inside and out, top to bottom), strong and sturdy (like a stack of bricks, some might say), always open (except when I forget my key) and you stand tall (even though I spend way too much time trying to change you). So this year,
Valentine's Day
is all about you. Let me massage your walls with the colour of adoration, cook up a romantic feast of style and treat you to a design that shows you how much I care. I'm ready to sing it from the rooftops: I love you, home sweet home!
1 It takes two
Joining hands on this show house project, designer Jennifer Brouwer of Jennifer Brouwer Design (right) designed this love shack, while Barbara Rocha of Paint a Lifestyle did the wall treatments.

2 Oh, my darling, I've hungered for ...
Has it been a long, lonely time since you served up Valentine's Day dinner in a room that really says "romance"? The high-gloss dining table and sideboard are red siren calls to the occasion, like a passionate kiss on the lips, while the light pink Louis-style chairs with damask-patterned peekaboo backs are the soft peck on the cheek that accompanies them. All that's missing is oysters, chocolate fondue and a bottle of wine!

3 Eternal flame
Are we only dreaming or is this fire radiating the fuchsia that surrounds it? Luxe velvet
ottomans
, tricoloured drapery and a few red accessories frame the bold, black
fireplace
, which, at its heart, burns as brightly as the passion of young love. Can you feel their hearts beating?

4 Some say it is a flower
With a bit of red paper, a special hole punch and a touch of adhesive, this IKEA Maskros
pendant light
was transformed from a mere bunch of flowers into a bouquet of hearts.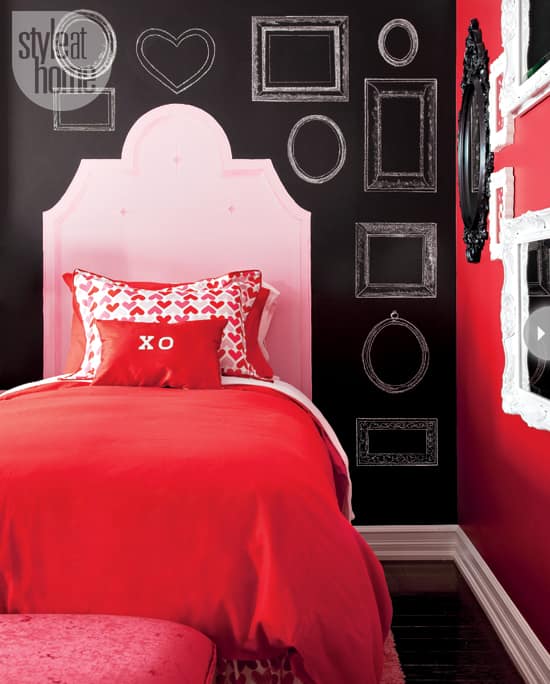 5 Total eclipse of the...
Every now and then, we get a little bit tired of the same old same. Jennifer's motivation for the overhaul of her eight- and nine-year-old
kids' bedroom
was to see the surprise and delight on their faces at the result. "My favourite part of the room," says Jennifer, "is the joy it created – it's a space my girls will never forget." Call it love at first sight!

6 Put a little love in your light
Everyone knows that just a little love is never enough, so when the walls, floor, furniture and bed linens were maxed out in amore, Jennifer upped the ante with the light fixture. The simple capiz pendant went into the red with the easy addition of a handful of paper hearts.

7 Dream a little dream
In a room like this, it's not only night breezes that seem to whisper "I love you." It's also sentimental details like custom heart-patterned bedding, a hand-drawn gallery of "chalk frames" and luxurious layers of pink and red that flirt with the
Valentine's Day decor
theme.

8 Crazy little thing called...
Love makes you go that extra mile, so when it came to decorating her daughters' bedroom, Jennifer added the mother's touch of her own art to a set of girlie
white frames
.