Entertaining
9 summer party essentials
9 summer party essentials
Entertaining
9 summer party essentials
With the hot days and warm evenings of summer come endless entertaining opportunities. Backyard barbecues, dining al fresco, picnics, chilled drinks on a patio… there's nothing better than taking advantage of summer by hosting a great outdoor get-together with friends and family. We've rounded up this season's summer
party essentials
to help make your next gathering stylish and effortless.
1 An elegant salad bowl
Summer salads
are colourful and refreshing and may even be the star of your meal. Why not serve it up in something elegant? This bowl is a showstopper with contrasting colours and a slick of gold around the rim.
The Bay, $59.99
.
2 A candle-lit centrepiece
This wood set of tea light candleholders adds a rustic touch to your al fresco party and will create a soft glow when the sun starts to set. A pretty way to
illuminate your home
, indoors and outdoors.
Etsy, $50.20.
3 Spunky placemats
Add some colour and some fun to your summer party
tablesetting
with patterned placemats. These classic striped
nautical
placemats are a perfect summer addition, are easily washed, and can be used year-round.
West Elm, $15.09.
4 Cutlery essentials
Keep things tidy by offering your cutlery and condiments in galvanized cups and trays. The polished metal is perfect for holding utensils (including those lobster claws), napkins and serving items. A lovely
kitchen accessory
.
Pottery Barn, $32.54
.
5 The fun breadbasket
A get-together isn't a get-together until bread has been passed around the table. This summer pass your fresh rolls, loaf slices, or
sweet breads
in this adorable canvas breadbasket. Bonus: It's machine washable.
Indigo, $14.50
.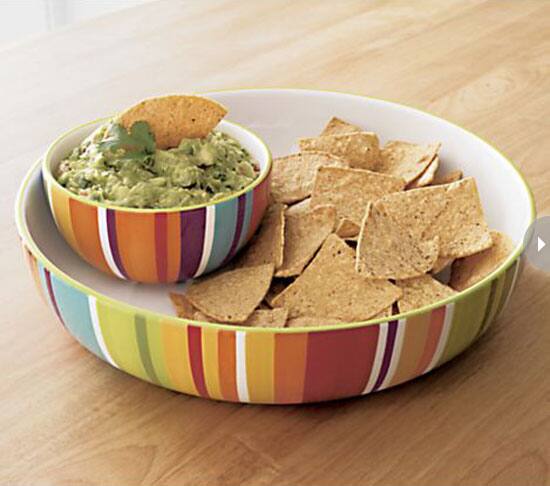 6 The perfect chip and dip set
One of the best
party menus
has round of crispy chips and dip on it. Serve it up this summer in a Latin-inspired bowl set that is festive, colourful and cheery. Ideal for tortilla chips and a creamy guacamole on a hot night.
Crate & Barrel, $38.74
.
7 The best serving tray
Pass
cool cocktails
or hors d'oeuvres around your
summer party
on a chic and stylish serving tray. Woven from water vines from the South Pacific, this ultra-durable tray is so stunning it will also be a conversation starter.
Horchow, $140
.
8 The ideal napkin
Paper napkins are not an option when you have these rustic and durable napkins on hand. They add all the comforts of indoor dining to the outdoors, and the colour and frayed edges give it an
elegant country
appeal.
Etsy, $16 US each
.
9 The barbecue must
Aside from napkins and a slew of condiments, what
barbecue
would be complete without a great side to go with your burger? We like to opt for a smoky ear of
grilled corn
on the cob, and these ceramic holders will keep fingers clean.
Crate & Barrel, $11.58
.