Entertaining
mix tapes: what to listen to this weekend
Entertaining
mix tapes: what to listen to this weekend
Okay, confession time: I'm a bit of a music maniac. In fact, some would accuse me of being downright snobby about it… and while they're not exactly wrong, I'm also not exactly sorry about the fact. I love tunes, and I'm always blaring them through my headphones – at work, at home, en route to and from everywhere – and, as a result, I'm the unofficial go-to music guru around this office (though I'm no
Jian Ghomeshi
or
Alan Cross
). So allow me to introduce my new recurring blog column: weekend mix tapes to accompany my weekend entertaining and decorating activities. Some posts will be unique playlist of my personal faves (lean them, love them, live them) and others will be a roundup of Songza playlists to accompany my weekend brunches, dinner parties, DIY days and afternoons spent painting. So, here we go. Let me know what you think! Is your foot tapping?
SONGZA PLAYLISTS TO ACCOMPANY MY WEEKEND ACTIVITIES
1. What I'll be doing:
Christmas potluck and
Secret Santa exchange
with my high school besties.
What I'll be playing:
90210 Slumber Party
Featured artists:
En Vogue, Salt n' Peppa, SWV, C+C Music Factory and Montel Jordan.
Why it's perfect:
Is there any better way to reconnect with your high school friends than to blare the very songs that accompanied those quintessential high school moments you experienced together, from lip-sync competitions to first parties to getting your license? Every song brings about another memory.
2. What I'll be doing:
Baking cookies
for my cousin's Christmas drop-in.
What I'll be playing:
Christmas at the Movies
Featured artists:
Songs from the soundtracks to your favourite Christmas movies:
Home Alone
,
How the Grinch Stole Christmas
,
Meet Me in St. Louis
and
The Polar Express
.
Why it's perfect:
I haven't had my Christmas movie fix yet, so these songs are going to get me pumped up for my pre-Christmas holiday movie marathon.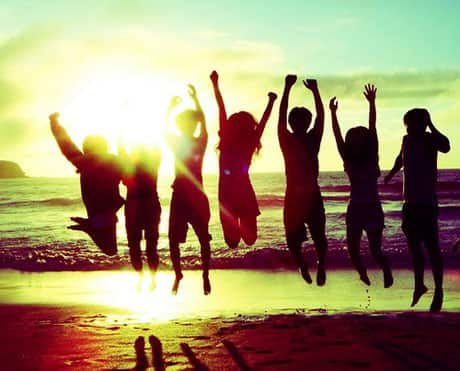 Photo courtesy of The Campus Companion
3. What I'll be doing:
Attempt a 5 k run (trying to run off some of my many holiday indulgences - including those cookies I just made!).
What I'll be playing:
L.A. Summer
Featured artists:
Cut Copy, Lemaitre, Ra Ra Riot and Goldroom (who curated this mix), to name a few favourites.
Why it's perfect:
It may be snowy, slushy and cold underfoot, but with each step I take, I'll be picturing myself running along a beach-side boardwalk, with the sun shining bright and birds in the sky. Summery electropop is my favourite style of music, so I won't let the season dictate when I play it!