Entertaining
places to go, people to see: the cure apothecary
Entertaining
places to go, people to see: the cure apothecary
Got a
dinner party
to attend this weekend? Stop by
The Cure Apothecary
, Queen West's brand new organic skincare hotspot, for a unique hostess gift. It's hard to decide which is more appealing, the curated product lineup – including brands like John Masters, One Love, FarmHouse Fresh and L'Aromatica, among others – or the country chic interior. The good news is you can have it all: Choose a winning token for the host while touring the adorable shop, which opened its doors just last week. Check out a few images of the store and what it's got to offer below.
A simple wooden table in the centre of the shop displays all manner of lotions and potions.
The back of the store features a set of stunning white-painted barn doors.
Graphic shelving and warm wooden tones like this pervade the clean-lined interior.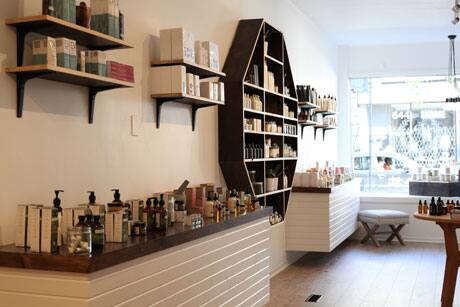 The matching wood-topped, white-slatted floating consoles recall a pair of sleek vanities, referencing the bath-centric merchandise. And that oversized hexagonal shelving unit? Simply striking.
Have you had a chance to check out The Cure Apothecary? What's your favourite part – decorative or otherwise?