Entertaining
Throw a sleek holiday bash free of festive clichés
Image: Donna Griffith / Producer: Christine Hanlon
Entertaining
Throw a sleek holiday bash free of festive clichés
Call your coolest friends and throw them a hip holiday party with none of the usual trimmings. Here's how.
1. Stray from matchy-matchy pieces.
Master the mix with an uncon­ventional collection of mis­matched contemporary and vintage furniture and acces­sories. A focus on sculptural forms – the pendant lights, the candlesticks, the chairs – and a palette of deep blues and matte white bring cohesion to the scene.
2. Swap the traditional cheery colour scheme for a moody one.
The rustic blue-stained wood tabletop forms the backdrop for simple place settings that play up the contrast between dark and light elements. Vintage silverware lends patina, while blue glasses continue the moody theme.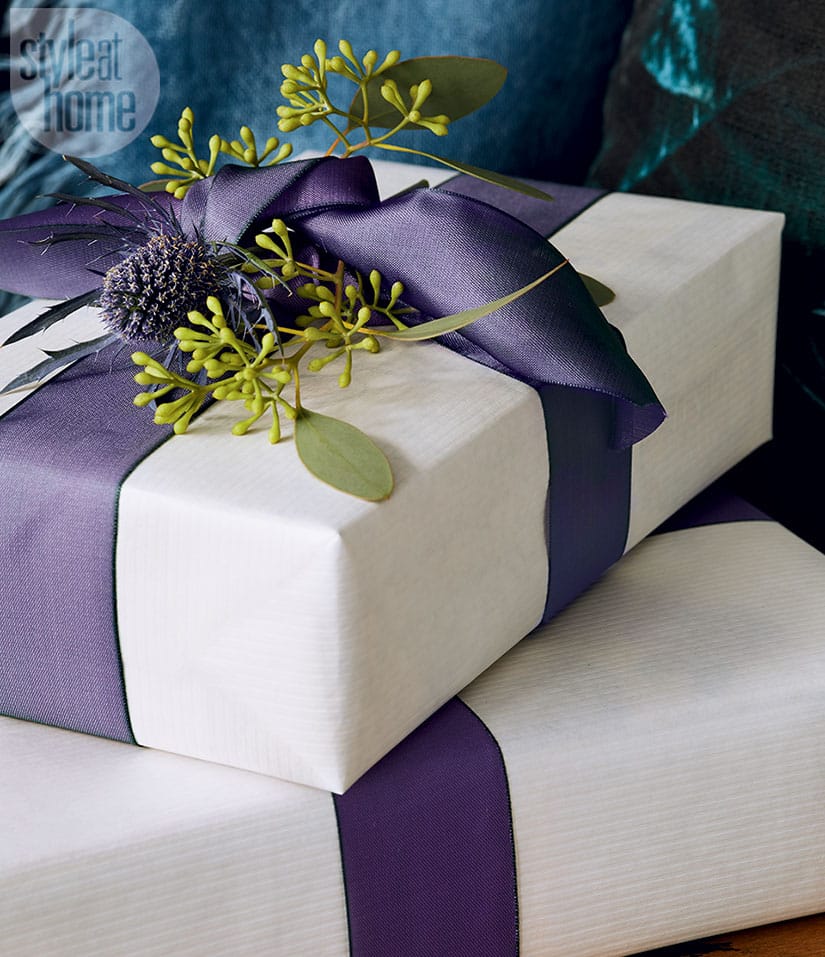 3. Stick with basic gift wrap.
Plain white paper is a classic gift wrap choice that can be dressed up in countless ways. Here, packages are embellished with iridescent deep purple ribbon and topped with greenery.
4. Incorporate subtle metallic accents into the scene.
A stocked bar cart placed near the table allows guests to help themselves to drinks. There is nothing ornate or precious here, just heirloom silver and pewter accessories that serve their function yet look stylish.
5. Go simple with the setting.
Forget fussy place settings – this party calls for pared-back plates set with frayed napkins wrapped in ribbon, rosemary sprigs, stamped paper place cards and white gessoed pinecones. The table will be set in no time.
6. Choose bloom-free greenery.
A mini evergreen sprouting from an ice bucket adds unexpected festivity to the vintage bar cart, while masses of seeded eucalyptus are a fragrant way to fill out the holiday greenery.