High or Low
High/Low: cheerful powder room
Image: Michael Nangreaves | Produced by: Christine Hanlon
High or Low
High/Low: cheerful powder room
We designed this heavenly pale blue bathroom on both a thin-air and a sky-high budget. Can you tell the difference?
High: $5,290
Low: $1,950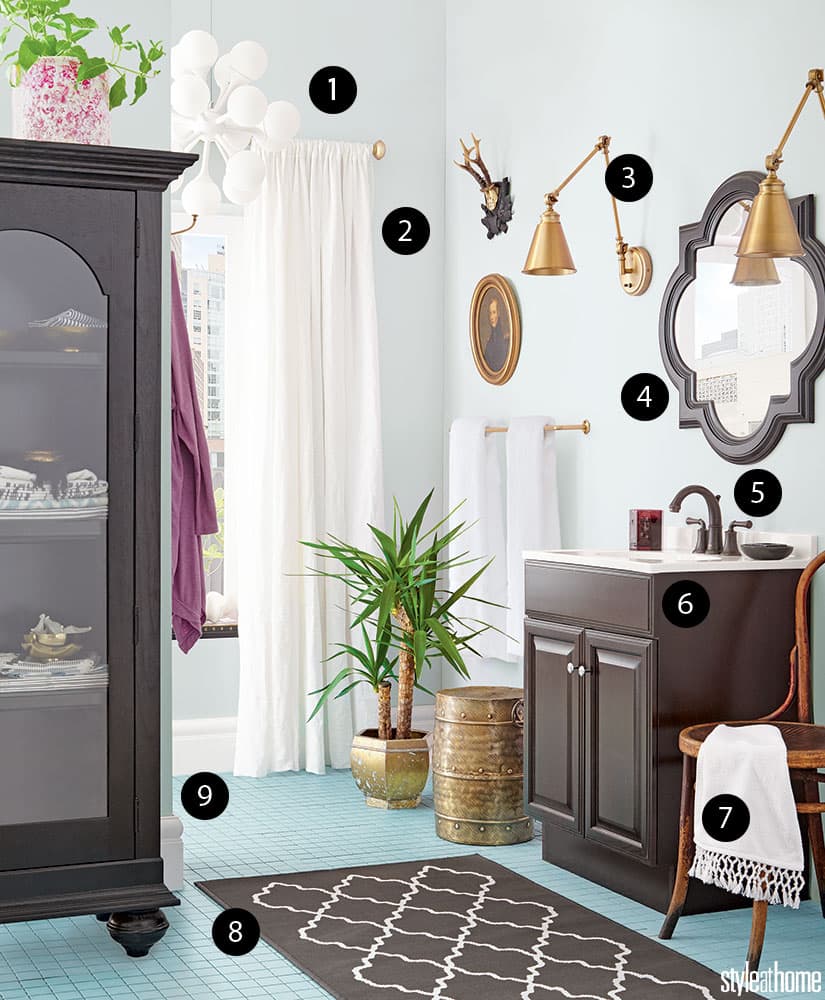 CREATE A ROOM LIKE THIS NO MATTER YOUR BUDGET WITH A FEW SIMPLE DESIGN TIPS:
1 Add extra storage.
We've got 99 problems, and lack of storage is one. Homes aren't always designed with functionality in mind, so a bathroom may boast ample floor space but be short a closet. Enter the free-standing cabinet, ready to hold all manner of towels and toiletries. We love this one for its eye-catching details, including arched glass door panels and intricate chunky silver-hued handles. Here's how to make your display look like a million bucks:
For everything from cleansers and creams to powders and pomades, select attractively packaged essentials like soap bars wrapped in floral paper.
Bits and bobs, such as samples and floss, are tucked neatly out of sight when corralled in elegant on-theme brass-toned metal vessels.
Present towels in their most flattering light by turning decorative details like fringes and tassels outward.
Notions of the ocean rush in through faux coral and shells. Use a select few unique ones, as opposed to a sea of humdrum pieces.
2 Colour-match your wall colour and floor tile.
Like an infinite sea that blends into the skyline, this blue-on-blue loo's lulling vibe comes from the near-perfect colour match of wall and floor, achieved with square mosaic tiles. While a close look reveals how the sparkle of the three-quarter inch recycled glass High tile differs from the trendy no-nonsense matte finish of the two-inch porcelain Low option, both offer a seamless serene effect.
3 Don't get hung up on towel choices.
When seeking unique hand towels, you needn't get hung up in terry town – there are so many other well-suited weaves available. Nor should you restrict yourself to the bath section. In fact, you may not need to buy anything new at all! For an unexpected take, shop your pantry or china cabinet instead. At just the right size, a tea towel or cloth napkin makes an excellent stand-in. Seek out a laid-back element, like a waffle texture or frayed edges, for a casual feel or a graphic pattern, from pinstripes to swirls, for an elegant touch.
4 Consider encaustic tiles.
Featuring the same sky blue as the High and Low mosaics, this trend-forward encaustic cement quad-coloured triangle-patterned floor tile is an attention-grabbing alternative worth trying.
Encaustic cement tiles in Tugboat, $11 each, creeksidetile.com.
5 Opt for a quality paint.
Over time, a steamy situation can turn into a sticky one if you don't prime your bathroom walls for the inevitable daily mists and sprays. Select a quality paint that's designed to stand up to moisture, such as Beauti-Tone's mildew-resistant acrylic Kitchen & Bath finish. (Bonus: It's scrubbable.)
Beauti-Tone Kitchen & Bath Water Fountain C19-7-1525-0 paint, homehardware.ca.
6 Select a dark vanity to ground the space.
An espresso-toned vanity offers this soothing space a grounding force. You can get the look in a variety of styles, from polished to rustic.
Recommended