High or Low
High/low: Colourful living room
Give your living space a pop of colour.


High or Low
High/low: Colourful living room
Our lively living room features a colourful corner set-up to comfortably seat a big family on any budget, from the Bradys' to the Kardashians'.
High or low?
Can you tell the difference?

High $12,043

Low $4,279
High-Low meter: Sectional sofasIf you have a hard-to-fit corner or want to maximize your lounging capabilities, it sounds like you're in need of some sectional healing. Stretch out on one of these, which we love for their decorative details like simple tufting, luxe materials or or simple, airy-looking legs.
1 Topanga in Venice Slate, Jonathan Adler, $6,490 US.
2 Adelaide Bi, UpCountry, $3,350.
3 Solo in Jack Tan, EQ3, $1,299.
4 Karlstad in Isunda Gray, IKEA, $1,199.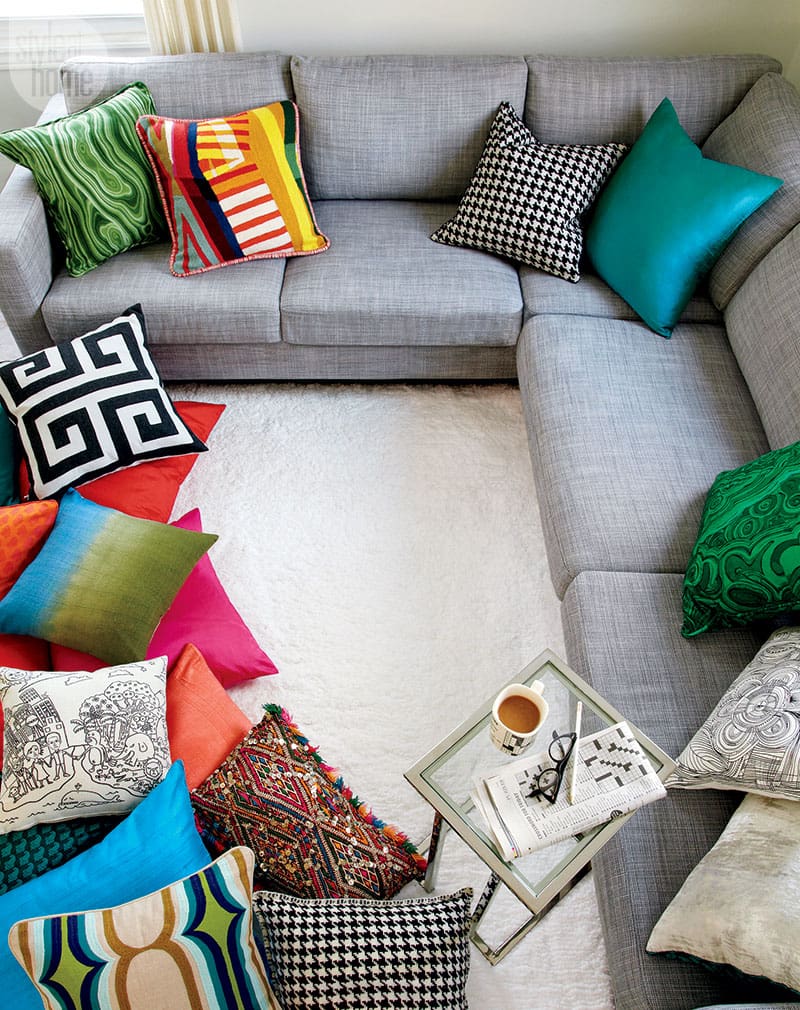 A full spectrum of toss cushions
The easiest way to toss a little life into your room? With toss cushions in a cacophony of colour. This explosion of patterns and hues is pulled from the room's artwork and neutralized by its more subtle surroundings.
Caffeine chic
Every day can feel easy like Sunday morning when you sip your coffee from a mug as beautiful as the day you hope you're about to have. If only morning crosswords were as simple.

From left: Fishs Eddy ceramic Crossword, The New York Times Store, $40 US per set of 4 (2 shown); Porcelain Say the Word, Kate Spade New York, $20 US.

Tray tables
Picture this: You're lounging on your sofa, reading a book or completing a crossword, unconcerned with getting back up, hoping today, just maybe, you won't have to. You crave a sip of your coffee, a bite of your toast, but realize they're on the coffee table just out of reach. You consider calling someone in to push it toward you... or maybe just foregoing food altogether for the day. If you had a tray table, though, this wouldn't be a problem. With one open side, tray tables are the perfect height to be pulled right up to where you're sitting and you can reach all your stuff, sans any strain.

Artwork
Art truly is in the eye of the beholder – and let this mix of high and low artwork by both bona fide artists and budding ones prove it. Done by students and professionals, this vibrant collection seems kissed by the end of the rainbow and can be the launching point for myriad colour palettes in any space.

1 Traditions Transformation by student Charlotte Nott, 16" x 20", $150, see below.
2 Imposition #2 by John Barkley, 20" x 24", $3,750.
3 Projection by Hugh Mackenzie, 26" x 36", $5,000, Bau-Xi Gallery.
4 It Doesn't Matter if You're Beautiful by student Karen Smith, 24" x 30", $200.
5 Infinite by student Sandra Han, 16" x 20", $115.
6 Anything is Everything by student Mady Fewster, 16" x 20", $125. see below.
7 Wet Bulb Depressed by Janna Watson, 24" x 24", $1,600.
8 Qu'Appelle by Bratsa Bonifacho, 20" x 23", $2,400, Bau-Xi Gallery.
Student artwork is available through Lesley Drummond, Head of Arts at I.E. Weldon Secondary School. For more information, contact Lesley at 705-324-3585.