High or Low
High/low: Decadent dining area
High/low: Decadent dining area
High or Low
High/low: Decadent dining area
High or Low?

Can you tell the difference?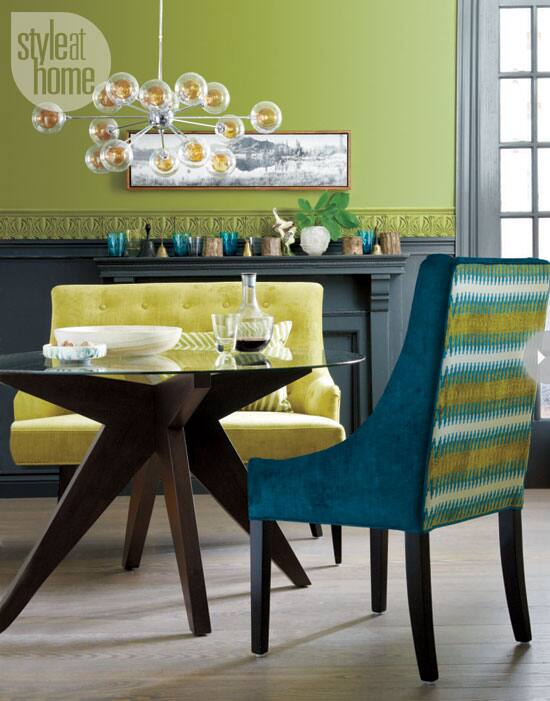 Flooring
It's hard to put your best foot forward on unattractive floors.
Hardwood flooring
grounds your decor and supports your lifestyle in durability and comfort.
Hardwood floors
is a common option because it wears well and requires little maintenance. Solid wood, though pricey, can last for decades, while inexpensive laminate gives you the look for less.

Palette perfect
"This palette reminds me of walking in a dense forest in late spring: how the sun pierces through a canopy of new leaves, making them glow with chartreuse splendour." -
Andrea McCrindle, producer

Tuft love
Upholstery tufting always imparts classic elegance, but it isn't exclusively for the affluent; there are different tiers of tufts. Diamond tufting is deeper, looks more plush and luxurious and is considerably pricier, whereas shallow button tufting is less labour-intensive and therefore less expensive. It also looks sleek and modern and is better suited to contemporary or
Mid-Century Modern decor
.

Glass tumblers
Simple yet stylish, a selection of glass tumblers in similar shapes and shades offers subtle appeal on a fireplace mantel or coffee table vignette. Great as vases, as votives and for storing found bits like buttons, they also won't block the beautiful texture of a wall treatment behind them.

Chandeliers

Chic and sculptural, these
stunning chandeliers
add an artistic element to a room without overwhelming it.
1
Brass 1,
Pavilion, $1,200
.
2
Antique-bronze-plated metal Mobile,
West Elm, $249
.
3
Roll & Hill Agnes 20 in Bronze,
LightForm, $16,500
.