High or Low
High/low: French country kitchen
Images: Michael Nangreaves
High or Low
High/low: French country kitchen
In a space so effortlessly chic, warm and textured, you can satisfy your every kitchen craving, whether you're on a caviar or a canned tuna budget.
High or low?

Can you tell the difference?

High $2,358
Low $835
Wooden cutting boards
Nothing beats the look and feel of a wooden cutting board. It has a traditional country aesthetic, is available in an array of display-worthy shapes and offers an awesome alternative to everyday serving platters.

1 Bamboo Hoshi, Urban Barn, $12.
2 Oji Masanori small maple octagonal Kakudo, Mjölk, $140.
3 On Our Table handfinished walnut Hole Slab Long, Williams-Sonoma, $200.
4 Ironwood Gourmet acacia End Grain, Home Outfitters, $20.
5 Sugar Mountain Woodworks walnut and cherry, William Ashley China, $110.
6 Olive Wood, Pimlico, $25.
7 Pine Vintage Numbered Taster, Williams-Sonoma, $245 (per set of 3).
8 Oak Heritage, Crate and Barrel, $120.
9 Antique pine, Angus & Company, $315.

Jars and canisters
Keep your pantry shelves clean and tidy by storing your staples in jars and canisters instead of the bothersome bags and pesky packages they come in. Clear glass vessels allow you to incorporate the various textures and earthy colours of what you keep inside them – here, different coloured legumes and grains – into your kitchen decor. Solid ceramic ones offer a streamlined hit of cream or white and keep their contents hidden. But we like a mix of both for that casual look that conjures images of a French Country kitchen.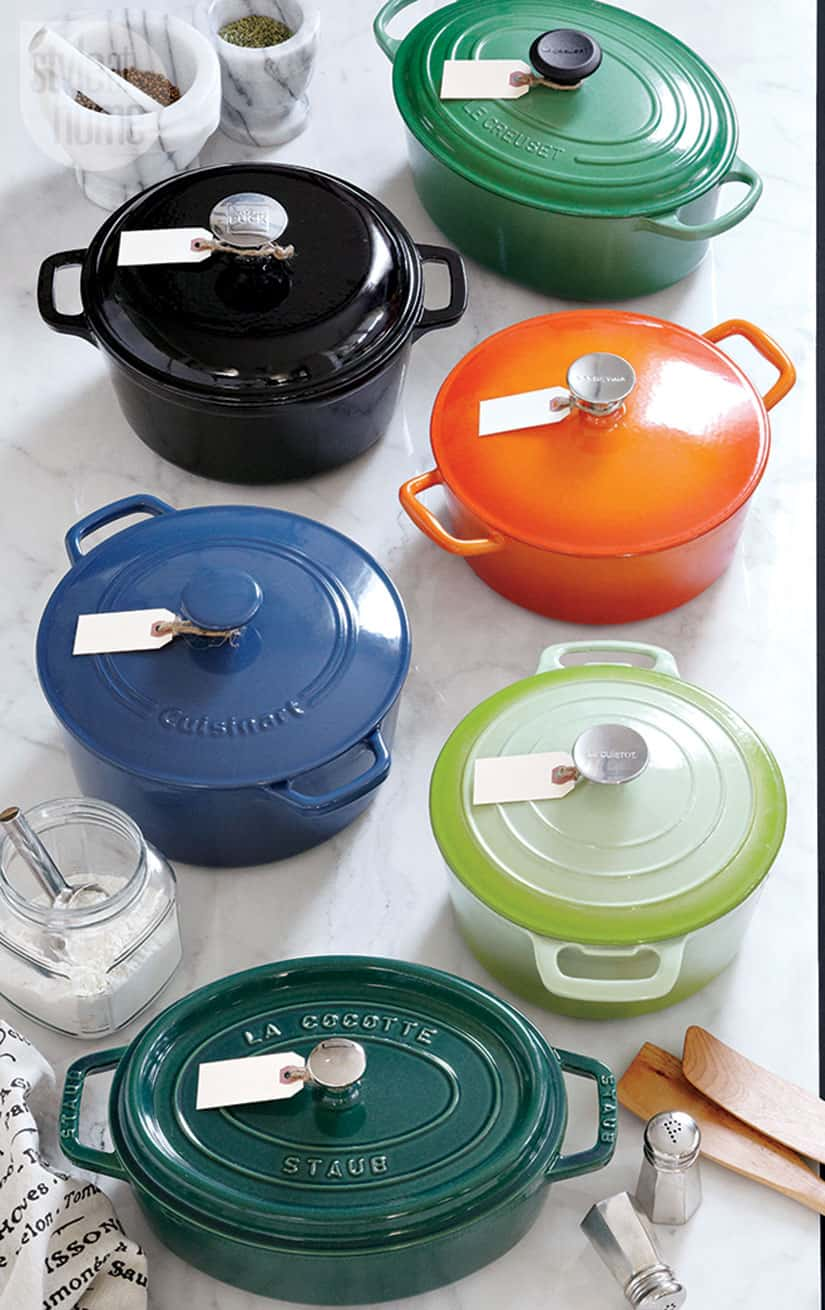 Dutch ovens
Go dutch... and we don't mean on your next date. Dutch ovens – casseroles in the United Kingdom, cocottes in France – are as much an essential kitchen tool as a frying pan. And they have been since the 1700s when the British started importing them from, you guessed it, the Dutch. Enamelled cast iron ovens boast many benefits: They don't absorb aromas and flavours with age, their non-stick surfaces are easy to clean, they're superior for slow cooking, and they can go from a hot oven or a simmering stovetop right to the centre of your set table. Which is exactly why we're grateful for the rainbow of colours available to match our dishware and decor.
Don't these remind you of the set at your favourite greasy spoon? Diner style salt and pepper shakers offer simple shapes in glass or stainless steel and are a chic, subtle way to add a hint of industrial edge to the table.