High or Low
High/low: Luxe textured bedroom
High/low: Luxe textured bedroom
High or Low
High/low: Luxe textured bedroom

Which is high and which is low?

Can you tell the difference?

High $8,367
Low $3,201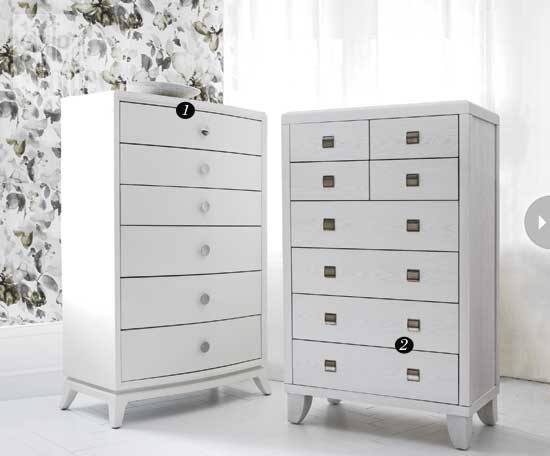 Versatile dressers
Tallboy dressers are typically masculine, storing more foldables and giving less vanity-like surface space, but these fresh, unfussy versions stand on daintily curved feet, feature dazzlingly
shiny hardware
and make a statuesque statement in white – who said girls can't play on the boys' team?
1
Mitchell Gold + Bob Williams engineered hardwood and ash veneer Portia six-drawer.
Elte, $2,425.
2
Oak eight-drawer Portico.
Structube, $799.
Classic sidechairs
Some things never go out of style, and we have a feeling these
sidechairs
are among them. We just love these classic Chippendale-inspired, chinoiserie-style chairs. Light and airy, the subtle bamboo-like detailing of their frames adds character to a room without dominating its sightlines. Perfect for a
walk-in closet
or bedroom to set out clothes, pull on stockings, or place
toss cushions
when you sleep, a small sidechair that's every bit as beautiful as the bedroom it's in is always worth the splurge.
1
Maple Dynasty in Cream Lacquer,
Art Shoppe, $1,998.
2
Birch Chloe in White Lacquer,
Mi Casa, $675.
Delicate detailing
If girls are made of sugar, spice and everything nice, then women are made of
lace
, ruffles and everything subtle. That's why we want to rest our weary heads on these pretty white
pillowcases
with the most divinely delicate detailing. After all, if there's one place to pamper yourself at home, it's in the space where you get your beauty sleep.
1
Bella Notte Olivia standard embroidered lace,
Au Lit Fine Linens, $179.

2
Bella Notte standard Whisper linen,
Au Lit Fine Linens, $116.
3
Bella Notte standard linen with cotton crochet lace trim,
Au Lit Fine Linens, $124.
Wallpaper patterns
Oversized
floral-motif
wallpapers appear almost abstract in neutral shades with a watercolour effect.
1
Printers Guild Etchings Zinnia in ET31603,
Crown Wallpaper & Fabrics, $72 per single roll.
2
Wallquest Villa Flora Beauty in VB10702,
Crown Wallpaper & Fabrics, $63 per single roll.

3
Studio 465 New York in NY90100,
Crown Wallpaper & Fabrics, $60 per single roll.
Toss cushions
Toss cushions
are as much a staple for a
stylishly made bed
as they are for a comfy living room sofa.
1
Cotton Stratford Velvet Dahlia in Ivory 18"x18",
Daniel Stuart Studio, $245.
2
Cotton/wool/nylon Scalloped Felt (cover) 18"x18",
West Elm, $34
3
Style at Home Limited Edition Collection 20"x20",
styleathome.com/shop, $40.
4
Linen Organic Weave 18" x 18",
snobstuff.com, $85.
5
Dransfield & Ross linen Taos in Ivory 20" x 20",
Elte, $165.
6
Linen woven Paisley 22" x 22",
snobstuff.com, $125.
7
Rayon/linen Bergama in Stone 22" x 22",
Daniel Stuart Studio, $223.