High or Low
High/low: Stylish living room
Image: Michael Nangreaves | Producer: Andrea McCrindle
High or Low
High/low: Stylish living room
We created a clean-lined, simple and stylish living room on budgets befitting a resolution to save money or to spend it.
You can put this room together on a high and low budget.
High $14,318

Low $4,207
These Sculptural sidechairs will add a little luxury to your living room, whatever your budget.


Sculptural sidechairs
(From top to bottom)

1 Finn Juhl walnut, teak and leather Chieftains in black. Design Within Reach, $13,900.
2 Ash-and-wool Grande in medium grey. Urban Mode, $1,098.
3 Walnut-and-wool Chase in black, Morba, $898.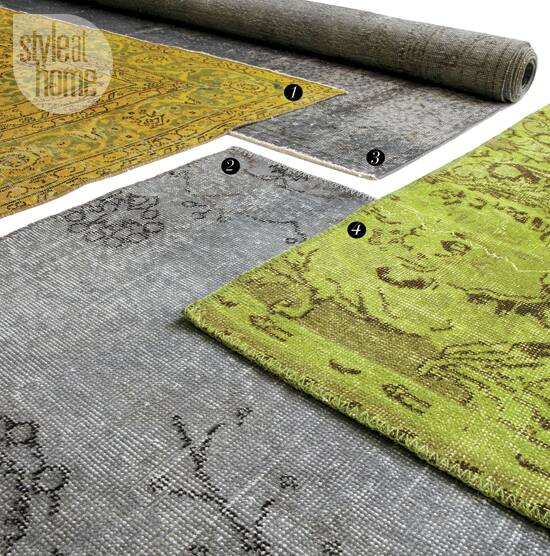 Vintage rugs
We've been drooling over Second Life's splurge-worthy vintage wool rugs since they came out a few years ago. Made from 50- to 90-year-old antique rugs collected in Turkey and Iran, they are sanded until stripped of their original colour and overdyed with the trendy hues of today.

So when IKEA announced the upcoming release of its Silkeborg line, which features antique rugs from Turkey that have been cleaned, stitched together and freshly dyed, we were ecstatic to have the choice to splurge or to save on this decadently distressed look.

1 Second Life vintage wool in yellow (8' x 11'), Elte, $3,445.
2 Vintage wool Silkeborg in gray (5' x 8'), IKEA, $599.
3 Second Life vintage wool in grey, 7' x 11', Elte, $3,195.
4 Vintage wool Silkeborg in lime green, (5' x 8'), IKEA, $599.

Side tables
In a neutral room where grey, white, black and wood reign, one bold jolt of red goes a long way. These red side tables serve to enliven our living room with unexpected colour, add clean geometric shapes (a circle atop a tripod base) and offer a convenient place to set down drinks and snacks when relaxing in the wingback chair (who wants to lean so far forward to take a sip, anyway?).

1 HIGH Glass-and-iron Iris in red, South Hill Home, $665.
2 LOW Red coated-iron Butler, CB2, $199.

Black and white photography
Black and white photography fan? Don't overlook the arsenal of options from old family albums. A favourite photo of a generation distant or close – blown up and mounted (on backings ranging from acrylic and aluminum to archival card and foamcore) – creates a meaningful conversation piece that you'll be proud to have on display. Metal-mounted art work, Toronto Image Works, $401.

Fireplace crystals
There's something magical about cozying up by the fire on a cold winter's day. But when that fire is further illuminated with fire crystals, the effect is downright alchemical. These gemstone-like jewels radiate a brilliant sparkle, dazzling anyone who catches a glimpse and turning an everyday gas fireplace into something otherworldly – and if that isn't an elixir of life, we don't know what is.

Dimplex linear electric wall-mount Synergy fireplace with crystals, Hearth Manor Fireplaces & Home Decor, from $1,399.
Polished concrete surround, Hearth Manor Fireplaces & Home Decor, $989.

Indoor gardening
Creating a conservatory-like vignette on a sideboard: It's one of the ways we Canadians deal with winter. This spattering of white pots in front of a sunny window serves to house lush summery plants year-round – they may even make you crave a cold glass of lemonade.

From left to right:
1 New Egg in Imperial White, 11", Sheridan Nurseries, $25.
2 Vintage White, 6", Sheridan Nurseries, $10.
3 Vintage White, 7", Sheridan Nurseries, $13.
4 Colombo Duo in White Grey, 8", Lowe's, $20,
5 Strata Tear Drop, 5", Lowe's $8,
6 Santos Shiny White, 4", Lowe's $5.
7 Stoneware Sideline, 5", CB2, $3.
8 Vintage White, 7", Sheridan Nurseries, $13.