Plants & Flowers
10 fab floral arrangements by Carolyne Roehm
Image: Reprinted from Flowers by Carolyne Roehm, Copyright 2017
Plants & Flowers
10 fab floral arrangements by Carolyne Roehm
Style icon Carolyne Roehm, who has made her mark on the worlds of fashion, decor and entertaining, turns again to the topic of beautiful blooms in her brand new book, Flowers, in which the fruits of her own gardening labour and newly developed photography skills are proudly on display. Here, we've excerpted some of our favourite arrangements.
1 Feeling Formal
To create a stunning centrepiece, author, gardener and decorator Carolyne Roehm employed a variety of textures in a simple palette spilling out of a wide-mouthed vase. "Lilacs and viburnum make good companions – each is a thousand flowers in one," she explains. The effect feels luxuriously over the top.

2 Craving Casual
"The interesting thing about lilacs," says Carolyne in her new book, Flowers, "is that, in a bouquet, they can serve as both foreground and background simultaneously." The key, though, is to hide their stems. In a glass vase, "they become a part of the picture and look messy."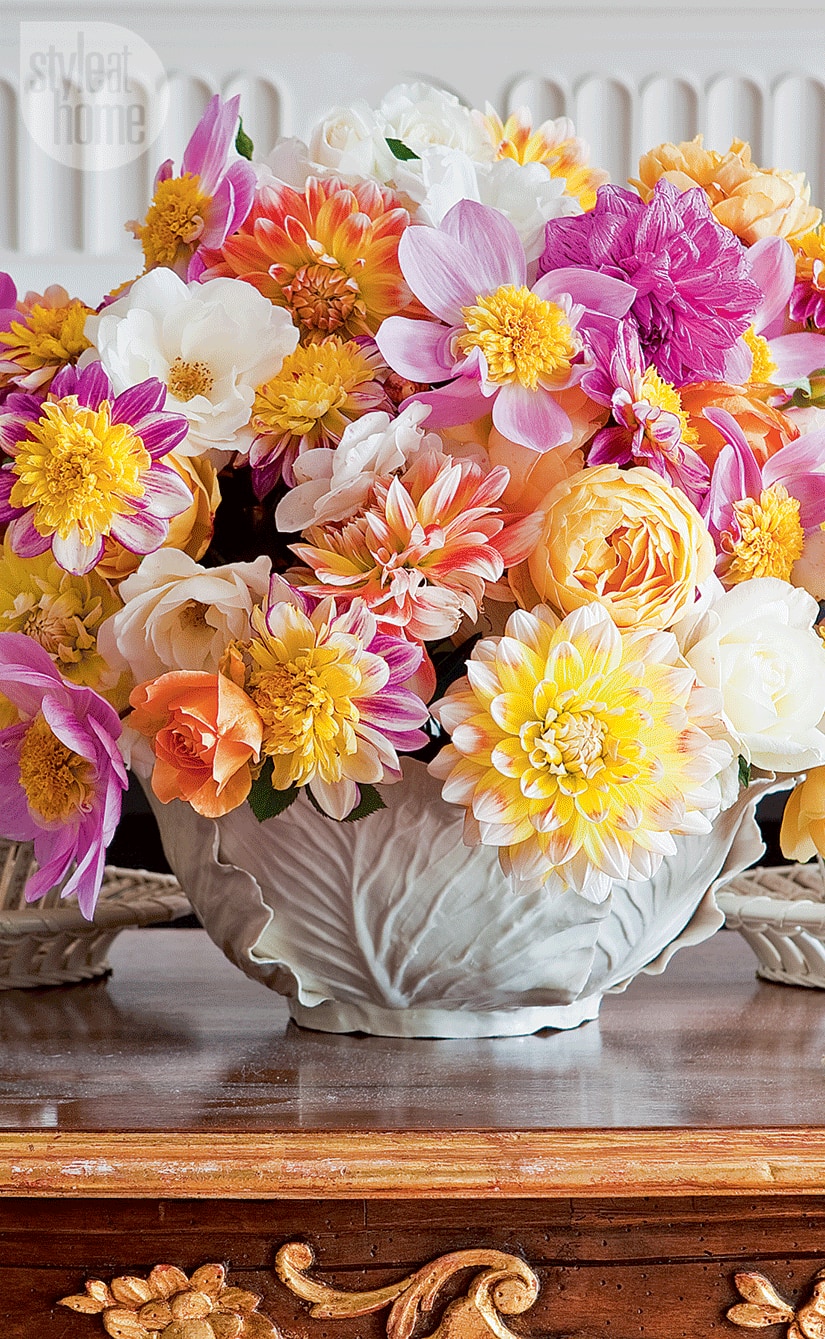 3 Cheerful Elegance
"I'm not a big fan of arranging rules," says Carolyne. "If you read those old flower-arranging books, you end up with very artificial-looking bouquets." Instead, Carolyne lets her experience as an apprentice at one of the finest florists in Paris, as well as her instinct, guide her through mixing shape, colour, texture and size to pleasing effect, as shown at right in this playful mixed arrangement.

4 Simply Sunny
When Carolyne pores over seed catalogues, she often thinks in terms of which blooms lend themselves well to bouquets. "Dahlias are especially bouquet-friendly, not only for their variety but also because – unless an exceptionally large flower causes them to droop – they have strong necks." And, about the large-headed Peaches and Cream variety shown here, Carolyne says: "It's a wonderfully frothy flower, and as the saying goes...it doesn't take many to make a dozen." By varying the height of the blooms throughout, the look is casual rather than contrived.

5 Easy & Elegant
A simple silver bud vase is all it takes to make a showpiece out of a few small blooms. Here, Angelique and Negrita tulips mix with some muscari to make for a pretty look that takes only seconds to put together.

6 Matching Magic
A shock of fuchsia serves as centrepiece for this alfresco tablescape, as tulips in a spectrum of pink are buoyed by cuttings from Carolyne's crabapples and lilacs. To create continuity, she matched every element, taking notes from the garden setting for the flowers on the table (all in bloom at the time) and the tableware (cranberry stemware and china with a pink flower motif). The overall effect conjures the elegance of the English countryside.

7 Rustic Traditional
"While I enjoy mixing roses with roses," says Carolyne in her book, "even that most elegant of flowers appreciates a little company." Combined with white snapdragons, miniature daisies and leafy greens, roses in full bloom billow from a woven basket. This arrangement looks as if this is exactly how Carolyne brought it in from outside. There's a natural sensibility to the basket, but the controlled colour palette reminds us that a human hand pulled it together.

8 Ornate Overture
Various varieties of white roses explode out of a barely visible 18th-century trophy vase with ornate relief. Filled fully with a bounty of blooms to show almost no green, the roses Carolyne chose play with texture, shape and scale, providing subtle touches of colour in the palest pink petals and yellow stamens. The result is a formal showpiece that's breathtakingly all blossom.

9 Country Colour
The inspiration for so many classic English chintzes, roses are one of the author's favourite flowers. "At the end of June, I have masses of roses blooming in various gardens, and can create the big, multicoloured bouquets that I so much enjoy," says Carolyne, who loves not only to mix colour, but also to mingle traditional varieties with modern ones.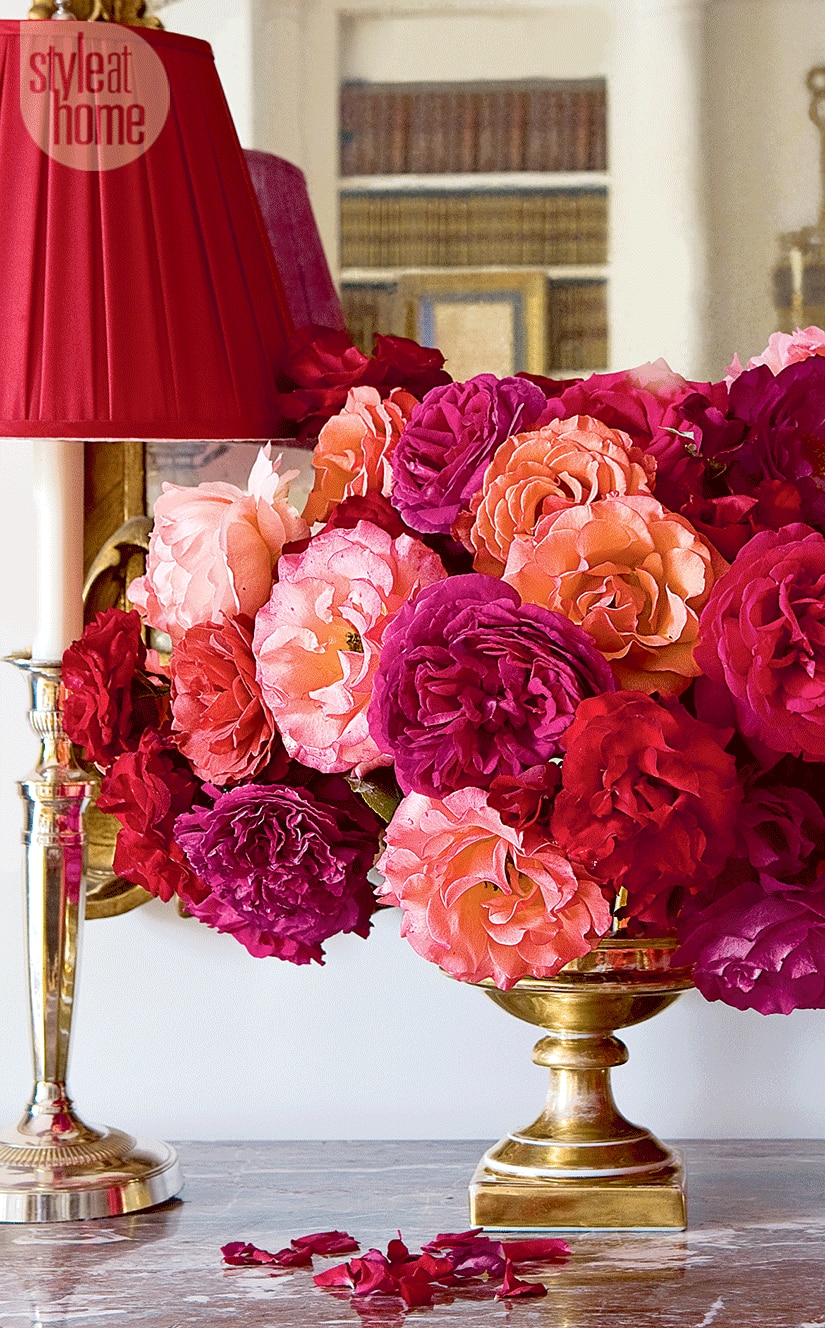 10 Redding Rainbow
"In the rose, I find taffeta and tulle, deep red velvet, a bouffant gown...." With her background in fashion (working with Oscar de la Renta and then launching her own label), Carolyne is drawn to colour combos that are prevalent in fashion but not favoured by your local florist.