Plants & Flowers
Easy floral centrepieces for any feast
Give your table a pop of colour with a beautiful arrangement.
Plants & Flowers
Easy floral centrepieces for any feast
Design gurus Holly Becker and Leslie Shewring share tips from their new book, Decorate With Flowers, for making an easy, inexpensive impact in your space with easy floral arranging.
Here, we've homed in on entertaining and excerpted a bouquet of ideas that reimagine the traditional centrepiece.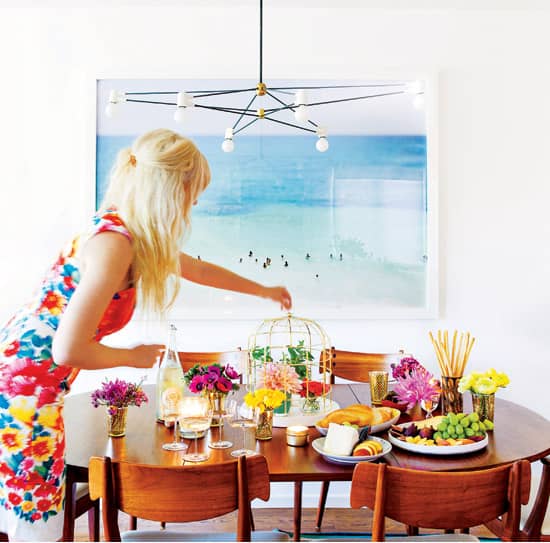 Photography by Laure Joliet

1 Flowers for cocktail hour
We vote for less planning and more partying in life, so why not create something sweet that requires little effort and lets you spend more time with those you love? This easy Friday night soiree can be whipped up in a flash with a spread of cheeses, fresh bread, fruit, bubbly and flowers. We've worked with yellow and magenta spray roses, magenta anemones, purple waxflowers, pink dahlias, yellow ranunculuses and fresh mint.
Tips:
A gilded-metal cage on a porcelain base provides a playful way to group dahlias, spray roses and a cup of mint.
Try scattering small bouquets in one hue across your dining table.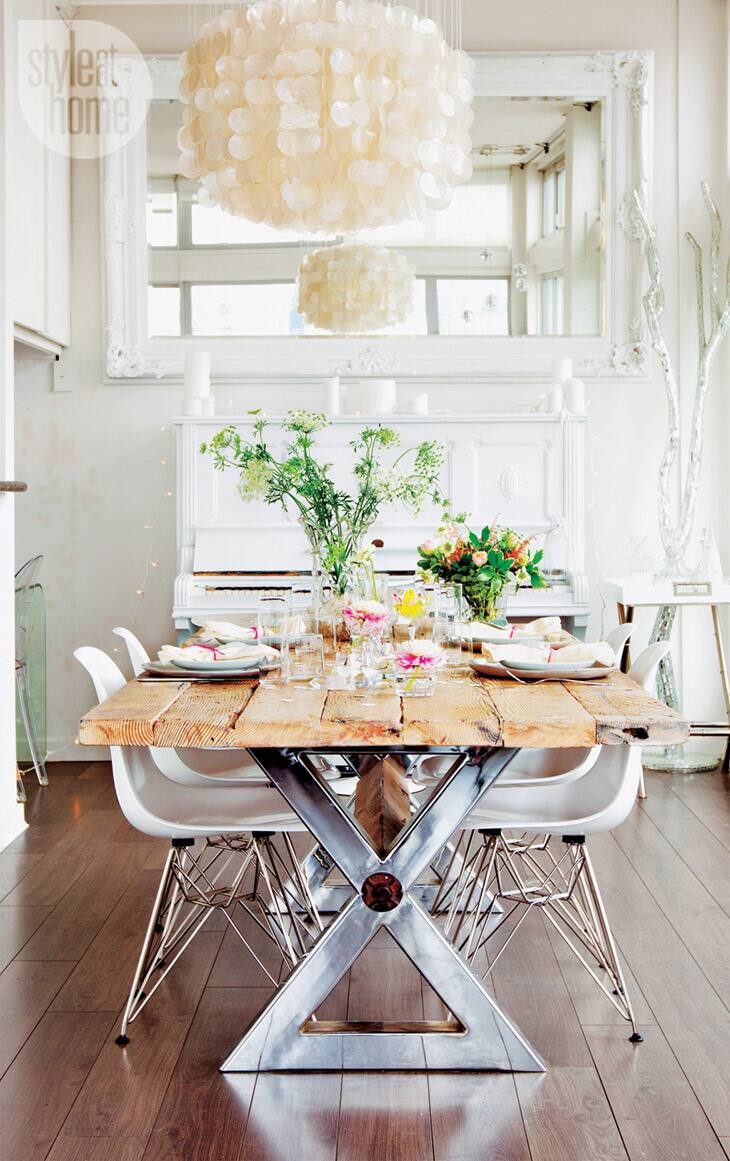 Photography by Janis Nicolay

3 Flowers for a midsummer lunch
A palette of soft pastels accented with hints of neon is total eye candy that feels fresh and energetic. A variety of floral arrangements in all sizes is proof that the typical "flowers in the centre of a table" look isn't the only way to go. We displayed single stems in tiny glasses down the centre; at the far end, we placed medium and large arrangements to create a focal point as guests enter the space. Big arrangements in the centre of a table can make it hard to see your friends, so try putting them at the end of the table the next time you want to include blooms that are large and in charge!

Tips:
Tall Queen Anne's lace offers both a focal point and an airy effect.
Wrap each napkin with a neon cord and include a silvery sprig of dusty miller.
Large single blooms in petite vases take the stress out of arranging.
Photography by Leslie Shewring

3 Flowers for Sunday brunch
This coastal palette of white, cream, blue and yellow with hints of soft seashell pink calls to mind the South Carolinian shoreline. Perfect for accompanying casual Sunday brunch at the cottage, these light and loose arrangements soften the rough-hewn texture of their nautical-chic vessels.

Flowers
1 White scabious
2 Garland daisy
3 Queen Anne's lace
4 White statice
5 Fennel Flower
6 Japanese anemone
7 Dahlia
Photography by Leslie Shewring

HOW TO: Nautical-chic flower vessels

Materials
Glue gun
Clean recycled jars or bottles
String in various colours
Sponge brush
Craft glue
Scissors

Method

1 Apply a small dab of glue from a glue gun at the top of a jar, just below the lid ridge. carefully push the end of a string into the glue and allow to dry. Please be careful when using hot glue.

2 Once dry, use the sponge brush to apply craft glue around the top quarter of the jar and begin wrapping the string snugly around it. Apply more craft glue to cover about two-thirds of the jar. Continue wrapping with the string.

3 Once two-thirds of the jar are covered by wrapped string, cut the string and carefully secure the end with a dab of hot glue. Next, alternate the string by using a different colour or texture. Place the starting end in the dab of hot glue where the last string finished.

4 Follow the process of starting and finishing with new string as you go until you've covered the final third of the jar. Finish at the bottom with another dab of hot glue to secure the end in place. Use as many different colours of string as you like or cover your jar in only one - it's up to you!

---
BUY THIS BOOK
Excerpted from Decorate With Flowers by Holly Becker and Leslie Shewring. Copyright © 2014 Holly Becker and Leslie Shewring, Photography copyright © 2014 Jacqui Small. Excerpted by permission of Chronicle Books L.L.C, San Francisco, CA. All rights reserved.