Tabletop Ideas
Festive & Fanciful
Photography: Anitta Behrendt | Styling: Julie Wettergren
Tabletop Ideas
Festive & Fanciful
Turn the tables on typical holly-berry red with a holiday tablescape inspired by the humble pomegranate.
Danish jewellery designer Julie Wettergren treats her tabletop like an artist's canvas – a place to explore how colour, pattern and texture can be combined for a beautiful composition. As with any artist, she doesn't create the same thing twice. Working with white china and gold-tone cutlery, Julie adds glassware and accents in different colourways to create entirely new tablescapes.
Photography: Anitta Behrendt | Styling: Julie Wettergren
The theme is based on Julie's love of pomegranates, which she became fascinated with during her travels in India. "If you look at a pomegranate, it's not just red," says Julie. "It goes from dark red to light pink, and those are the colours I wanted to work with." A cool grey cloth contrasts the warm reds, many introduced through her use of vintage and new glassware. "Glass is more light and airy than if I'd used ceramics," she says. Here's how Julie layered her favourite objects to create a setting that dazzles and delights. "I am typically Danish when it comes to candles," admits jewellery designer Julie Wettergren. "There must be many. To me, candles equal coziness, Christmas and atmosphere." Variety is key to creating a compelling tabletop. She gave height to the pomegranate themed tablescape by building a centrepiece of tall tapers in candle holders of different heights. Varying the tones of red, from light pink to dark garnet, was also key to creating interest.
Photography: Anitta Behrendt | Styling: Julie Wettergren
A flower-shaped glass dish inherited from her grandmother captured the exact pink Julie discerned in the pomegranate. "The flower was a thing that stood out at my grandmother's home, and I am reminded of my visits to her when I see it," she says. Julie layered in interest by mixing shades of red in objects of different sizes and shapes, ensuring she incorporated reflective surfaces. Even the water is part of the decor. "Pomegranate seeds give a delicate taste and a beautiful colour," says Julie.
Photography: Anitta Behrendt | Styling: Julie Wettergren
Julie used whole and halved pomegranates as part of the centrepiece. "The cut fruits can easily lie there and look nice for an entire evening," she says. "They get a little dry in the end, but then you can cut the dry part off and use the rest afterwards." Bouquets of dried hydrangeas from her garden are given gravitas with black stems that also lend height and texture.
Photography: Anitta Behrendt | Styling: Julie Wettergren
On each plate, Julie has placed a magical-looking edible gingerbread house in a small glass. "It is super sweet and very Christmasy," she says, noting that the brown and white colours of the gingerbread complement the warm reds of the scheme. The snowy base is made of coconut and meringue. "The kids and I have a tradition of baking gingerbread houses," says Julie. "We start making the dough one weekend; it can easily stay in the fridge, and then we bake it the weekend after. Then it will probably take another week before we put the cake pieces together and decorate them. It is a long, cozy project, and the cakes can easily last all of December."
Photography: Anitta Behrendt | Styling: Julie Wettergren
"Dried orange slices are great to decorate with when your cakes need to look festive," says Julie. "I first baked the orange slices in a convection oven for three hours at 90 degrees [Fahrenheit]," says Julie. She attached the cooled slices to a layered cake frosted with buttercream. The small flowers are also made of buttercream, garnished with a single freeze-dried cranberry. Julie made the caramelized skewers for the tree-like spires that sit atop the cake by skewering a hazelnut, dipping it in melted sugar, and then letting it set into a tall spire. The vintage glass bowls are heirlooms.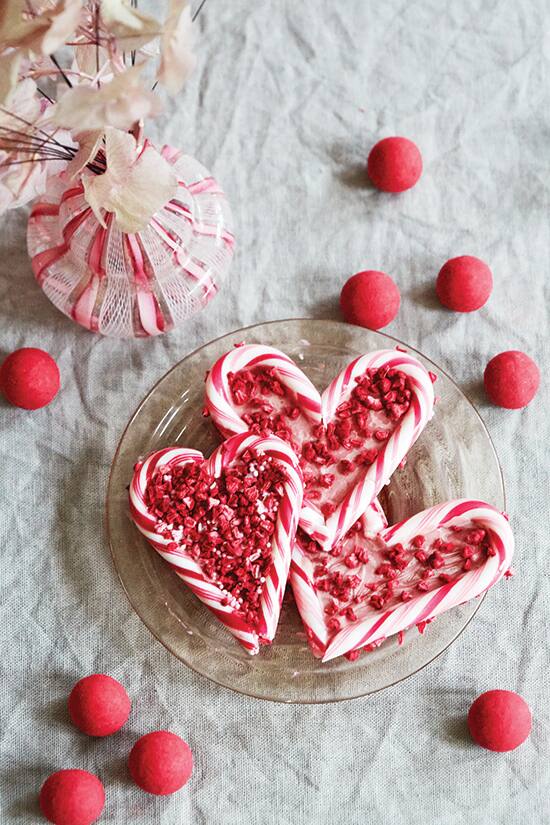 Photography: Anitta Behrendt | Styling: Julie Wettergren
Julie used candy canes and melted chocolate to make these holiday "sweethearts." She placed two candy canes in a heart shape atop white and pink chocolate, and then baked them at 100°F for two minutes until the chocolate melted. She then sprinkled the chocolate with freeze-dried raspberries. The glass dish is vintage, the Murano glass vase is an heirloom and the tablecloth is simply a piece of fabric.
Below, she topped store-bought muffins with a homemade gingerbread snowflake. "I like to put my own stamp on things," she says. "It makes me happy, and then I also like to please others with it, especially my kids."
Photography: Anitta Behrendt | Styling: Julie Wettergren