Tabletop Ideas
Holiday table setting 101: Easy tips to go from boring to breathtaking
Tabletop Ideas
Holiday table setting 101: Easy tips to go from boring to breathtaking
Festive and fabulous decorating inspiration for your holiday table this year includes glam touches, Scandinavian accents, and easy DIYs to wow your guests.
Creating a holiday tablescape that wows can be as easy as 1-2-3. Check out our favourite festive table settings for 2016, as well as the straightforward DIYs that make them come to life.
Credits: Maya Visnyei
Create a Stunning Gold Glam Tablescape
Make your holiday table sparkle and shine this season by setting it in glamorous gold.
Credits: Maya Visnyei
The Perfect Rustic Scandinavian Tablescape For The Holidays
Bring a taste of the Norse pole to your table with elegant Scandi-chic rustic elements.
Photo Gallery
How to create a Scandi-rustic holiday tablescape
Rustic Scandi-chic tablescape
A dinner party that has guests raving for days is all in the details. Take this masterfully muted, fashionably festive and quietly romantic rustic Scandinavian tablescape. We love its creamy taupe, linen white and pale minty green colour scheme – a fresh take on tradition topped with subtle seasonal elements like sprigs of fresh evergreen and soft touches of gold. But even better are the elements you don't notice at first glance like the effortless DIYs that even an uncrafty hostess can easily achieve. Here are the highlights.


Source: Maya Visnyei
How to create a Scandi-rustic holiday tablescape
Chair cheer
You've outdone yourself with this year's holiday tablescape, but don't overlook your chairs! What a perfect place to underscore your seating arrangement with ready-made mini buntings stencilled with snowflakes. Each topped with a gift tag and a sprig of greenery, the unexpected adornments are an easy way to add extra details that are sure to impress guests.


Source: Maya Visnyei
How to create a Scandi-rustic holiday tablescape
Sleigh away
These sweet place cards are not only wintry and whimsical, they're also easy and inexpensive to execute: Simply tie a handwritten gift tag to a wooden toy sleigh (which, like the rest of the supplies, can be found at any craft store) with ribbon or yarn that matches your holiday colour scheme. Top it off with two FERRERO ROCHER® chocolates to treat guests with a decadent sweet to enjoy later – and maybe even dub you the host with the most!


Source: Maya Visnyei
How to create a Scandi-rustic holiday tablescape
Wrap star
Candles are key to tabletop mood lighting, but these festive votives look just as fabulous when they're not lit. Gussied up with burlap wrap effortlessly secured by a tiny tree-shaped clothespin and a deer-stamped strip of cotton, they lend a quintessentially rustic-chic vibe. Frayed edges keep this craft virtually fuss-free but also require the use of battery-powered tea lights rather than open flames.


Source: Maya Visnyei
Credits: Maya Visnyei
Easy Marbled Dessert Tray DIY
Serve guests in style with the help of this super simple marbled tray DIY.
Credits: Maya Visnyei
DIY Sleigh Ornament Place Card Holder
Inspired by the man in red himself, these DIY FERRERO ROCHER® bearing sleigh place card holders are easy, playful and – best of all – delectable.
Credits: Maya Visnyei
Stylish Slipknot Menu DIY
Dress up your holiday table with these stylish slipknot menu holders.
Credits: Maya Visnyei
Festive Wrapped Votive DIY
Add a festive flair to your holiday table with these adorable wrapped votive candle holders.
Credits: Maya Visnyei
Chic Wreath Centrepiece DIY
Create a simple and stylish DIY wreath centrepiece for your holiday table.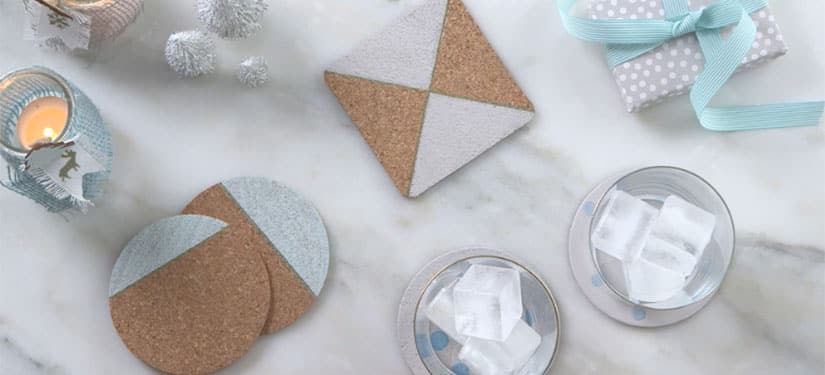 Credits: Maya Visnyei
DIY Festive Coaster
Whether you're hosting a festive feast or small soirée these DIY coasters make the perfect party accessory or gift a set to your favourite holiday host.