Trends
2013 kitchen design trends
2013 kitchen design trends
Trends
2013 kitchen design trends
Every designer knows that kitchens and bathrooms are the biggest renovation investment you can make for your home, so why not make 2013 the year you tackle a makeover? "The great thing about kitchen design right now is that anything goes," says Meredith Heron, principal designer of Meredith Heron Design. That means that regardless of your preference of traditional over modern, or your love of marble over granite, there's something on trend to fit into every budget and suit almost any homeowner's tastes.

And although the industrial design and French farmhouse look that we've seen in previous years are still popular here in Canada, Meredith offers up some additional styles that will be making headway in 2013.

Feminine Glam
The key to achieving this look – which is not what one always expects when designing a kitchen – is a mix of textures, finishes and vintage pieces juxtaposed against a modern framework. "The space we designed for Christine Dovey had a palette of pink and gold, which is quite unique for a kitchen," Meredith admits. "An antique mirror added an unexpected glamour and the open style shelves allowed for beautiful collections to be showcased, making the kitchen an extension of the style of the rest of Christine's stunning and beautifully curated home."

Modern Traditional
If you're looking for a kitchen with a timeless look but don't want it to appear too traditional, place the focus on contrast and juxtaposition. "Contrasting colours, unusual lighting, decorative finishes and a mix of hardware are great ways to take a classic look and give it a modern edge," says Meredith. Try different hued doors on the upper and lower cabinets or a super sleek kitchen with an oversized stunning chandelier over the dinner table.

Scandinavian Simplicity
The Scandinavian style is one we've seen in the past, and it's back again in 2013, particularly popular in kitchens. "Slab cabinet doors in a matte paint finish or a natural wood are still incredibly popular," says Meredith. "The trend now, however, is to mix in a little femininity through brass hardware or fun fabrics, making the space seem less austere and more welcoming."

Keep reading for more of Meredith's kitchen trend predictions, from colourful cabinets to statement lighting to brass faucets.

Create your dream space with these 10 tips for the ultimate bathroom.

Image courtesy of IKEA


1 Coloured cabinets
"White kitchens are always in style, but for the last year or so grey
kitchen cabinets
have been super popular and will continue to be a huge hit for the upcoming year," says Meredith. Also on tap for kitchens in 2013? "Navy cabinetry. I'm obsessed with all shades of indigo, like a smoky purple-blue-grey. Try painting cabinets with Stone's Throw from Pratt and Lambert or St. Boniface from Para Paints."

2 Brass faucets
"For
faucets
in 2013, it's all about brass," says Meredith. "I'm currently looking at Kohler Karbon faucet for an upcoming kitchen project I'm working on. I love that it doesn't look like a traditional faucet – it's like jewelry for the kitchen."

Photography by Michael Graydon


3 Countertops
White marble continues to be the favourite look for
countertops
, but many homeowners are wary of its upkeep. "The compromise I've been able to find with is Quartzite," says Meredith. "I call it 'Garble' – a stone that looks like marble but has the durability of a granite. Truth be told, Quartzite is harder than granite. My go-to variety is called Super White – a grey stone with streaks of dark grey veining." Meredith also says that a leathered finish on granite will be a popular look for this year – the stone receives a honed finish, making it very forgiving especially when it comes to water spots and scratches.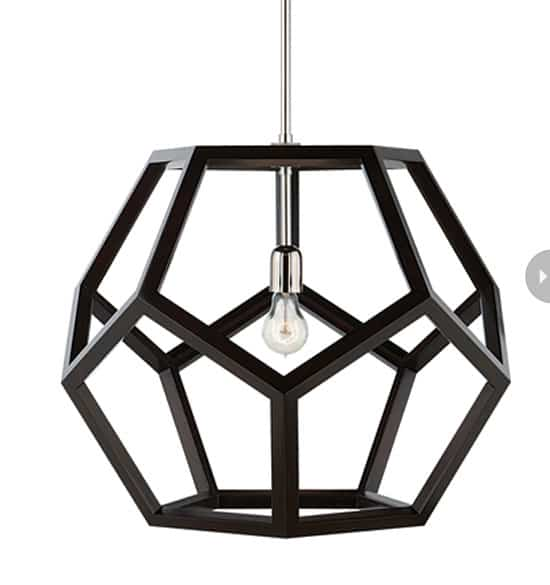 4 Statement lighting
When it comes to
kitchen lighting
in 2013, Meredith says it's time to go big or go home. "Traditional pendants have been side stepped in favour of oversized statement lighting. Unique shapes and a mix of metals - anything goes so long as it has big impact." To add a sculptural quality to a
modern kitchen bistro
with sleek lines, Meredith suggests the unique look of this decahedron pendant available in a variety of finishes.
Lauren by Ralph Lauren Large Dustin wood pendant,
Circa Lighting, $506
.

5 Colourful appliances
As bright and
bold colour
is reigning king for 2013, such is true for
kitchen appliances
as well. "Stainless steel has become commonplace in Canadian kitchens, but coloured appliances are paving the way this year," says Meredith. "The Smeg refrigerators at West Elm are perfect for a loft or
condo space
– they're fun and don't take themselves too seriously."
Smeg Navy Refrigerator, West Elm, $2063
.