Trends
5 European design trends coming to Canada
Trends
5 European design trends coming to Canada
Toronto-based interior design consultant Sarah Walker hops across the pond to Paris to discover the latest European design trends at the continent's largest furniture and decor show.
What defines Canadian design? Bridging a New World American aesthetic with our strong European roots, we're an innovation nation that embraces both old and new — the same way we welcome people of all nations to our shores.
Canadian designers are often the first to embrace the latest design direction coming out of Europe. So, I explored Europe's largest furniture and decor show hosted in Paris, Maison et Objet, to uncover the top trends that will no doubt be warmly welcomed into fashion-forward Canadian homes this year.

1. STATEMENT-MAKING MARBLE
From jaw-dropping backlit marble veneer to contemporary and sculpture-esque side tables and sinks, marble is feeling brand new.
Antolini
Antolini's marble veneer is laminated onto glass, allowing countless varieties of stone to be backlit to the same stunning effect we've seen with onyx for years.
Oia
Inspired by the work of Wassily Kandinsky, Oia's collection of contemporary side tables marries simple geometry with a refined mix of materials for a graphic statement that would bring any room to life with timeless elegance.
Inbani
Spanish manufacturer Inbani wowed with a collection of sculptural marble freestanding and vessel sinks, elevating the bathroom to a work of art.
2. CANE IS MAKING A COMEBACK
Bentwood cane chairs are synonymous with Parisian café chic. This style was defined by Austrian furniture designer Michael Thonet in the 1800's, and millions of his Chair No. 14 are still in use today. So, it should come as no surprise that his legacy company, Gebrüder Thonet Vienna, has brought Michael's iconic tradition into the future with such fashion-forward, timeless pieces as the Targa Lounge Chair, the contemporary Hideout wingback chair and the elegantly simple Bodystuhl dining chair.
Gebrüder Thonet Vienna
3. INNOVATIONS IN LEATHER
Leather furniture has been a design staple since the dawn of furniture making, but the pieces shown at this year's Maison et Objet were anything but ordinary. From weaving to sculpting to treating it for outdoor use, leather has come a long way.
Pinetti
This large Almeria woven Italian leather basket by Pinetti is made from eco-friendly, washable and weather-resistant leather, making it suitable for indoor and outdoor use.
Baxter
Known for their luxurious indoor leather upholstery, Baxter was one of only a couple of companies to introduce leather outdoor furniture at Maison et Objet. I can't wait to see how this innovation in leather expands our outdoor living room horizons in the months to come.
Giobagnara
Sculptural simplicity belies the wonder of craftsmanship with Stephane Parmentier's round leather stools for Giobagnara. With a background in both fashion and architecture, this designer's roots show in his design of these occasional pieces that blend history and modernity in one effortless stroke.
4. KEEPING IT CURVY
Curved furniture has had an increasingly strong presence in design over the last few years, and according to what was on display at Maison et Objet, curves are here to stay. It's a sign of a strong economy, as upholstering curved furniture requires a much higher standard of craftsmanship.
Munna
Inspired by a lyrical melody, this bar stool by Munna hits all the right notes. Available in performance textiles, it's also as practical as it is pretty.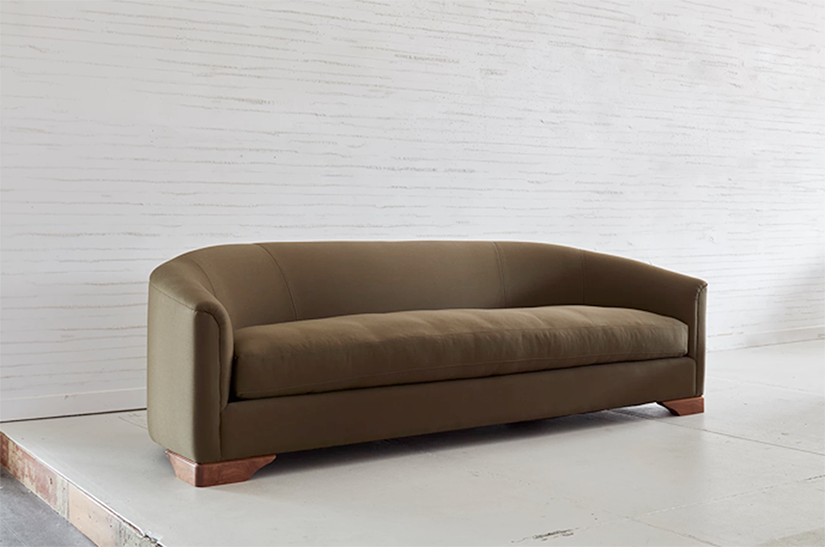 Whittington & Co
Designed and manufactured here in Canada, Industrial Storm's Joni Sofa for Whittington & Co shows off Art Deco-inspired curves for a simple yet sophisticated look.
5. LUXURIOUS LIGHTING
Not all European light fixtures are UL listed for use in North America, but gratefully Wonderglass' incredible fixtures are, and available in Toronto through Lightform.
WonderGlass
As much art installation as light fixture, these floating Calliope pendants were inspired by the elegance of Japanese calligraphy and the artistry of hand-blown Murano glass. Choose to install just one or a full ceiling of pendants at varying heights for truly dramatic impact.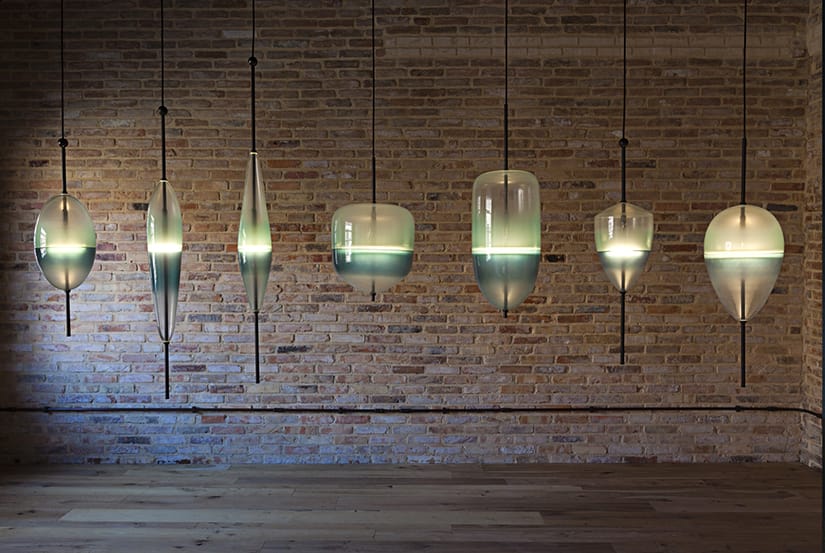 WonderGlass
Inspired by the reflection of the Venetian cityscape on the lagoon, these watery-hued pendants by Wonderglass offer a magical, ambient light that is sure to set the mood for many a memorable evening.

What European design trend inspires you to infuse a little bit more continental flare in your home?