Trends
Experts weigh in on the top decor trends of spring/summer 2017
Trends
Experts weigh in on the top decor trends of spring/summer 2017
From bold patterns to panel moulding, the top decor trends for spring and summer are sure to add a ton of personality to your quarters.
With the help of three designers, we're rounding up the hottest ways to update your home this season.
1. Large scale wall murals
Image: Anewall
"A trend that I am loving right now is large-scale floral wall murals," says designer Lisa Canning. "It's a dramatic way to infuse pattern and colour into a space." Murals works well when used on the wall behind the bed in a bedroom, and they make a great conversation starter when used as an accent wall in a living or dining room. "The key to using this trend well is to use it in a large space where you can appreciate the grand scale of the pattern," says Lisa. As for which floral print to choose? Designer Tim Lam prefers large-scale designs in everything "from the classic chinoiserie motifs to elegant contemporary favorites."
2. Marble everything
Image: Hopson Grace
If you love the luxurious look of marble, you'll love that it's totally on trend this season. "Marble continues to be a massive trend this spring," says Lisa. "Marble is showing up everywhere — from the covers of notebooks to vases for flowers to serving platters for cheese, even in dishware! For a really luxe look, layer multiple marble pieces in a styled vignette."
3. Shades of blue and green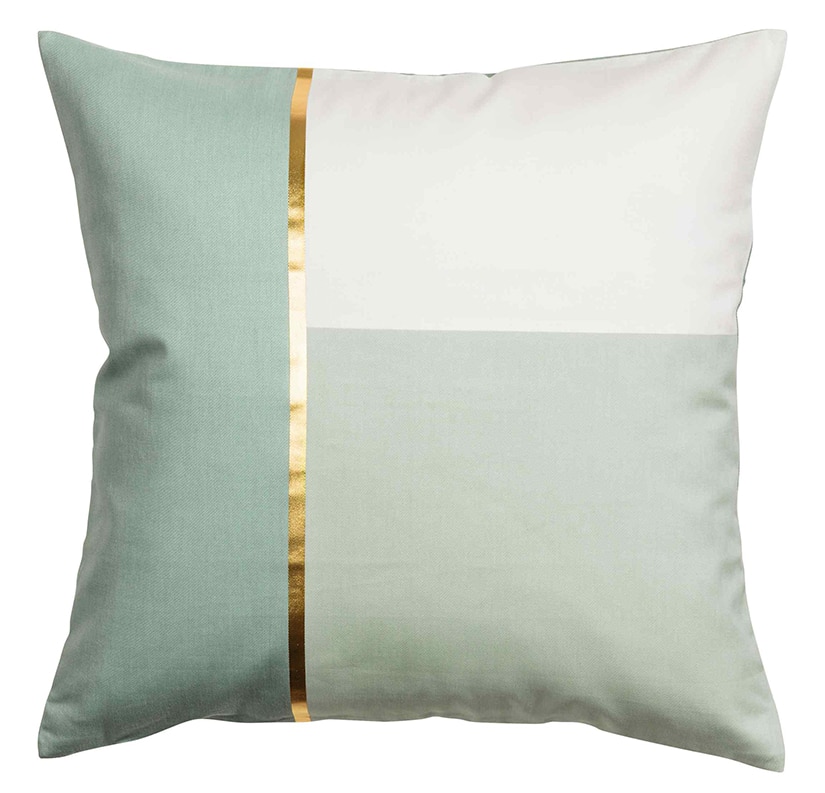 Image: H&M Home
Designer Vanessa Francis says that shades of blue and green are popping up everywhere – from painted kitchen cabinetry to walls to tiles. "The colour can be more muted on the one hand or bold and vibrant, like teal, on the other," she says. "I think the colour is more interesting and also easier to live with than a pure blue or green." Lisa Canning points the finger at Pantone's colour of the year, Greenery, for setting the trend, and notes green has "been a strong force" in various shades. But, she prefers green in a softer hues, and suggests teaming it with soft pink "for a fresh change for spring."
4. Applied panel moulding and chair rail
Image: Stephani Buchman
Beautiful design can be found in the details and panel moulding, and chair rail can make all the difference. "This detail can instantly and dramatically change the look and feel of a space and more homeowners are realizing this," says Vanessa. "Moulding can be used just about anywhere – from entries to living rooms to bedrooms."
5. Contemporary wall sconces
Image: ANONY
"Wall sconces are hot, hot, hot," says Tim. Live in a condo with concrete ceiling and no lighting? Tim suggests "installing wall sconces as a practical lighting solution and for ambiance."
6. Artwork with acrylic frames
Image: referencecontemporary.com
"Lucite and acrylic have made a big comeback over the past few years," says Tim. The translucent materials can be transformed into a number of creations from furniture to accessories. Get in on the trend by doing like Tim and "framing sentimental objects in Lucite shadow boxes," or opt for framing artwork "with a dynamite acrylic frame in bold colour."
7. Investing in your home
Image: Stephani Buchman
According to Vanessa, the biggest trend of all is investing in your home. "With the real estate market booming, more homeowners are staying put and renovating their spaces as they can't afford to move," she says. "Homeowners are creating spaces for themselves to enjoy and be happy in rather than thinking of resale." Instead of buying a bigger home, many homeowners are simply looking to creative storage solutions to make the most of the space they have.
Looking to give a room a new coat of paint? Here are some of our favourite BEHR® colours for the season:
Bella Mia MQ3-05, Intercoastal Gray MQ5-23, Studio Clay MQ2-27.
See more of summer's hottest design and decor trends.